UCL group stage puts Serie A under harsh light
Tutto in un giorno. Everything in one day. Wednesday, Dec. 11, 2013, will live long in the memory. Who said the Champions League group stages were boring, all foregone conclusions bereft of drama? For each of Serie A's representatives in the competition, it all came down to this. Their fates were decided today in good and in bad, for richer and for poorer.

As final whistles were blown across the continent, the state of play was as follows: Napoli go out with their heads held high. Juventus go out with a head cold. Milan go through scratching their heads. For a time, it really appeared as though Italy would have no one in the knockout stages, which has never happened since the Champions League began (unless you count the 2001-02 season when no Serie A clubs made it out of the second group phase).

- Read: Full UCL wrap
- Paul: Milan show resiliency
- Rzouki: Juve dumped

This wasn't to be the first time, thankfully. How strange, though, that it should be this Milan side that prevents it from occurring. At 22 points behind Juventus in Serie A and 14 behind Napoli, few would have bet on them being the last Italian standing, especially when they went down to 10 men after 22 minutes on Wednesday night with the score 0-0 and needing to avoid defeat to Ajax at San Siro. And yet Milan showed character and held on.

The Champions League, it seems, really is in their DNA. Expect Silvio Berlusconi to take full credit after visiting Milanello yesterday, talking to the players about il Grande Milan and telling the team that despite what everyone says, they are still great. The impression remains, however, that this one is a far, far cry from the Milan of Arrigo Sacchi, Fabio Capello or Carlo Ancelotti -- arguably the worst since Berlusconi bought the club in 1986.

Meanwhile, there was sympathy for Napoli. They bow out on 12 points, a total that would have been enough to qualify from every Champions League group apart from their own and the one made up of Bayern Munich and Manchester City. Look around and they'll see Zenit St Petersburg went through on six. Galatasaray on seven. It must stick in the craw.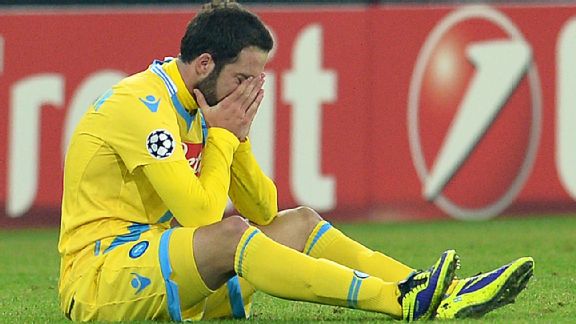 GABRIEL BOUYS/AFP/Getty ImagesOf Italy's eliminated teams, at least Napoli went out with spirit.

Napoli beat last year's runner-up, Dortmund, at home, as well as Marseille and Premier League leader Arsenal Wednesday night 2-0 at San Paolo. They gave it everything. Regrets? Sure, they have a few. The blackout in the first 15 minutes at the Emirates springs to mind, as does their naivete away at Dortmund when Federico Fernandez got sent off and they played too loosely.

Still, it's hard to reproach Napoli. They got out of a group of death comprising Bayern Munich, Manchester City and Villarreal two years ago. Look at how many points they got then and you'll discover they actually took one more this season.

The biggest disappointment is surely felt by Juventus. On the one hand, they should feel aggrieved. Like the rain in Perugia did for their Scudetto in 2000, the snow in Istanbul Tuesday night and the postponement of their qualification decider with Galatasaray until Wednesday afternoon contributed to their downfall.

It disrupted them more than it did their hosts, of that there's no doubt. Juventus had to find a new hotel and the traffic meant they reached it only after midnight. Seeing the conditions this morning, both managers asked that the game not be played and still it went ahead. But Juventus, as Antonio Conte and the players acknowledged, to their credit, have only themselves to blame for the 1-0 defeat they suffered.

There are a lot of ifs, buts and maybes. For instance, were it not for an inspired performance by goalkeeper Johan Wiland, they would have beaten FC Copenhagen away. Likewise, had Giorgio Chiellini not been harshly sent off at Real Madrid, things might have been so, so different. Were they as reliable at the back in Europe as they have been in the league -- especially over the past month -- then the late goals at home and away to Galatasaray maybe wouldn't have been conceded.

But the bottom line is Juventus won only one of six games. They shouldn't have allowed it to go down to the final match day.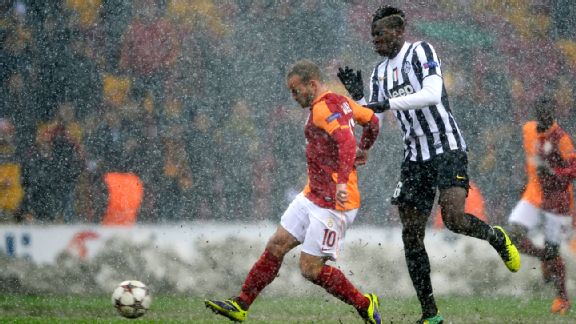 BULENT KILIC/AFP/Getty ImagesThe weather didn't help Juventus but players and manager all acknowledged that they only have themselves to blame.

It's a paradox of sorts that Juve's best performances came against Real, when in hindsight they needed to produce them if not every match day, then in the games where the points were more attainable.

At least now there's the Europa League, the final of which will be hosted at the Juventus Stadium in Turin in May. That's something for Juve to strive for. And Napoli, too. Rafa Benitez will be looking to retain it even if his president Aurelio De Laurentiis told reporters tonight: "I think it's a complete waste of time."

Juventus haven't done themselves justice and, like Napoli, are a better team than Champions League elimination makes them look. Serie A is a better league than this makes it look. Milan, meanwhile, progress almost in spite of themselves and what they've become. Sooner or later, though, you feel their limitations will be discovered.