Champions League Matchday 6: Key talking points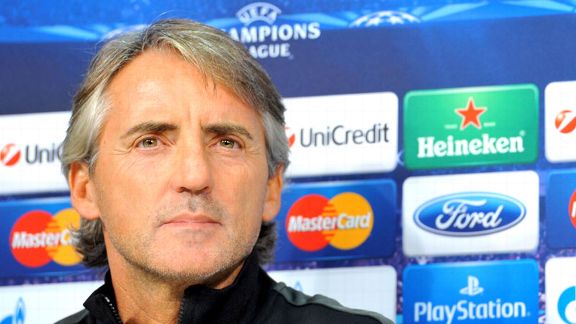 AssociatedGalatasaray coach Roberto Mancini has a chance to upset Carlos Tevez.
The final round of Champions League group stage matches will offer an enticing mix of agendas, with these three games and storylines set to dominate the headlines in the coming days:

GAME OF THE DAY: GALATASARAY vs. JUVENTUS

Group B tale of the tape: Real Madrid are through as group winners, and Juventus will join them if they avoid defeat against Galatasaray. The Turks will progress if they can beat the Bianconeri.

One of the primary reasons Roberto Mancini was sacked by Manchester City last May was his failure to bring Champions League credibility to the Premier League club.

His inability to guide City through the group stages cost him his job, yet he finds himself back in the competition this season, striving to prove that he can outfox the best tacticians in the Champions League.

Victory over Juventus in Istanbul on Tuesday will secure Gala a place in the last 16, with news that Bianconeri talisman Andrea Pirlo will miss this game after suffering a knee injury last week boosting Mancini's hopes.

However, all is not well for the new figurehead of Galatasaray a little more than two months after he succeeded the popular Fatih Terim. Jeered by his own supporters after a Turkish Cup penalty shootout win at second-division Gaziantep last week, Mancini's abrasive style of management is already proving unpopular with the faithful.

Terim's name was chanted with gusto after that Turkish Cup flirtation with disaster, with recent defeats against FC Copenhagen in the Champions League and Fenerbache on home soil doing little to quash the theory that Mancini's stint as Gala boss will be brief.

The Italian's decision to play last season's top scorer Burak Yilmaz on the left wing has not been successful, while Wesley Sneijder's form continues to be less than convincing. However, this game has a habit of transforming fortunes in an instant, and if Galatasaray beat Juventus and extend their Champions League campaign, it will feel as though their problems have evaporated.

Of course, the prospect of Carlos Tevez piling additional misery onto the boss he clashed with at City is a subplot to this game that will doubtless dominate the pre- and post-match analysis. The bigger picture must be Mancini's long-term credibility as a Champions League coach.

VERDICT: Anything could happen in this game, but Juventus are likely to have enough class and composure to get the result they need.

AC MILAN vs. AJAX

Group H tale of the tape: Barcelona will top the group with a draw against Celtic. AC Milan need to avoid defeat against Ajax to join them in the last 16.

Patience is a commodity managers at the top clubs in European football are rarely granted in the modern game, but AC Milan's Massimiliano Allegri has defied that trend during 2013.

The high-profile power struggle at the top of the club between long-standing decision-maker Adriano Galliani and Barbara Berlusconi, daughter of AC Milan president Silvio, has captured as many headlines as the team's indifferent form of late, with Allegri seemingly slipping under the radar.

"I am the coach and my responsibilities are on the pitch. I am focused on getting a result, and perhaps that could help calm the environment around the club," he said.

A convincing win against Celtic on Champions League matchday five staved off another potential make-or-break fixture for the 46-year-old, but there has been a feeling for some time that he could be one major defeat away from losing his post -- and Ajax are capable of delivering that blow.

Their surprise win against Barcelona on matchday five has set up this thrillingly unpredictable finale to Group H, with Ajax boss Frank de Boer suggesting that his players need to repeat the display that beat the Spanish giants when they travel to Milan.

"I have not doubted our playing style for a moment, and beating Barcelona showed we are on the right path," De Boer said. "Now we want to go to the next round, but we need to win in the San Siro to do that. We will have to play another match like the one against Barcelona. It is a game to look forward to."

Ajax appear to have clicked into gear in recent weeks, with a run of high-scoring victories in the Eredivisie, yet there are still question marks over their ability to perform at their best on the road. They have lost both their away games in Group H, and will need to end that trend if they are to defeat Milan.

VERDICT: This tie could go in a variety of directions, but Milan have enough to get the result they need.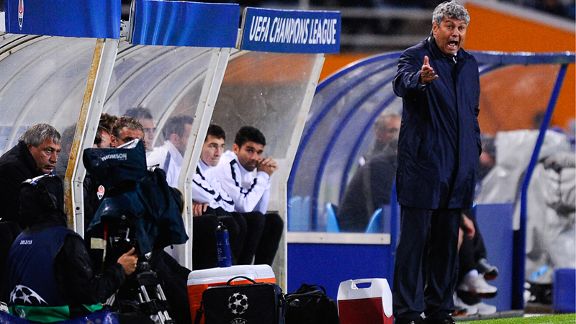 GettyImagesMircea Lucescu has had problems at Shakhtar Donetsk but David Moyes would understand.
SHAKHTAR vs. MAN UTD

Group A tale of the tape: Manchester United are already into the next round. Bayer Leverkusen will be through with victory against Real Sociedad, as long as Shakhtar don't win at Old Trafford. A draw will be enough for Leverkusen if Shakhtar lose, thanks to their superior head-to-head.

From the moment David Moyes set foot on the touchline as Manchester United's new manager last summer, he knew he would be asked to answer a list of questions few managers before him have been asked.

While replicating the legendary Sir Alex Ferguson was always likely to be an improbable target, replacing him was a task Moyes claimed he could not refuse. But the transition from the greatest manager of them all to a coach still seeking his first major honour in the game has been less than smooth.

We should not, therefore, be surprised to see Moyes stumbling through his first few months at United in less than convincing fashion, and even though their place in the last 16 of the Champions League was secured with a game to spare, the mood around the club is very different to that of a few months ago.

A Shakhtar side running away with the Ukrainian championship gave United plenty to ponder as they claimed a 1-1 draw in the reverse tie, and any mental fragility from Moyes' men will encourage their visitors, who will win Group A with victory in Manchester.

Such a prospect may have been unthinkable in the Ferguson years, but Shakhtar coach Mircea Lucescu merely needs to show his players replays of United's stuttering form this season to back up the theory that their aura is fading.

"We have only one option -- we need to defeat Manchester United. We will do everything possible to achieve this," former Romania international Lucescu said. "I played against United 14 years ago, and at that moment they were a winning machine, winning trophies every year.

"Now they have more of an international set of players and a new coach, who needs time to get his ideas across. Of course he needs people to be patient with him, but of course this is not always the way football works."

VERDICT: Shakhtar have much more to play for, and that spells bad news for United if they allow their focus to slip.

STATS ZONE (Via UEFA)

• Real Madrid's Cristiano Ronaldo is joint top scorer in this season's competition, with eight goals from four appearances. Paris Saint-Germain's Zlatan Ibrahimovic has eight goals from five.

• Zenit St Petersburg forward Hulk has had more attempts at goal than any other player in the Champions League (20). However, he has scored just twice.

• Paris Saint-Germain's Thiago Motta has completed the most passes in this season's Champions League (522). He also has a 90 percent passing success rate.

• Celtic striker Giorgios Samaras has committed the most fouls in this season's Champions League (23). Barcelona's Neymar has been the victim of the most fouls (18).

• Real Madrid are the competition's leading scorers with 18 goals, closely followed by Bayern Munich with 15.

• European champions Bayern Munich have had a stunning 69 attempts on target in their first five Group D games. In-form Arsenal have had just 31 in comparison.

• Juventus are the corner kings in this season's Champions League, having been awarded 43 set pieces so far. They have also been awarded the most penalties (four).