United fans in dreamland after Leverkusen rout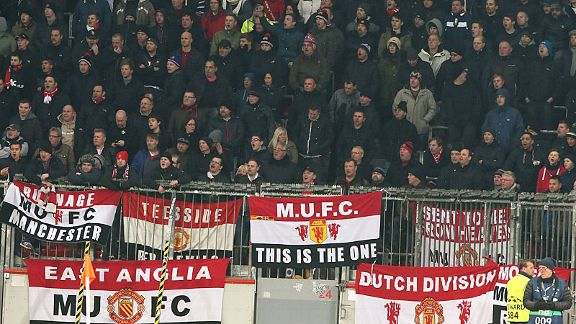 GettyImagesMan United fans pack in at the BayArena to see their team face Leverkusen
COLOGNE, Germany -- Manchester United have enjoyed plenty of memorable European away days. From the 1991 Cup Winners' Cup final in Rotterdam to the famous night in Turin when they battled from two goals behind to beat Juventus in the 1999 Champions League semifinals. And of course, that hazy night in Barcelona five weeks later.

- Lomas: United swagger into last 16
- Payne: Giggs and Rooney inspire United

Continental travel is part of the fabric of United, stemming from that landmark decision by Sir Matt Busby 60 years ago to take a step into the unknown and become England's first competitors in, and later winners of, the European Cup. The Munich Air Disaster had initially halted Busby's pursuit of club football's premier prize when his Babes were cruelly lost, and subsequent visits to Germany have always been tinged with sadness. In Leverkusen on Wednesday, United's players wore black armbands in memory of Munich survivor Bill Foulkes, who died this week, while a fitting terrace tribute was also paid as the late defender's name reverberated around the BayArena.

United's on-pitch travails in Germany have included a failure to ever beat Bayern Munich or Borussia Dortmund in Europe's premier club competition, experiencing knockout elimination at the hands of both, as well as Bayer Leverkusen, in the Champions League era. A convincing victory over Schalke on the way to the 2011 final was a rare highlight, while an even rarer sight was Michael Owen scoring not one but three goals in a United shirt against Wolfsburg in 2009.

Wednesday's victory over Bayer Leverkusen, however, represented the club's zenith in Germany.

The 5-0 mauling of the Bundesliga's second-placed side was more than even the eternal Old Trafford optimists could have predicted. A professional if uninspiring night akin to those in Donetsk and Sociedad was expected; the devastating counterattacking football that supporters in Leverkusen were treated to was a welcome surprise.

One such supporter was Paul McGuire, who has been following the club in Europe for half a century and has notched more than 30 different countries on his United-inspired ventures.

Two hours after the final whistle and nursing a glass of Koelsch beer, the local tipple, he explained that such unpredictable nights represent the enduring magic of continental competition.

"I've watched a lot of great United performances in Europe, including the 1999 [Champions League] final, but I can't remember ever seeing a 5-0 score line," says McGuire. "I was at the Brondby game in the season we won the treble, which was 6-2, but this is a different level in terms of the clean sheet and the quality of opposition we are talking about. If we kept Wayne Rooney on [he was substituted in the 80th minute], there could have even been another couple of goals.

"People need to realise that is a great result and that it shows we are serious contenders in the Champions League. To come to a team that are second in the Bundesliga and turn them over like that, it will shock a lot of people. They are a decent side and considering we didn't have [Robin] van Persie, [Michael] Carrick and [Nemanja] Vidic -- the backbone of the team -- beating them 5-0 is absolutely fantastic. These are the sort of nights we live for."

The sort of colourful character regularly found among football's battle-hardened travellers -- McGuire pioneered the Moscow Reds supporters club and is a former shareholder -- he vividly recalls a conversation with United statistician Clive Butler 20 years ago in which he uttered the line "Giggs will never catch on in the Stretford End" after being told by Butler of a teenage Ryan Wilson's now-famous decision to change his surname. Two decades later that name was on everyone's lips again after Giggs' record-extending 148th Champions League appearance brought United's biggest away win in the competition.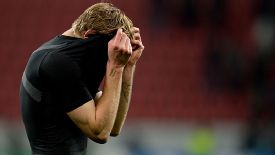 GettyImagesSteffan Kiessling hides his face after Leverkusen's crushing defeat to Man United.
McGuire was joined in his celebrations by the hordes of United fans who left the BayArena in search of revelry. An industrial city in Germany's Rhineland, Leverkusen began life in the early 20th century as a settlement designed to house workers of the Bayer pharmaceutical company but has now grown into a municipality of 160,000. However, much to the chagrin of the supporters who pack the club's stadium every other week, it remains an undeniably unfashionable destination. Duesseldorf and Cologne make for more popular alternatives for away supporters, with United's team, the bulk of the English press and many hundreds of the club's fans decamping to the latter.

While those associated with United filled Cologne's Brauhauses (brewery pubs), glugging gluhwein and beer long into the night around the lively Alter Markt and Heumarkt squares, those affiliated with Leverkusen were left wondering where it all went wrong.

Frank Lussem, who heads up kicker magazine's Northrhine-Westfalia office, has been following the fortunes of Bayer for 30 years. His feeling was overwhelmingly one of shock, having believed Sami Hyypia's side had turned a corner with their consistent performances this season.

"This morning I'm busy like the defence of Bayer Leverkusen last night," Lussem tells ESPN the morning after. "It was a big surprise to me, to everyone. I thought that they would behave like men, but they played like little boys. If they ever had a chance to beat a good opponent like Manchester United it was yesterday, without Van Persie, Vidic, Carrick, [Marouane] Fellaini. They really thought they could win.

"I know these players well and they are all good guys, good characters, and I can't understand how they played football like this. Stefan Kiessling said afterwards that their morale was just sapped away after the second goal and that the match basically ended there. They are all very disappointed, but they will try to pick themselves up in the Bundesliga against Nurnberg this Saturday.

"Life goes on and it is a real test of character for the guys like Emir Spahic, who had an awful game. Fortunately, Nurnberg haven't won a single game this season. It's the perfect match on paper.

"It is not the worst Leverkusen performance I've seen -- remember I've got 30 years to choose from. I saw them at Arsenal when they lost 4-1. I saw them lose to Monaco 4-0, to Barcelona 7-1, to Bayern Munich 5-1. It's not that they are bad, they are second in the Bundesliga after all –- this is just not a team for this Champions League. Leverkusen are like Viktoria Plzen and Steaua Bucharest; this is not their level."

That sentiment was echoed by Leverkusen director Rudi Voeller, who said: "We only spent a few minutes on the same level as United and after the first goal it was a breakdown. We have to be a realistic, we have no chance to play with teams like Manchester United. It's another league. It's a hard night, but we have to go on."

A route to the last 16 remains a possibility, but it is a lack of progress as a team that is more worrying for Leverkusen, who were supposed to have matured since the humiliation at the hands of a rampant Barca side in 2012.

For United, in contrast, the result marked a hugely positive step in the evolution of David Moyes' side. The Scot was repeatedly serenaded by the away corner at the BayArena, with the "Come on David Moyes" ditty penned in his honour still audible on the streets and hotel corridors of Cologne into the wee hours. Thanks to an inspired, record-breaking display, Thursday's sore heads will be tempered by a major sense of satisfaction.