Jens Nowotny: When Leverkusen's nearly men eliminated United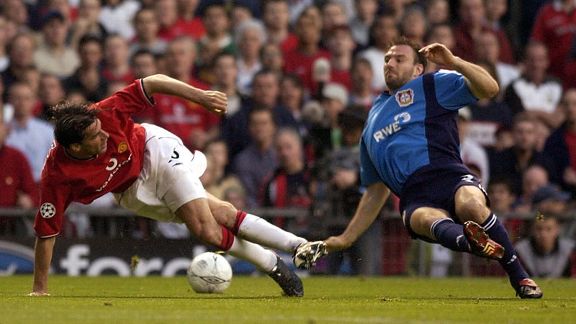 GettyImagesJens Nowotny captained the Bayer Leverkusen side that ousted Man Utd in the 2001-02 Champions League semi-finals.
LEVERKUSEN, Germany -- Footballers are often asked if they have any regrets. "Nah" is the usual metronomic response. Whether they've lost a major final, missed a golden chance or failed to save someone from a burning building, "Nah, I've no regrets" remains the go-to answer.

• Rodden: Leverkusen steeled for United clash
• Rewind: Leverkusen's drei spell

The honesty of former Bayer Leverkusen captain Jens Nowotny is, therefore, most welcome. In 2002, Leverkusen stood on the brink of a famous Treble. A full 11 years before Bayern Munich became the first German team to achieve it, Bayer were four games from glory. Things didn't go to plan. Defeat to Nurnberg on the penultimate day of the Bundesliga season, to Schalke in the DFB-Pokal final and the biggest heartbreak of them all, a 2-1 Champions League final reverse to Real Madrid, left them trophyless and utterly deflated.

Despite being skipper, Nowotny was not in Glasgow to watch Madrid star Zinedine Zidane's mesmeric match-winning volley in the flesh. Across the Atlantic in Colorado, the centre-back had opted to pencil in surgery on a cruciate ligament injury rather than join his teammates in Scotland. It has been a source of regret ever since.

"It was the biggest mistake I made in my career," Nowotny tells ESPN. "After I ruptured my anterior cruciate ligament in April, I continued to watch the team until the end of the season. I was at the DFB-Pokal final in Berlin when we lost the cup final. But I decided to fly off to Colorado to have surgery rather than attend the Champions League final.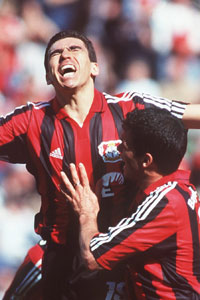 GettyImagesLeverkusen's class of 2002 included the likes of Michael Ballack and Lucio, who became global stars.
"I watched the game against Real Madrid on the television and I hate myself for this decision. I should have gone to Glasgow, experienced the game with my teammates, walked up to the get my silver medal in the stadium. I should have been there to infuse the emotions of the occasion, to inhale it and to be part of this great event. I made the wrong decision and I wanted to get back as fast as possible. It was a horrible situation to watch them on the television."

The injury responsible for curtailing Nowotny's season, and also preventing him from playing for Germany at the 2002 World Cup -- he watched from afar as his teammates and friends were again denied in a final, courtesy of a Ronaldo-inspired Brazil -- was suffered in a nerve-jangling 1-1 draw with Manchester United at the BayArena. It was the match that took Leverkusen to their first Champions League final, on away goals.

Nowotny had also been injured in the first leg, a muscle problem in the 2-2 draw at Old Trafford forcing him off prematurely. Misfortune reared its ugly head again just eight minutes into the return leg, as he tore his knee ligaments in a collision with Ruud van Nistelrooy. What followed his withdrawal was a barrage from United, notably in the second half when the much-maligned Diego Forlan came closest to tilting the tie in the Red Devils' favour. Leverkusen withstood the kitchen sink et al and delivered what was arguably Sir Alex Ferguson's most emotionally painful Champions League exit, with the prospect of European glory in his native Glasgow snatched away in agonising fashion.

For Leverkusen, it was another unlikely result in a truly unlikely season. Klaus Toppmoeller's collective had impressed domestically with two second-placed finishes in the previous three years, but had exited at the group stage in each of their first two Champions League campaigns. Despite the lack of continental pedigree, however, they knocked out Lyon, Juventus, Arsenal, Liverpool and, of course, Manchester United, and threatened to become the first club to win the Champions League before their own national title.



"We played so well that season, not just from the results side but in the style of football we played," Nowotny explains. "We had players who boasted lots of technique, talented individuals like Michael Ballack, Lucio, Oliver Neuville and Bernd Schneider. We had players who were also national team players and many went on to the World Cup. It was the best season Leverkusen ever had. The only thing missing was that one title. Missing out on three -- some even missed out on four with the World Cup -- was so sad. But overall the season was great for us.

"We faced many huge teams so it was difficult to ever expect to go through. When we drew 2-2 away to Manchester United, which was a great result -- looking at the size of our club against theirs, it seemed such a mismatch. We had great players, but we were up against this team that had names like Van Nistelrooy -- one of the greatest strikers in the world -- plus Paul Scholes, Roy Keane and Juan Veron. That first result at Old Trafford gave us belief, though, and we managed to hold on at the BayArena. My personal memories are obviously not so good because I was injured twice but, for the club, it was fantastic."

The impact of that bittersweet 2001-02 campaign is still felt at Bayer. The 'Neverkusen' tag bestowed upon them by the German media will remain a burden on the club's players until the trophy drought, now into its 20th year, is broken. Nowotny recalls the frustration of the season after the near-Treble, as the media persisted in ripping off the scab of those three painful defeats.

"We tried to have success in the first games [of 2002-03] but you can't get it out of your head 100 percent because every journalist, every fan, every person you spoke to asked the same question. 'How will you recover from losing three trophies?' Every week they would ask 'How are you coping?' or 'How are you keeping your heads up?' -- this was very tiring and does not help you forget those bad memories of losing.

"But so many people in the world have bigger problems than we had. If you lose in these finals, you should be proud of yourself because how many players have the chance to go to a Champions League final or a World Cup final? The players who have been there have played a whole season on this higher level. You have to consider these positive things, not negatives. It's hard, though, because everyone wants to hear about the negatives!"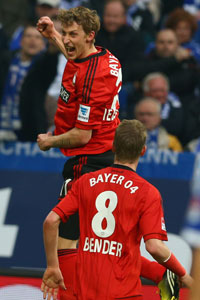 GettyImagesBayer Leverkusen pair Lars Bender and Stefan Kiessling have the ability to cause Man Utd problems at the BayArena.
There have certainly not been too many negatives attached to Leverkusen's current crop. Sitting second in the Bundesliga above Borussia Dortmund, Sami Hyypia's side are also on the brink of reaching the last-16 of the Champions League, a scenario that appeared far from guaranteed after they were outplayed by United in their European opener in September. The return of the English champions to the BayArena for the first time in more than a decade -- United beat Bayer 2-1 on German soil in the 2002-03 group stage -- comes at a time when confidence is high in Leverkusen.

And Nowotny believes that while this Leverkusen side may not boast as many stars as the 2002 vintage, their strong team ethic gives them an excellent chance of turning over United.

"Leverkusen are now all about that word: team," Nowotny says. "There are perhaps not as many good individuals as our side of 2002 but, as a team, they have great morale and they are a strong unit. Manchester United are favourites on paper -- Rooney and Van Persie is a frightening attack, one of the best partnerships in the world -- but there are some excellent players for Leverkusen too.

"Stefan Kiessling is on great form and is a player who fights for 90 minutes and is very difficult to play against. He runs after every ball, he's excellent inside the penalty area, he's very good with his head. He is the heart of the team -- when he is running, the team is running. Similarly, if Lars Bender is 100 percent fit this will be very important. You could see when he came on in the match at Old Trafford, he is aggressive in his tackling, he lifts the other players. They will have the chance to win the midfield battle and then they can win.

"I hope Leverkusen are proud of where they have got to and that they believe in themselves. If they do have the belief, the motivation, they can win. They are fast and dangerous in attack and if they can put pressure on the United defence, they will have a chance."

The stakes may not be as high as 11 years ago, but Hyypia's Leverkusen are out to emulate the class of 2002 and prove that, like Nowotny and Co, they are capable of beating Europe's elite and progressing to the latter stages of the Champions League.