Arsenal, Dortmund, Napoli hang in the UCL balance
Borussia Dortmund may not yet have caught fire in the Champions League, but Jurgen Klopp typically caught the simmering sense of tension around their group. "Some said we are in the strongest and most exciting pool," the German coach stated ahead of his side's encounter with Napoli. "It is up to us to keep it exciting by winning.

"There is pressure."

At the same time, it didn't exactly feel like that on Monday afternoon at the training ground of one of their two rivals. There was a relaxed composure about Arsenal's news conference with Arsene Wenger and Aaron Ramsey. "We're confident in what we can do and hopefully we can get the positive result we're looking for," Ramsey insisted.

- Cross: Arsenal out to send message
- Buczko: High-stakes contest for Dortmund
- Report: Klopp dismisses BvB "crisis" talk
- Benitez: Napoli can go far in UCL

That assurance is perhaps understandable given that on Tuesday, Arsenal host a Marseille team currently bottom of the group with zero points, while they sit in first place on nine. Wenger's side should claim victory and consolidate top spot, but it is the very presence of an underperforming side like Marseille that means Arsenal cannot afford to be too sure of themselves just yet -- even in the event of a handsome home win.

Wenger talked about a "paradox," and you can kind of see what he means. Although the French side's dismal position indicates an ultimately easy win for Arsenal, victory is still essential but may yet prove irrelevant.

Group F is that tight, that taut. In fact, it could yet prove one of the most complex and congested that the Champions League has seen. If all games go according to the pattern we've seen so far, three sides should end up on 12 points. That would be a first in the competition's history, proving hugely unfortunate for whichever side finishes third.

There have been only nine previous groups that have seen a team with 10 points fail to advance, and none have been quite as neck-and-neck as this throughout. It is not just the past results that point to a deadlock, but also the attitude of the teams involved.

At present, Arsenal, Dortmund and Napoli know what they must do and have their fate in their own hands, but that in itself means each must still look over their shoulder rather nervously. The group could yet end up in a grand game of rock-paper-scissors. Arsenal have the form and position; Dortmund the greater amount of away goals in the head-to-heads; and Napoli the luxury of their final group game at home.

"It's difficult because this is the decisive stage of the competition," Wenger said. "Matches 5 and 6."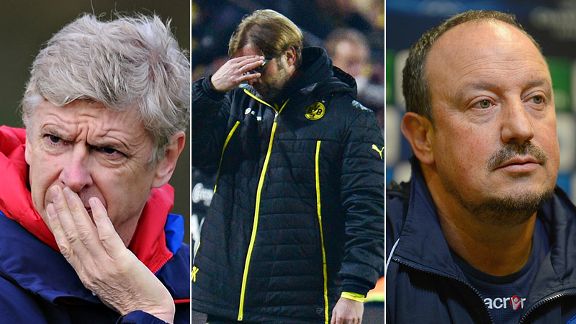 Getty ImagesUCL Group F is fraught with danger but Wenger, Klopp and Benitez all have just cause to believe their teams will advance safely.

As such, all want to ensure they do their primary work before a potentially anxious last matchday. Napoli goalkeeper Pepe Reina revealed a common mentality ahead of his side's own trip to Dortmund. "They have too much quality for that. We know what we want -- to go through to the next round."

Wenger elaborated on that in his own way. "It's always the case [this bottleneck] when one team has no points, but we know what is at stake and want to qualify. We know that tomorrow is a very big game in that final stage of the qualifiers. We have an opportunity to do it at home. You say 12 points may not be enough, it's true. But it might as well be enough and maybe already tomorrow, so let's get the 12 points."

Sokratis Papastathopoulos and Klopp struck a similar chord for Dortmund. "All the players know what tomorrow is about," the Greek defender said. "We are totally programmed on a win and have it in our own hands."

His manager would at least have been pleased with the focus Sokratis talked about. Klopp himself was keen to maintain concentration. "It would be good if we could win tomorrow so everyone would still have to play their best teams on the last matchday," the German coach said. "Nobody can be sure to go through in this group. If we don't win both games it will be difficult.

"Things will be complicated should we not win twice. They [the team] know that as well and this will shape the game."

It is the failure that Klopp mentioned, however, that could yet shape the table in a different way. Although all of the teams know what they must do, they'll also have to realise any dropped ball could disproportionately skew affairs.

Should Dortmund fail to beat Napoli, they would lose their footing in the group and require a favour on the final matchday. In third, the German side's situation is the most pressing, even though a win would arguably put them in command. Arsenal currently hold that power card, but a slip against Marseille would likely mean needing a resilient display in Naples on the final day. Rafa Benitez's side, meanwhile, will not want to have to make certain of a win at that point either.

Further complicating things is the form that has put them in this position. While Arsenal are buoyant and won their last game, both Napoli and Dortmund must bounce back after defeats. The Italian side have lost two in a row, the Germans three.

Conditioning that has been the fact that Napoli have so far lacked some of the traits that you would always associate with the least of Benitez's teams -- especially that sense of a fully cohesive defensive structure -- while Dortmund are arguably facing their sternest psychological test of the past three years. The buildup to the game has seen an awful lot of discussion about Klopp's mood finally becoming a little darker, plus questions regarding the physical effect of their "heavy metal" game.

On Monday, he at least was assuring and adamant that his team would be the same. "We have lost three games in a row," Klopp said, "but this will only help Napoli if we play badly. We will not lose track easily."

Reina, meanwhile, pointed to the potential for more complications. "I think it won't end with the match tomorrow. You never know, everything is possible."

One thing seems certain. Tuesday, at least, will be exciting. Beyond that? We'll have to wait and see.