Champions League Matchday 5: Key talking points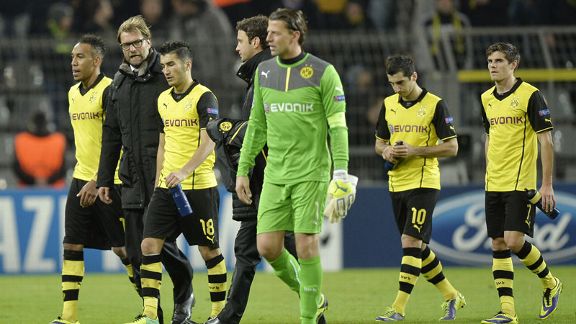 APBorussia Dortmund suffered a 1-0 loss at home to Arsenal in their last Champions League outing.
With so many of the Champions League big hitters making serene progress into the knockout phase of this season's competition, crucial matchups are few and far between on Matchday 5.

- Johnson: Group stage permutations

Yet this year's "Group of Death" was always likely to provide the most thrills and spills, and so it has, with one game standing alone as the most eye-catching encounter of the next round of Champions League fixtures.

GAME OF THE WEEK - DORTMUND vs. NAPOLI

From the moment Group F threw Arsenal, Borussia Dortmund and Napoli together, it was inevitable that the most compelling plot line of this season's Champions League group stage would come from those three teams.

Many an observer suggested it would be Arsenal who would face the toughest task to come through against last season's finalists and Rafael Benitez's big-spending Serie A side, yet the Londoners' impressive 1-0 win in Dortmund in the last round of matches leaves them in pole position to claim a last-16 place, though all three teams are likely to have plenty to play for going into the final round of group games.

What of Dortmund? A hat trick of defeats heading into this must-win fixture against Napoli has presented coach Juergen Klopp with a major headache, with Saturday's 3-0 home defeat against fierce rivals Bayern Munich inspiring Bild newspaper to proclaim on Monday morning that "The First Major Klopp Crisis" is looming large.

"I told the team, you must now be depressed for five minutes, then it goes on," said Klopp. "The amount of the loss [against Bayern], frankly I don't care. If I was to say we had a problem, we need to build the team again, then it would be an excuse. But there is no problem. We have some circumstances that do not help, but no big problem."

With Mats Hummels and Marcel Schmelzer joining Neven Subotic and Lukasz Piszczek on the treatment table, Dortmund's makeshift defence is being exposed, yet all is not well in the Napoli camp too, as they prepare to make this trip to the always simmering Westfalenstadion.

Back-to-back Serie A defeats have dented the belief of Benitez's side, with the home loss against Parma on Saturday especially troubling for the Napoli boss, as he watched his side miss a host of opportunities in a 1-0 defeat.

Marek Hamsik's injury in the Parma game is a blow to Napoli ahead of their trip to Germany, but Benitez remains confident. "The victory over Dortmund in our first Champions League match was important for this group and now we have the chance to complete the job in Germany," says Benitez, reflecting on his side's 2-1 win on Matchday 1. "It is no easy task, but we are still confident."

Verdict: Dortmund's defensive injury crisis and deflated spirits following their Bayern humbling provide an opening for Napoli. Benitez is shrewd enough to collect the point his side needs.

VITAL STATISTICS (via UEFA)

• Arsenal and Napoli will progress in Group F on Tuesday night if the Gunners beat Marseille at Emirates Stadium and Dortmund fail to beat Benitez's men in Germany.

• Dortmund will be thrown into the Europa League for the second half of this season if they fail to win and Arsenal better that result.

• A draw would be good enough to send Napoli through, thanks to their head-to-head record against Dortmund being superior after their 2-1 win in Naples on Matchday 1.

JUVENTUS vs. FC COPENHAGEN

The sight of mighty Juventus, Serie A title holders and two-time European champions, propping up Group B comes as something of a surprise, but the Bianconeri have a chance to move into a more commanding position with a win against their Danish opponents.

Without a victory from their first four games in the competition this season, Antonio Conte's men may be riding high at the top of Serie A, yet they have much to ponder as they return to European competition.

"We have proved we can play at the level of Real Madrid and we have to remember that going into this game," said Conte, whose side drew 2-2 with the Spanish giants in the last round of matches and only lost narrowly at the Bernabeu on Matchday 3.

"The lesson from our first game with Copenhagen is simple: Take your chances. We created 10 glorious opportunities to score in Denmark, but this is not enough to win games if you do not put the ball in the net.

"I can't remember us ever creating so many opportunities to score in a single game during my time as Juventus coach. Their goalkeeper was just amazing, but we also helped him with some poor finishing."

Copenhagen's away form must be a concern heading into this tie. They have won just once in five games on their travels in the Danish league this season and have lost twice in their Champions League away games.

Verdict: Juventus to get the three points they need and set up a crunch match in their final game with Galatasaray.

CELTIC vs. AC MILAN

Where to start with AC Milan? Saturday's 1-1 home draw with 10-man Genoa provided yet another afternoon of frustration for beleaguered coach Massimiliano Allegri, who will struggle to explain why his side are closer to the relegation zone in Serie A than the title-challenging positions.

The decent form of a revived Kaka aside, this has been a season of misery for Milan, with a rare missed penalty from Mario Balotelli last weekend suggesting the tide of despair will not turn in Allegri's favour any time soon.

Angry supporters protested after the stalemate at the San Siro, yet though the mood of despair around the club refuses to lift, the man caught in the firing line seems determined to ride out the storm.

"I am eager to bring the team back to a good position in Serie A, continue in the Champions League and also the Coppa Italia," maintained Allegri. "In my three years at Milan we always did well, but things aren't going our way this season. I have not run out of words and ideas. Otherwise I'd have already left."

Milan's coach appears to have been in the "under pressure" category for much of 2013 and you wonder whether he will finally run out of time if his side are undone on what is certain to be another emotion-filled night at Celtic's atmospheric Parkhead.

It is unfortunate that one of the truly great venues in world football plays host to fixtures against the moderately supported clubs in the Scottish Premier League on a weekly basis, as there are few more spine-tingling stadiums to visit when the stakes are raised on a Champions League night. That raucous home support wins Celtic games they have no right to.

Verdict: Celtic tend to find a way to win games against the odds, so do not be surprised to see Neil Lennon's men beat a wounded Milan.

STATS ZONE (via UEFA)

• FC Copenhagen's Brazilian midfielder Claudemir has covered more ground in the Champions League than anyone else this season (48,791 metres).

• Paris Saint-Germain's Thiago Motta, Manchester City's Samir Nasri and Real Madrid's Angel Di Maria are responsible for the most assists in the competition this season with four. Motta also has made most successful passes (449).

• Real Madrid's Cristiano Ronaldo leads the Champions League scoring charts with eight goals, followed closely by Paris Saint-Germain's Zlatan Ibrahimovic with seven.

• Manchester United are appearing in the Champions League group stages for a record 18th successive season.

• Real Madrid are the top scorers in this season's Champions League with 14 goals from four matches, with Paris Saint-Germain just one behind. Austria Vienna are the only team yet to score in this season's competition.

• Celtic have completed the fewest passes in the Champions League group stages (1,036), while Paris Saint-Germain lead that category (2,795).

• Defending champions Bayern Munich have had an impressive 64 shots on target in their opening quartet of Champions League matches. High-flying Arsenal have had just 23 in comparison.