Group D: City take on the champions
More previews: Group A -- Group B -- Group C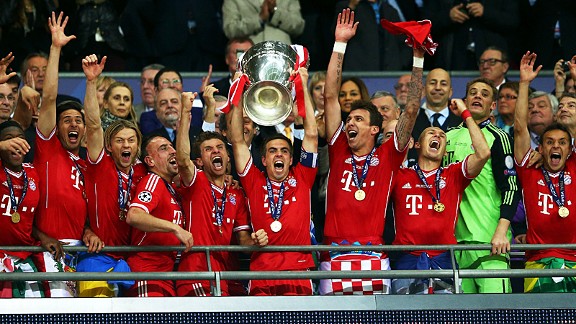 GettyImagesBayern lifted the Champions League trophy after a stellar year.
Bayern Munich (By Stephan Uersfeld)

The team: Three Champions League finals in four years. A record-breaking Treble last season. Only one defeat in 2013. The winner of the UEFA Best Player in Europe Award. Germany's most exciting talent. A coach coveted the world over. Bayern Munich go into the new Champions League season as the major favourites. Over the past four years, Bayern have, without doubt, become the best team in Europe. The Pep Guardiola-led side will set off on an attempt to become the first ever to defend the Champions League title. Guardiola claimed two continental crowns with Barcelona in 2009 and 2011, and he has inherited a near-perfect team from Jupp Heynckes, who retired after 2012-13 and the best season ever by a German club.

NEW: Champions League fantasy
PLAY: Champions League predictor

Guardiola has already transformed Bayern's 4-2-3-1 system into a possession-based 4-1-4-1 system. With the full-backs moving up high into the opposite half, the single pivot in holding midfield falls back deep behind the full-backs to control the match. The two central midfielders are guarded by two wingers, who move into central midfield to make way for the attacking full-backs. During the opening stages of the Bundesliga, Bayern players have had their difficulties adjusting to the new system and finding gaps in defence. Despite having up to 80% possession, Bayern, until now, have not impressed and have struggled with injuries early on in the season. Once fine-tuned, however, they will surely be the team everyone wants to avoid in the knockout draws.

Star man -- Franck Ribery: In the summer of 2009, Real Madrid were ready to splash out €80 million for Ribery but Bayern refused to sell to the Spanish giants. Bayern's resistance helped finally turn them into one of the big players in Europe. Ribery enjoyed an incredible season in 2012-2013 and has been unstoppable on the left flank. He not only scored 10 goals but also recorded 15 assists and was recently named UEFA's Best Player in Europe in recognition of his efforts. He has now rightly set his sights on winning the Ballon d'Or.

Ribery's partnership with David Alaba has emerged as the best in all of Europe. Alaba, 21, is arguably the most exciting left-back on the continent at present, and the two-time Austrian player of the year also has shown his qualities in central midfield. He is a masterful left-back and finally has put an end to the discussion of where to play Germany captain Philipp Lahm.

Verdict: Bayern Munich want to become the first team ever to defend the Champions League title, and there is no reason the Treble holders, who in late August also bagged the UEFA Super Cup in a thriller against Jose Mourinho's Chelsea, can't do just that. Still, the new 4-1-4-1 system has made Bayern vulnerable on the wings, and with further unrest to be expected through the ongoing Uli Hoeness court case, Bayern must try to avoid living up to their unfavourable FC Hollywood nickname again. If Guardiola can steer his squad away from trouble off the pitch, the Bavarians are odds-on favourites to at least reach the semifinal stage again. From there, anything can happen.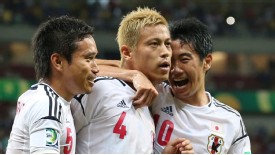 APCSKA Moscow will look to star Keisuke Honda to upset Bayern and Man City.
CSKA Moscow (By Kevin Palmer)

The team: CSKA Moscow were initially a part of the Russian military's sporting arm -- hence their "Army Men" nickname -- yet those links have been diluted in recent years. Eleven-time winners of Russia's domestic league title, they are the reigning champions and head into the Champions League looking to better their run to the quarterfinals in 2010, when they lost to Jose Mourinho's Inter Milan after two tight legs.

That European success story was orchestrated by current CSKA coach Leonid Slutsky, whose 4-2-3-1 formation means they will be a threat on the break against their high-profile Group D opponents. Slutsky's success in reaching the top of the Russian coaching ladder at the age of 42 stemmed in part from the premature demise of his playing career, which ended when he injured himself falling out of a tree trying to retrieve a cat.

He caught the eye as a tactician after spells with Uralan Elista, FK Moskva and Krylya Sovetov before succeeding Juande Ramos as CSKA Moscow coach in 2009. Since then, he has led what always appears to be a nervous and uncomfortable existence on the touchline, with his lack of visible emotion giving the impression he is a coach who is far from happy in his work. Champions League success this season might see him unveil a rare smile.

Star man -- Keisuke Honda: After a summer of speculation surrounding the future of Japanese star Honda and his possible move to AC Milan, this creative schemer will remain in the Russian capital until his contract expires at the turn of the year, and his importance to their set-up cannot be underestimated. His profile in his homeland made Honda a hugely attractive target from a commercial perspective for potential employers, but that should not detract from his ability as a player, and Milan will be bringing in a valuable asset in every sense.

CSKA also can call on Russia international Alan Dzagoev, who caught the eye at the Euro 2012 finals last summer, sparking speculation that he would be snapped up by one of Europe's top clubs, with Premier League sides Tottenham and Arsenal believed to have been tracking him. While that interest appears to have faded for now, Dzagoev will doubtless shoot back into the public eye if he can make his mark in the Champions League this season.

Verdict: They might head into their Champions League campaign with modest expectations, but CSKA will fancy their chances of ruffling the feathers of Manchester City, especially in their Moscow home.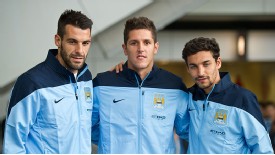 GettyImagesCan Manchester City's new signings help the club finally get out of the group stage?
Manchester City (By Miguel Delaney)

The team: Such is Manchester City's poor history in the European Cup -- they have failed to get past their round of entry in three attempts going back to 1968-69 -- that the club's hierarchy went and ensured that Roberto Mancini's replacement had ample expertise in the competition. It certainly feels like their aims are being diverted in a particular direction. For all the chatter about Manuel Pellegrini's lack of trophies in Europe, there can be no denying his aptitude for the continent's premier competition. He has worked wonders with both Villarreal and Malaga in their debut campaigns, guiding the former to the semifinals in 2006 and the latter to the quarters last season despite profound financial issues.

Such cash problems are in stark contrast to Manchester City, where he has enjoyed a lavish spending spree over the summer and added variety and depth to the squad. The side now have an admirable mix of width, force, finesse, precision and creativity. They look capable of attempting any angle of attack, provided they eventually gel. Pellegrini also has proved adept at quickly integrating attackers, but there's still a difference between that and reaching the level of Bayern Munich, Barcelona and Real Madrid. Similarly, there remains a worry that the inevitable gaps in the team from that process will not be adequately covered by an unfinished defence. It remains the most under-resourced area of the team, with Joe Hart's recent poor form only compounding the problem. Superior sides will revel in that kind of space.

At the least, a far kinder draw should mean they will not suffer the same culture shock as the previous two seasons. Even if Pellegrini does not successfully implement his approach as quickly as at other clubs -- and the uncertain performances against Cardiff City, Hull City and Stoke City in the Premier League indicate that might well be the case -- it would be a huge surprise if they fail at the group stage again.

Star man -- Yaya Toure: Even if he doesn't quite possess the truly elusive ability of Sergio Aguero or David Silva, there can be no disputing that he is City's driving force. When Toure revs up, so do his team. Moreover, in a competition that is still largely dominated at the top end by passing teams, the midfielder's rousing runs can offer that key difference in attack that suddenly breaks games wide open. Certainly, it's difficult to think of too many sides with an engine that forceful. The one worry is an occasional tendency to drift out of matches, but City's raft of signings mean they are no longer so reliant on Aguero or Silva for that element of magic to cover.

Verdict: While merely getting through the group would represent progress, City should and will aim for much higher. Reaching the semifinals is a genuine possibility, even if the greater experience and integration of the other elite teams means Pellegrini's side would need an awful lot of fortune to go any further.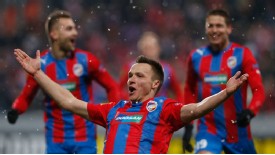 EmpicsStanislav Tecl could be Viktoria Plzen's main attacking weapon.
Viktoria Plzen (By Kevin Palmer)

The team: Champions League debutants two seasons ago, they fared better than many predicted as they pushed AC Milan close in two games and did not disgrace themselves against mighty Barcelona.

Prior to that run, the Czech Republic outfit had very little in the way of European experience, with an appearance in the 1971-72 Cup Winners' Cup (in which they were knocked out in the first round by Bayern Munich) their only notable appearance prior to last season's Europa League run, which was ended by a tight defeat against Turkish side Fenerbahce.

Viktoria boss Pavel Vrba has performed a string of minor miracles with the unfashionable west Bohemian club since he took over in 2008, steering them to victory in the Czech Cup in 2010 and to their first national championship title in 2012. Not for nothing is he the favourite to become the Czech Republic coach sooner rather than later.

A former professional in the old Czechoslovak League with Cheb and Banik Ostrava, he has a romantic view of the game as he sets out to win matches playing a brand of football that is as thrilling as it is risky. Whether that can work against Europe's best sides remains to be seen, but Vrba certainly will do all he can to entertain in this season's Champions League.

"I am honoured to have a chance to play against teams like Bayern Munich and Manchester City," Vrba says of his side's daunting group-stage draw. "It will be a very exciting experience, as we have never faced English or German clubs before. I will be happy with every point we get, and if we are to finish with four or five, I would consider [it] a success.

"We have Champions League experience as well as in the Europa League, though we do not have the same personnel now. Since our last group-stage participation [in 2011-12], we have made five or six changes. It will be a great experience for the players who were not with us two seasons ago. I hope that, especially at home, we can please our fans with attractive games."

Star man -- Stanislav Tecl: A new acquisition for Plzen, and they will rely on his goal-scoring abilities this term, yet he has struggled to find the net consistently since making the move to the Czech champions last summer. A rising star of his country's football elite, he will be eager to confirm he is equipped to shine in the Champions League.

"This is a very attractive draw for us and especially for our fans. Munich is not far away, so many of them may come to support us," Tecl says. "It is clear that all three opponents will be strong favourites against us, but we did not fight to qualify for the group stage to give it up before the final whistle. We will fight for each point."

Tecl made his mark in Plzen colours when he scored the crucial away goal in the playoff-round win against Maribor, and now comes his chance to show he is ready to test the best in the Champions League.

Verdict: Plzen will struggle to make the step up from the Czech league to squaring off against the likes of Manchester City and Bayern Munich. A Europa League spot would represent success, and to achieve that, they need to excel against CSKA Moscow. Any points against the big two in Group D will be treated as glorious triumphs, but they will not be forthcoming.

More previews: Group A -- Group B -- Group C