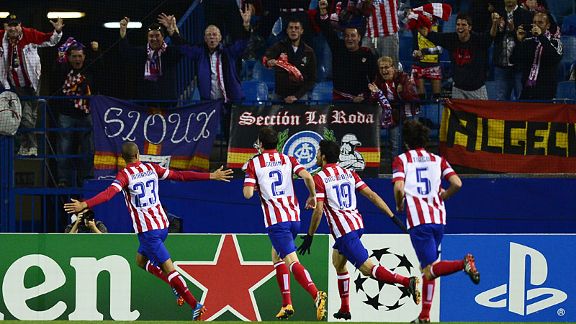 GettyImagesAtletico Madrid beat Austria Vienna 4-0 to secure not only qualification but top spot in their group.
Group E
Remaining fixtures: Basel vs. Chelsea, Steaua vs. Schalke; Schalke vs. Basel, Chelsea vs. Steaua

Has any team qualified yet? No, and all four teams are alive in the group.

Who can qualify on Matchday Five? Chelsea need only a point away at Basel to secure a top-two finish, while a win for Schalke at Steaua will only be enough if Basel are beaten. Chelsea will also be guaranteed qualification if Schalke lose to Steaua.

The group picture: With Chelsea needing only one point from two games, and Steaua still to visit the Bridge, they will be confident of progress. The match between Schalke and Basel in Gelsenkirchen on Matchday Six could yet be the decider for second, and home advantage could prove key. Basel's failure to win either of their games against Steaua has seemingly ruined the good work of the opening-night win at Chelsea. Steaua will almost certainly have to win both of their games and hope Schalke do not beat Basel, and that Basel pick up fewer than three points.

Group F
Remaining fixtures: Arsenal vs. Marseille, Dortmund vs. Napoli; Napoli vs. Arsenal, Marseille vs. Dortmund

Has any team qualified yet? No, though Marseille have been eliminated from Europe altogether.

Who can qualify on Matchday Five? Arsenal, who are at home to Marseille, will qualify if they better Dortmund's result at home to Napoli. Matching results would not be enough as Dortmund lead Arsenal on head-to-head away goals. Napoli will qualify if they draw at the Westfalenstadion, as they would lead Dortmund on head to head.

The group picture: Dortmund have it all to do and their home game with Napoli next time out has suddenly become a must-win. If Arsenal claim the expected home win against Marseille, then Dortmund will face the Europa League if they have not picked up maximum points, too. Napoli have the harder fixtures and must weigh up the danger of playing for a draw in Dortmund. If the three teams all finish on 12 points, and therefore Marseille on zero, the group will come down to a mini-league of head-to-head goal difference with the three teams currently split by just three goals.

Group G
Remaining fixtures: Zenit vs. Atletico, Porto vs. Austria Vienna; Austria Vienna vs. Zenit, Atletico vs. Porto

Has any team qualified yet? Atletico Madrid, as one of two sides with a 100 percent record, are through as group winners.

Who can qualify on Matchday Five? Zenit can take second place if they win at home to Atletico and Porto fail to beat Austria Vienna.

The group picture: As Zenit hold the head-to-head advantage over Porto, they are very much in pole. Added to that, Zenit play Atletico at home while Porto must travel to Madrid. Zenit can afford to pick up one point fewer than Porto from the remaining games and still go through. That means Porto must pick up two more points than Zenit to sneak into second, and with Zenit still to play Austria Vienna it looks a tall order. Austria Vienna must win their remaining two fixtures and hope Zenit fail to beat Atletico -- as well as either beating Porto by more than one goal or hoping Porto fail to beat Atletico.

Group H
Remaining fixtures: Celtic vs. Milan, Ajax vs. Barca; Barca vs. Celtic, Milan vs. Ajax

Has any team qualified yet? Barcelona are through as they cannot be overtaken by both Milan and Ajax, with the two teams facing each other in Italy on Matchday Six.

Who can qualify on Matchday Five? Milan are the only team who can go through. They must win at Celtic and Ajax must lose to Barcelona.

The group picture: There's a three-horse race with Milan, Ajax and Celtic split by just two points. Milan have to go to Parkhead, which is always a difficult fixture, and Celtic know they realistically have to win that game by at least two goals (without reply) to stand a chance as they go to Barcelona to finish the group stage. Even then the Bhoys would need Milan and Ajax to draw on the final matchday. A win for Milan at Celtic could leave them needing a draw against Ajax, but if Milan do not beat Celtic then it will likely keep Ajax alive at the San Siro for a final-day showdown.