Three Things: Juventus vs. Real Madrid
Three observations from Juventus' Champions League 2-2 draw at home against Real Madrid.

Casillas has lost no sharpness

Iker Casillas may have been reduced to spectator for the 270 La Liga minutes that spanned Real Madrid's previous meeting with Juventus, but he at least appears to be working hard in training.

In a first half that the Bianconeri dominated, Casillas was called upon twice to maintain equilibrium, as an experienced defence in front of him wobbled with each wave of attack.

First to test Casillas' mettle was one of his own -- Pepe -- who shanked a low Paul Pogba centre toward his own goal from just outside the 6-yard box, forcing his goalkeeper to spring to his left to repel the ball brilliantly.

Soon after, Real creaked again as Carlos Tevez's whipped cross found Claudio Marchisio at the far post. His powerful, downward header looked destined for the net before Casillas flicked out a right leg to send the ball spearing out of the penalty area.

Casillas had little chance with the penalty that Arturo Vidal arrowed toward the top corner, and flapped at a high, looping ball in the first half, but was called upon again in the second half. He got a vital touch as Pogba's cross fell at the feet of Tevez, but was powerless to prevent Juve's equaliser, as Fernando Llorente nodded home from close range, the blame for which lay firmly at Raphael Varane's door.

However, on this evidence, it is too early to be penning any obituaries for Casillas, who remains one of the world's pre-eminent shot stoppers.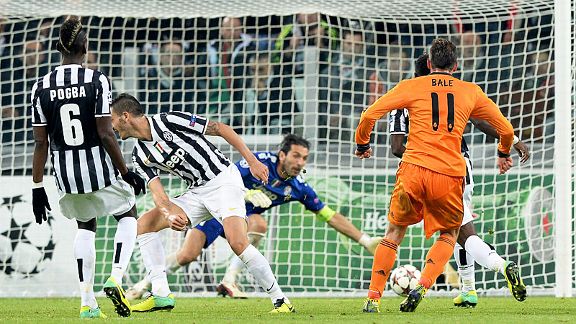 GettyImagesGianluigi Buffon is powerless to stop Gareth Bale's shot finding the bottom corner.
The Old Lady labouring

Perhaps the best news of the night for Juventus was Copenhagen's victory over Galatasaray in Denmark, even though it saw them end the night at the bottom of Group B.

That means the second spot in the group will be secured, should they defeat Copenhagen in Turin and then win in Istanbul on the final Champions League matchday.

Their draw also means Real Madrid have a little more to do in order to seal the top spot in the group when Gala travel to Spain next time round.

Juve were well worthy of their draw but can be thankful Real's defensive diligence deserted them for large chunks of the encounter.

Also that the attacking trio of Karim Benzema, Cristiano Ronaldo and Gareth Bale only sporadically managed to find the fluency that is surely only a few weeks away from being cemented properly.

There is perhaps less chance that Juve's attacking cast will jell quite so quickly, despite their industry.

Tevez was his usual, enterprising self; Llorente bristled with all of the intent of a bouncer in a provincial nightclub on a Friday night while Marchisio buzzed in and out of the action.

But it was the thrusting runs from midfield of Pogba and the artistry of Vidal that created most danger for Real.

Pogba, Juve's 20-year-old star-in-the-making, looked far more assured than Varane, confident in possession, crisp with his distribution and commanding when shielding the ball from any would-be scavengers.

Juve should have the wherewithal to negotiate their final two fixtures and take their place in the last 16, but far more cohesion will be required if they are to trouble the tournament's leading sides in the knockout stages.

Varane has a long road to travel

Once again, Real Madrid's brittle defence was exposed in Turin, Varane having a night to forget alongside three experienced campaigners who should know better.

It was the 20-year-old himself who said after Rayo Vallecano almost snatched a point against Carlo Ancelotti's side in La Liga having been 3-0 down: "We need to defend as a team. We can improve defensively, if we do it together."

After this nervy showing, perhaps he'd be better served focusing on his own performance. While a large portion of Real Madrid's defensive frailties in the first half were born by a lack of sufficient pressing and tracking back from their front three, Varane seemed to struggle whenever a black-and-white-shirted foe approached.

It was his rash sliding challenge on Pogba -- who was running away from goal -- that yielded a penalty, expertly converted by Vidal, and underlined a streak of ill discipline.

Again in the second half, he was found wanting, losing sight of Llorente as Martin Caceres' cross drifted into the penalty area.

In fact, Varane was facing his own goal when the Spaniard guided it into the corner past Casillas, unsure whether to clock eyes on the ball or grapple with his opponent.

Having Marcelo, Pepe and Sergio Ramos alongside him only served to highlight the disparity in pedigree at this level, though Varane will unquestionably go on to match and possibly surpass the level of his teammates.

In the meantime, perhaps a few extra training sessions with Ancelotti wouldn't go amiss.