Klopp's flexibility may give Dortmund the edge
In the moments after Borussia Dortmund had finally ended Arsenal's recent unbeaten run and perpetuated one of their own that has so far lasted until this return game at the Westfalenstadion on Wednesday, Juergen Klopp was asked whether he felt his team had reasserted their status as one of Europe's finest teams.

For the 46-year-old, it was utterly irrelevant. All that is relevant, as Klopp put it, is that Dortmund are consistently capable of "beating these teams." It's an issue that cuts to the centre of his team's progress over the past three years, but is also conversely one not always associated with the Dortmund phenomenon.

Of course, Klopp did much to deepen perceptions of his side in the latest eminently quotable interview with the English press. Endearing comments about how he likes "heavy metal," always wants it "loud" and has the "high-fives" instead of the "polite handshake" help cement the image of this buccaneering young team also bucking the trends of the modern game.

The reality of his team's approach -- if not his charismatic personality -- is often much less blunt. The 2-1 win at the Emirates Stadium was almost a case in point. This was a Dortmund that had notably evolved from the naive side that lost by the exact same score at Arsenal almost two years before.

The reversal also came despite the London club enjoying their most promising form and summer since the November 2011 fixture, with Dortmund suffering a series of sales and setbacks that Arsene Wenger empathised with.

Naturally, one interpretation of the game is that all those changes were still evident and Dortmund's victory was down to nothing more than fortune. Certainly, Arsenal dominated the majority of the match, and Robert Lewandowski ultimately took what was actually one of very few chances on the break.

Peering a little deeper, however, puts a different spin on it. For Arsenal controlling the ball and the territory in the second half, they could do very little to actually hurt Dortmund beyond one long-range Santi Cazorla effort. Other than that, the German side comfortably held their hosts at bay like a boxer merely extending his jab. They were by no means defending a fevered siege. By contrast, when Dortmund did decide to regenerate all that energy again and break, they looked properly dangerous.

The spell after Lewandowski's goal was also a masterclass in completely extinguishing an opponent's competitive edge with the ball.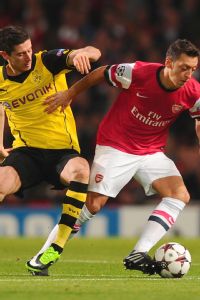 Mike Hewitt/Getty ImagesRobert Lewandowski and Mesut Ozil could be the cief protagonists on Wednesday.
"My team gave their all tonight," Klopp said, even if they did not quite run at the same pace as usual. "We started very well, had a fantastic work rate when not in possession and created some superb counterattacking situations for ourselves ... we were always alert and ready to decide the game with one attack."

In short, even if Dortmund required an element of fortune, this was a highly refined performance. It also pointed to a tactical sophistication that Klopp possesses that is superficially at odds with that "heavy metal perception" -- but also Wenger himself.

This was something that the Dortmund manager actually touched upon in Monday's interviews. Clearly, Klopp greatly admires Wenger and certainly did not intend to criticise. At the same time, it was also as if the German coach couldn't help describing some key differences as he sees them.

"When I watch Arsenal in the last 10 years, it is nearly perfect football, but we all know they didn't win a title," Klopp began. "This is the philosophy of Arsene Wenger. I love this but I cannot coach this because I am a different guy. You think many things are similar? I hope so in some moments, but there are big differences, too."

One of those differences, as the game at the Emirates illustrated, is that Klopp is so much more willing to alter or compromise his entire approach if it means winning right now.

It is something of a myth that has grown about his famed gegenpressing; that the style limits them to one way of playing. Instead, it actually allows a variety of gameplans, not least in the biggest matches. That should be no surprise since the tactic has, from the start, always been something of a balance between the defensive and the attacking. After a half-decade in which the dominant football debate was between Jose Mourinho's reactive football and Spanish-Catalan proactive style, there is a fair argument that Klopp has found a key middle ground between the two broad philosophies, or at least attempted to. His sophistication is emphasised in the way he has tried to push forward what is still possible in football tactics. He has also pushed his team's formation around in pursuit of that.

In the group stage last season, Dortmund specifically focused all of their pressing on Real Madrid's problem left-back zone. Against Napoli this season, Klopp went for an unfamiliar 3-3-1-3, even if that did mean defeat.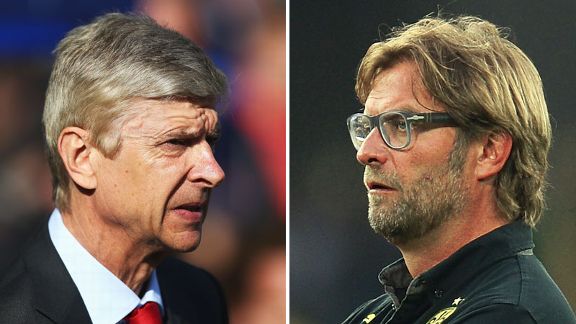 Getty ImagesArsene Wenger and Juergen Klopp share tactical similarities, but the German is more pragmatic.
In contrast, Wenger almost never compromises. He aims for changes in fluency, integration and confidence, rather than actually implementing change himself with his tactics. It has arguably been one of the key issues with Arsenal over the past few years.

As Wenger has persisted with the same broad template, his team have been more dependent on form and overall quality, which has meant he has never strategically compensated for some of the lesser players or performances the side has fielded over the past few seasons. If you are suddenly able to introduce someone such as Mesut Ozil or a radically improved Aaron Ramsey into that template, however, the lift in level is going to be inevitable. Even the alterations that fixed last season's issues and resulted in that fine final run mostly involved dropping two underperforming players.

It does not seem a coincidence that Wenger's only real withdrawal to a more contained approach straddled that first key summer in 2005, when Patrick Vieira departed after winning the FA Cup. The next season, Arsenal reached the Champions League final with a record-breaking defence. The Gunners temporarily worked around issues that had been forced upon them.

Since then, Wenger has returned to trying to build a team in a more organic way, deepening integration and confidence until they reach a 2003-04-style peak.

The last two months have clearly indicated that Arsenal are on the way there. And, if the side are on anything like Saturday's form, there is the possibility that they will just blow Dortmund away. The problem, however, comes when Arsenal are enduring a below-par game or an opposition manager who has worked out how to impede their most important linkups.

Wenger now rarely changes things; Klopp almost always does. It could be the difference Wednesday.