Mixed fortunes for Bundesliga clubs as UCL kicks off

Two routine home wins. Two mistake-laden away defeats. Matchday One in the Champions League brought some mixed fortunes for the four German teams. In the process, it answered quite a few questions and threw up a few new ones too.

Manchester United 4-2 Bayer Leverkusen

Bayer are best when they sit deep, soak up the pressure and play quick counterattacking football. On Tuesday night at Old Trafford, they weren't able to do any of that. While Sami Hyypia's men had some good spells, the result flattered them in the end. If it hadn't been for some wayward finishing from Wayne Rooney and Robin van Persie, who combined as well as they have since the Dutchman's arrival, the game would have ended 6-1. In other words, the visitors were closer to a drubbing than to getting a draw.

It was interesting to listen to the players and officials after the final whistle. Sporting director Rudi Voller felt that his players "could leave with their heads held up high" and had "no reason to be sad." There were mistakes, of course, and far too many of them, Voller admitted, but that shouldn't distract from a decent performance. There was "no gulf in class," insisted the 53-year-old.

Bayer felt aggrieved by referee Damir Skomina's decision to award United's first goal (with two offsides and a foul on Bayer keeper Bernd Leno) but mostly blamed their own mishaps, "lack of courage" (Emre Can) and "lack of cleverness" (Stefan Reinartz). Reinartz also hinted at some tactical confusion. Bayer's plan was to keep the ball so as not to invite too much pressure but somehow forgot to play to their strengths (quick transition, vertical passes) while doing so. "We played ourselves to death at the back until the ball got to the full-back -- congratulations," Reinartz said with heavy sarcasm.

But there was another reason for the heavy defeat, one that wasn't spoken of because the players couldn't. Bayer, who were without regular midfielders Gonzalo Castro and Lars Bender in the starting lineup, lacked individual quality. Left-back Sebastian Boenisch is just about capable of playing in the Bundesliga and really shouldn't come up against this kind of opposition. Centre-back Omer Toprak and the more composed Emir Spahic looked out of their depth at times, captain Simon Rolfes had the worst pass completion rate of all midfielders (61 percent), and Son Heung-min appeared not quite ready for the big time. Neither did Bayer on the whole. Hyypia will have to work a minor miracle to finish in second place in this tough group.

Bayern Munich 3-0 CSKA Moscow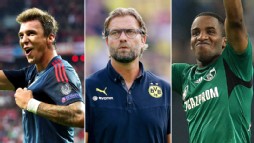 Getty ImagesBayern cruised, Dortmund imploded, Schalke impressed.
The result was unremarkable and, in a way, so was the performance. The holders were expected to dominate the Russians and did so effortlessly.

But the occasion nevertheless brought some insights. The first one had nothing to do with the game itself but pertained to the fallout from sporting director Matthias Sammer's criticism of the players' attitude in the wake of the 2-0 win over Hannover. Both president Uli Hoeness ("he's addressing a problem that doesn't exist") and CEO Karl-Heinz Rummenigge ("a phantom debate", "we don't like it") shot Sammer down in strong terms.

It's too early to say that the former Dortmund midfielder's position at the club is under threat; public disputes are a cultural tradition in Bavaria. But there's obviously some discontentment with his overcritical stance and set of priorities. He's acting too much like a manager and not enough as sporting director, hinted Hoeness. Bayern would prefer if Sammer were to spend more time negotiating transfers and contracts rather than evaluating Pep Guardiola's work. Watch this space.

On the pitch, Bayern played as well as they have under Guardiola, with lots of quick passes and attacks through the middle. Philipp Lahm was back in central midfield yet again, as a stand-in for the still-not-quite-fit Bastian Schweinsteiger. Lahm was so good that Guardiola might consider making the switch permanent. There's nothing wrong with this, apart from the fact that Lahm's deputy on the right, Rafinha, is Bayern's equivalent of Bayer's Boenisch -- simply not at the same level. The next four, rather tricky games (Schalke, Wolfsburg, Manchester City and Leverkusen) will show us if Guardiola will persist with Lahm's midfield moonlighting -- and at what cost.

Schalke 3-0 Steaua Bucharest

The hosts needed a bizarre miscued cross from Atsuto Uchida to break the deadlock but then proceeded to play some very decent stuff. Schalke won their must-win game; Basel's unlikely triumph at Stamford Bridge made the three points even more valuable.

Wednesday night also confirmed, yet again, that buying Kevin-Prince Boateng was a masterstroke. The Ghanaian midfielder helped Schalke get into the game by sheer force of will and his physical presence. His goal doubled the lead and ended the game as a contest. Boateng has also helped to relieve the unrealistic pressure that had been saddled on Julian Draxler's shoulders. The young German might not be as effective on the left, but he doesn't have to run Schalke's game from there either. His fine goal to make it 3-0 in the 85th minute capped off a satisfactory night for Schalke.

Basel's win has made the group more complex, but at home, they can beat anyone. The key question can be answered in two weeks' time: How well will this sometimes strangely lethargic side do away from home, when they don't have their fanatic support pushing them forward?

Napoli 2-1 Borussia Dortmund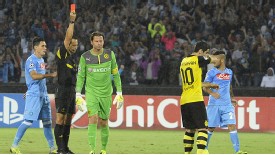 GettyImagesRoman Weidenfeller sees red against Napoli.
Everything that could go wrong for last year's runner-up in the competition did. Manager Jurgen Klopp was sent to stands for confronting the fourth official. (Klopp felt the referee should have stopped the game to allow the injured Neven Subotic to assume his place in defence; Napoli scored from the resulting corner). Goalkeeper Roman Weidenfeller was sent off for handling the ball outside the area. Mats Hummels had to come off injured.

A late Zuniga own goal gave some hope to Borussia and put some gloss on the result, but this was a bad defeat. Was it just one of those days? Klopp certainly apologised to his players and the referees. He took full responsibility for the ensuing chaos. "We had no presence. This defeat is deserved," said sporting director Michael Zorc. Granted, it was nobody's fault that another centre-back, Sokratis Papastathopoulos, had picked up an injury before the match; Dortmund's options were limited.

But the match threw up some other, more troubling issues. First, it became clear that Borussia still have a pretty bad full-back problem. On the left, Marcel Schmelzer is incredibly hard-working and a fantastic team player, but if he's not afforded protection from midfield, teams can pick on him as the weakest link. On the right, Lukasz Piszczek (hip surgery) can't come back soon enough. His stand-in, Kevin Grosskreutz, is decent enough, but he can't give Dortmund that extra dimension that the Pole brings to the table. Midfield maestro Ilkay Gundogan (back) is also being sorely missed.

There's not much Dortmund can do about these injuries, but they aggravate their biggest weakness: Against sides who cease the initiative, they struggle to create openings. Klopp said last year that he wanted his team to press even more and become less possession-orientated, but these tactics make life complicated against European teams that are good enough to keep the ball in their own half and don't open up. Marseille will pose exactly that problem to the Black and Yellows in the next game. Following the defeat in Naples, Klopp's men can't afford to have another bad day.