Beware the big matchday 1 defeat
It's half of one matchday. Eight games. And it would be insane to draw broad conclusions from such a small sample, though no doubt, some will.

But Tuesday night was one of the most one-sided Champions League matchdays in recent memory. Bayern Munich, Manchester United, Manchester City, Paris Saint-Germain and Real Madrid -- the latter three teams on the road, no less -- scored 20 goals between them (it would have been 21 but for Zlatan Ibrahimovic's missed penalty), while conceding just four. They averaged 62 percent possession, outshot the opposition 86 to 52 and managed 44 shots on target to the opposition's 15.

(The one big boy who did not do the business on the night was Juventus, held 1-1 away at Copenhagen, but if you're a stat guy there is little doubt who had the upper hand: Juventus had 58 percent possession, outshot the Danes 27 to nine and had 11 on target to Copenhagen's two.)

It's not lost on anyone that those six teams have a cumulative turnover in excess of $2.6 billon (with a "b"), while the half-dozen teams they played clock in at one-tenth of that amount (mostly thanks to Galatasaray and Bayer Leverkusen). If this two-speed Champions League continues -- and fortunately tonight there are some rather more evenly matched contests -- it will ignite debates about sustainability and disparity and what the objectives of Financial Fair Play are and ought to be.

But that's a debate for later, provided the imbalance is borne out by the results. (And over the years, we've seen that it's not always the case. Isn't that right, APOEL?)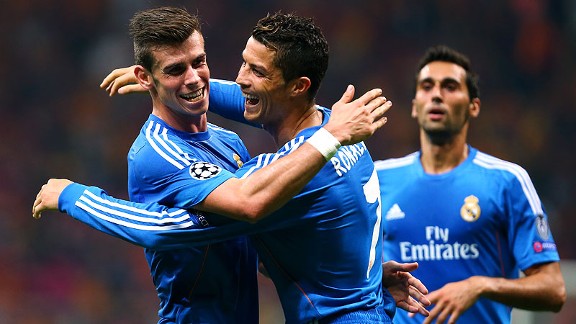 Burak Kara/Getty ImagesThough Real Madrid's romp vs. Galatasaray hasn't doomed the Turkish side yet, the stats paint a bleak picture.

What's interesting is how losing the opener by such a big result impacts whether you have a shot at advancing to the knockout stage. Recent history suggests that it's extremely difficult.

In the past 10 years, 56 teams lost their opening-group game by two or more goals. Sixteen of those 56 advanced, or around 28.5 percent. That's nearly a one-in-three chance, so you figure it's not such a tragedy if you're a fan of Galatasaray, Olympiakos, Bayer Leverkusen, Viktoria Plzen, Anderlecht, Real Sociedad or CSKA Moscow.

But look a little closer. In the past four seasons, 21 teams lost their debut by two goals. Only three managed to advance, equivalent to a measly 14.2 percent. On the other hand, in the six years before that -- between 2003-04 and 2008-09 -- 13 of 35 teams somehow turned it around, which is more than 37 percent.

The last time a team lost the home opener and advanced was in 2008-09, when Panathinaikos fell 2-0 to Inter at the Olympic Stadium and still went on to win the group. (Actually, that season, Pana were the ultimate comeback kids. They lost their second game too and only managed a home draw in their third, but won their last three games to finish first).

What about a team losing by three or more (take note Galatasaray, Olympiakos, CSKA and Viktoria Plzen)? Well, in 2007-08, both Lyon (beaten 3-0 at the Camp Nou) and Sevilla (who went down 3-0 away to Arsenal) managed to turn it around and qualify. That was the last time it happened.

But if you lose your first game by three or more goals at home, things get really bleak. The last team to come back after such a defeat were Thierry Henry's Arsenal, way back in 2003-04.

So if you lose big in your first game, should you lose all hope? Not necessarily. Because here's the thing: Teams that lost their opener by a single goal didn't fare better than those who lost by two or more. In fact, they did marginally worse. Again, in the last ten years, 58 teams lost their debut by one goal. Fifteen of them -- or 25.8 percent -- advanced. That's right -- in the past decade if you lost your opener by two or more, you had a marginally better chance of advancing: 28.5 percent versus 25.8 percent.

That said, in the past four years, the trend seems to have reversed. Thirty-two percent (eight of 25) of the teams who lost by a goal went through to the round of 16, compared to 14.2 percent of those who fell by two or more.

What does all this mean? How do you explain it? I'm not sure ... and I'm open to suggestions. It could be that before 2009, heavy losses were sometimes a function of two teams actually being quite evenly matched but one side going a goal down, gambling on trying to get back into the game and then conceding on the break. And maybe, as the gap between the haves and have-nots grew more pronounced after 2009, those teams that managed to keep the score close really did have a greater chance of advancing.

What does appear clear, though, is that while the number of blowouts has remained pretty much the same, in recent years teams have paid a stiffer price for a big early loss.