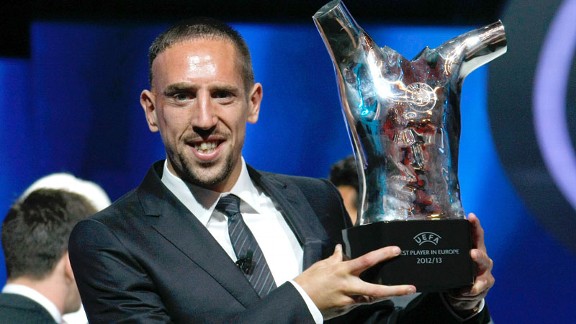 AssociatedFranck Ribery pipped Lionel Messi and Cristiano Ronaldo to UEFA's Best Player in Europe Award.
MONACO -- Last season, Andres Iniesta won the UEFA Best Player in Europe Award as Cristiano Ronaldo and Lionel Messi looked on. The former looked grumpy (later there would be plenty of speculation in the Spanish media that he blamed his club for not "campaigning" on his behalf), the latter merely uncomfortable, staring down at his shoes with the sheepish grin of someone who would rather be anywhere else than decked out in a suit on the stage at Montecarlo's Grimaldi Forum.

Awards are only as significant as the folks who choose the winners, the criteria laid out by the organizers and how closely the electorate follows those criteria.

Relative to the 500-plus who pick the FIFA Ballon d'Or winner, the UEFA Best Player in Europe Award has a smallish pool of voters: 53 journalists, one from each UEFA member nation. (Yes, even Andorra, San Marino and Liechtenstein; no the Vatican is not a UEFA member.)

Unlike the Ballon d'Or -- whose criteria are deliberately fuzzy and is based on a calendar year -- UEFA's award has defined criteria: it goes to the "best player" in Europe during the 2012-13 season. And, unlike the Ballon d'Or, it's basically a two-round vote. Jurors vote for their top three picks, who receive points based on a 5-3-1 system. The top three vote-getters then go on a shortlist and, on the day of the award, the 53 jurors vote for one guy each. In practical terms, it's arguably a fairer system.

The "problem" is that sportswriters don't like to follow the rules or, in this case, the criteria. You may feel that Franck Ribery was the most valuable player in Europe last season, that without him Bayern would never have won their Treble. Or you may feel that it's only right to pick a guy from a team that won important silverware. Or you may just be tired by the hype machine that follows Ronaldo and Messi around everywhere they go, and yearn for a change.

That's all great. Those are all fine reasons to vote for somebody. But if you observe the criteria, you should only consider one thing: who was the best in 2012-13.

Was it the guy who finished second in his domestic league and cup and took his team to the semi-finals of the Champions League, scoring 55 goals in 55 appearances in all competitions?

Or perhaps it was the guy who helped his team win the league with a record-equalling number of points, also took his side to the semis in Europe's biggest cup competition and notched an outrageous 60 goals in 49e games?

For a plurality of the folks on the jury, the answer was "no". The answer was neither Ronaldo nor Messi.
It was Ribery.

There isn't much point in reducing it to numbers, because his contribution goes beyond goals (but then, to be fair, so does Messi's and Ronaldo's), but if you want to go there, Ribery scored 11 goals last season while playing in 42 games.

What Ribery did was play exceptionally well in key games last season, particularly in the Champions League knockout round. But you can make an argument that, last year, the contributions of Phillip Lahm, Manuel Neuer, Bastian Schweinsteiger and Arjen Robben (certainly in the final) were also critical to Bayern's success.

In some ways, we already saw this thinking last season, when Iniesta won it ahead of Messi and Ronaldo. Iniesta won the same silverware Messi did with Barcelona, but, on top of that, he was instrumental to Spain winning the Euros. Great season, reward for achievement. But nobody outside of his immediate family would suggest Iniesta was a "better player" than Ronaldo or Messi in 2011-12 which rather precludes him being "the best".

Is it just semantics? Sure, maybe. But words do matter.

Call it "Player of the Year".

Or "Most Valuable Player".

Or "Player-other-than-Lionel-or-Cristiano-who-we-want-to-recognize-otherwise-those-guys-will-win-every-award-between-them."

Just don't call it "Best Player in Europe in 2012-13".

Because, simply put, he wasn't.

It's not a knock on Ribery, it's a knock on the award and those voting for it.

What's happening here is that we've taken the brilliance those two guys have displayed over the past few seasons and turned it into some kind of normality. Well, it's not normal. This isn't like when baseball moved out of the dead ball era and everybody started hitting home runs. The total number of goals being scored has remained constant. It's just these two guys -- and these two guys alone -- who have started scoring in industrial quantities and doing it for years at a time.

Ribery is an exceptional footballer on an outstanding team that deservedly broke records last year, losing just three games in all competitions. But it takes some mental acrobatics to say he's the "best player" in Europe.