CL contenders: Why they will (or won't) win
Of the ten Champions League teams most favored by the bookmakers, all but three have new managers this season. And the ones who don't -- Juventus (seventh), Borussia Dortmund (ninth) and Arsenal (10th) -- aren't among the top favorites. All this adds another layer of uncertainty to what might happen this season.

Here's a rundown of why each will -- or won't -- win.

Bayern Munich
Why They Will Win: They won it last year. And they've added to an already deep squad by picking up Thiago Alcantara and Mario Gotze. Pep Guardiola has already won it twice. They are well-drilled and can outlast you both physically and with a range of individual match-winners (Franck Ribery, Arjen Robben, Thomas Muller, etc.).

Why They Won't Win: They won it last year. And nobody has won back-to-back European crowns since Milan did it in 1990. More to the point, Guardiola is introducing new concepts -- like the single defensive midfielder -- and it will take time for the side to absorb them. Central defence arguably isn't as rock-solid as other parts of the side, while doling out enough playing time to keep all the stars happy may be a challenge.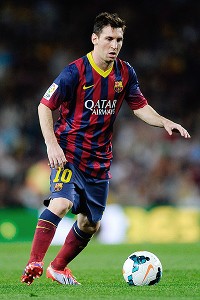 David Ramos/Getty ImagesLionel Messi can change games but even his brilliance can't mask Barca's thin defense.
Barcelona
Why They Will Win: They've added Neymar to a team that won La Liga with record points last season. Lionel Messi, when fit, wins games seemingly all by himself. The midfield may be slowing, but it still oozes with quality.

Why They Won't Win: New boss Gerardo "Tata" Martino is trying to add different dimensions to the tiki-taka of the Guardiola-Vilanova era; it remains to be seen how effective it will be. They're thin in central defence and remain one of the smallest teams around, so vulnerable on set pieces.

Real Madrid
Why They Will Win: Cristiano Ronaldo can carry teams, as can Gareth Bale. Two individuals like that can paper over a lot of cracks, if need be. Carlo Ancelotti is another two-time Champions League winner with a knack for repairing broken dressing rooms.

Why They Won't Win: Up front, they're relying on Karim Benzema who has been hit-or-miss in recent years and Alvaro Morata, who is only 20 and has started just five top-flight games in his career. It may take time to fit Bale in. The Diego Lopez/Iker Casillas diatribe might come back to haunt them.

- ESPN FC: Staff CL predictions
- Atkins: 10 players to watch
- Brewin: Changing face of the Champs League
- Mabert: CL storylines

Chelsea
Why They Will Win: Jose Mourinho is back, and yep, he's another who has won it twice. Enthusiasm is sky-high. This squad is teeming with depth, particularly in the attacking midfield position. And, as with all Mourinho-coached teams, defensively Chelsea are solid.

Why They Won't Win: Questions remain up front, both in terms of Samuel Eto'o regaining his form and Fernando Torres finding his mojo. Again, keeping so many attacking midfielders happy may be a challenge. As could the relationship with long-time veterans John Terry and Frank Lampard if tough choices have to be made.

Manchester United
Why They Will Win: Robin Van Persie is devastating. Marouane Fellaini gives them a dimension on set pieces that can be critical in Europe. There is plenty of European experience, particularly in the spine (Michael Carrick, Nemanja Vidic, Rio Ferdinand). And there is no shortage of young talent elsewhere.

Why They Won't Win: Manchester United -- and replacing Sir Alex Ferguson -- is a task unlike any that David Moyes has faced before. It may take him some time to find his feet, and his European experience is limited. Wayne Rooney is back in the fold for now, but the issues that irked him haven't necessarily been resolved.

Manchester City
Why They Will Win: Manuel Pellegrini is an excellent manager and the club bent over backwards to get him everything he wanted over the summer. There is an abundance of attacking talent and, critically, many options in the final third of the pitch. After recent European disappointment, the Champions League is a priority.

Why They Won't Win: The transition to working in England isn't an easy one for a manager of a certain age like Pellegrini. If Vincent Kompany breaks down, the back four doesn't inspire too much confidence. There are plenty of new faces -- it's not clear how they'll fit together and how rotation will be managed.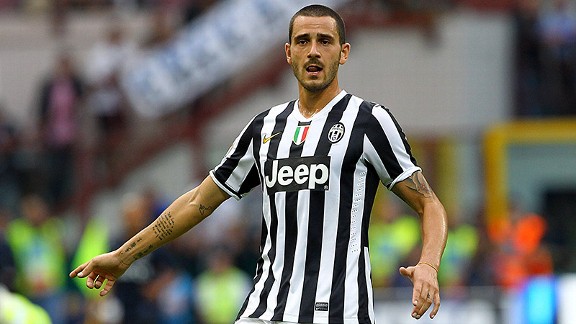 Marco Luzzani/Getty ImagesLeonardo Bonucci is the stylish anchor of Juve's rearguard but Antonio Conte had better hope he can stay healthy give his side's aggressive style.
Juventus
Why They Will Win: This is one of the most intense, solid teams in Europe, with a midfield that is simply frightening, especially after the emergence of Paul Pogba. Carlos Tevez gives them the individual attacking oomph they lacked last year.

Why They Won't Win: Leo Bonucci is critical to this team in terms of building play, and if he gets hurt, there is no obvious ball-playing centre-back alternative. The intensity of Antonio Conte's style takes a physical toll. And unless they find a way to get the best out of Fernando Llorente (they haven't yet), they still look a bit undermanned up front, even with Tevez.

Paris Saint-Germain
Why They Will Win: Edinson Cavani and Zlatan Ibrahimovic together terrify opposing defenses, both physically and technically. The squad is oozing with quality alternatives in midfield and, at the back, Thiago Silva is simply the best central defender in the world.

Why They Won't Win: Laurent Blanc is unproven at this level and getting all that talent to fit together is a struggle, which means PSG often play like less than the sum of their parts. Right-back remains a problem position. And, for all his success elsewhere, the Champions League has often been unkind to Zlatan.

Borussia Dortmund
Why They Will Win: They reached the final last season and, despite losing Gotze, in net terms they're ahead with the arrival of Pierre-Emerick Aubameyang and Henrikh Mkhitaryan. Jurgen Klopp's manic style unsettles opponents. Marco Reus and Ilkay Gundogan are on the cusp of superstardom.

Why They Won't Win: In recent years, they've shown an inability to be competitive both domestically and in Europe. Blame an exhausting style of play and a group that is difficult to rotate. Mats Hummels has had his ups and downs at the back.

Arsenal
Why They Will Win: Arsene Wenger may not have won this competition, but his record in it is pretty good, and over two legs Arsenal are usually a tough out. Mesut Ozil is a quality signing just entering the peak years of his career.

Why They Won't Win: There is no viable cover for Olivier Giroud, who himself, while a fine player, isn't the second coming of Marco van Basten. Finding a scheme that accommodates Jack Wilshere, Santi Cazorla and Ozil could be tricky. Wojciech Szczesny can be inconsistent between the sticks. The back four is statistically more solid than it was, but still prone to errors.