Group F: Tough road for Wenger
Arsenal (By Miguel Delaney)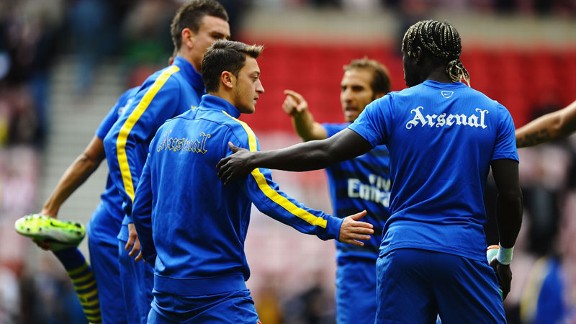 AllsportMesut Ozil gives Arsenal an extra dimension that the Gunners will need in Europe. But will it be enough?
The team: According to those close to him, Arsene Wenger's one remaining big goal in the game is to finally lift a maiden Champions League trophy for both himself and the club. Some describe it as an "obsession." It is genuinely remarkable that such a cosmopolitan coach has not got a single continental medal to his name, let alone the biggest trophy of all. The closest both he and Arsenal have come was the 2006 final when they lost 2-1 to Frank Rijkaard's Barcelona. In truth, though, their big chance was the 2003-04 campaign. Having gone an entire season unbeaten in the domestic league, there was a cruel irony to the fact it was their neighbours at Chelsea who eliminated them from the Champions League at the quarterfinal stage.

Since then, Arsenal's performance in the competition has reflected the general sense of malaise at the club. Although still a fundamentally fine team capable of playing pleasing football in a 4-3-3, they have seemed incapable of ever reaching the next level. The occasionally static nature of their play has led to a stagnation in terms of where they finish. For fourth place in the league, read the quarterfinals of the European Cup. It is now five years since they got to the semifinals and they generally get beaten by the first elite side encountered. That fact initially looked even more ominous this season given the quality of their group opponents in Borussia Dortmund and Napoli. One signing, however, altered that perception and the hope is it can change a lot more...

Star man -- Mesut Ozil: The signing of Ozil did not just mark a symbolic break in terms of transfer policy. His unprecedented quality may prove enough to just add that extra element to the Arsenal attack and make them so much harder to contain. Because as good as the likes of Santi Cazorla and Jack Wilshere are, there has been a predictability to the side's approach.

Ozil can be devastating between the lines, which is what Arsenal have so badly lacked. More than all that, of course, there is that world-class ability that is rare even for some of the Premier League's champions. The anticipation, too, is that it can derive a response out of promising youngsters such as Serge Gnabry and Gedion Zelalem.

Verdict: Wenger may want to win it but a semifinal for the first time since 2009 would represent a successful season. Ozil is undeniably capable of driving them there amid the wild nature of knockout football, but the feeling remains that the squad is still just a touch too unbalanced and short to push them past the last eight. Getting through the group will be a tough challenge in itself, but they should have just enough.

Marseille (By Ian Holyman)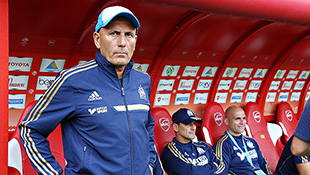 John Berry/Getty ImagesElie Baup has done wonders on a limited budget at Marseille, but escaping this CL group might just be too tough.
The team: The first (and so far only) French club to be crowned champions of Europe, the name Olympique de Marseille instantly evokes memories of Basile Boli's header, which was enough to beat AC Milan in Munich's Olympic Stadium. Continential kingship might have come two years earlier only for the famed trio of Abedi Pele, Jean-Pierre Papin and Chris Waddle to fall foul of the stultifying tactics of an ultra-cautious Red Star Belgrade. There have been other less notable highlights, finishing runners-up in both the 1998-99 and 2003-04 UEFA Cup, while Didier Deschamps' largely forgettable last season in charge at the Stade Velodrome -- the 2011-12 campaign -- will be remembered for a first Champions League quarterfinal appearance in more than two decades.

A repeat of that performance would be a surprise, but is not entirely beyond the realms of reality for Elie Baup's squad, who have a quality first XI even if strength in depth is likely to be an issue when bans and injuries bite. Baup himself has, however, proved most resourceful on a limited budget, somehow dragging almost an identical squad to that with which Deschamps finished 10th the previous season to end runners-up behind PSG last term. Bare naked pragmatism produced that remarkable achievement, with OM honing the art of the 1-0 win to its purest form. However, with the summer addition of Dimitri Payet from Lille, Baup's 4-2-3-1 has greater attacking lustre while Nicolas Nkoulou, Lucas Mendes and Steve Mandanda still provide a sufficiently stiff backline to keep many an opponent in check -- even if last season's group-stage exit in the Europa League provides disconcerting food for thought.

Star man -- Mathieu Valbuena: Though there is no suggestion he uses performance-enhancing substances, Mathieu Valbuena, also known as Le Petit Vélo (The Little Bicycle), has taken on the stature of a king of the peloton a la Lance Armstrong in his pre-fall-from-grace pomp. The busy, pocket-sized 28-year-old was bested only by Eden Hazard in terms of assists provided in Ligue 1 over the past two seasons and has become fundamental not only to OM, but also the French national side.

Both situations would not have occurred had Didier Deschamps, then in charge at OM, not decided he had been wrong to initially discount Valbuena's talents. Rejected by Bordeaux as a youth, the qualities Valbuena needed to progress from the lower leagues to the summit of the French game show through in his play: determination, industry and no mean technical quality. Injury to their most creative midfielder would leave OM floundering badly.

Verdict: Less well-equipped than PSG, OM's Achilles' heel is their lack of alternatives. Injuries and suspensions could significantly weaken Baup's hand, while Arsenal, Borussia Dortmund (both of whom OM faced in getting out of the group stage two seasons ago) and Napoli provide the most formidable of obstacles to progress to the knockout stage. A pre-Christmas exit, without even the consolation of Europa League participation, is most likely.

Borussia Dortmund (By Stephan Uersfeld)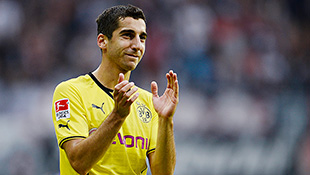 Dennis Grombkowski/Getty ImagesThe goal-scoring eye of new signing Henrik Mkhitaryan gives Dortmund even more potency up front.
The team: Last season, the Jurgen Klopp-coached side thrilled Europe with their, by now, famous Gegenpressing and high-speed, counter-attacking football, based on a quick transition play and neat passes through to goal-scoring machine Robert Lewandowski. The Klopp XI usually starts in a 4-2-3-1 formation but can adjust to a 4-3-3, with, usually, right midfielder Jakub Blaszczykowski dropping back into holding midfield. The summer signings of Henrikh Mkhitaryan, Pierre-Emerick Aubameyang and Sokratis have added a new depth to the Dortmund squad but despite a great start to the season, Dortmund are not fine-tuned yet and are vulnerable from set pieces.

Star man -- Henrikh Mkhitaryan: As difficult as it is to pronounce his name right, opponents will have an equally hard time tracking down the attacking midfielder. The Armenia international became Dortmund's record transfer when he made the €27.5 million switch from Shakthar Donetsk this summer. Brought in as a replacement for Mario Gotze, Mkhitaryan, who turned down Premier League offers for the Champions League finalists, gives Dortmund a variety of new options in attack.

Mkhitaryan, who says he "plays football like chess," moves into one line with Robert Lewandowski when defending up front and immediately starts Dortmund's famous Gegenpressing. He has a wonderful eye for his teammates and an impressive goal-scoring record, capable of scoring from within or outside the box. He brings back memories of Shinji Kagawa, who played the central role in Dortmund's double-winning 2011-2012 season.

Verdict: The 2013 Champions League finalists want to at least get out of their group again, and will then "take it from game to game." They were highly successful with such an attitude last season but have been drawn in a difficult group this time around. If Dortmund, who look a bit thin at full-back, get a result in Napoli in their first group game, they should be able to get out the group.

But it appears that, for now, Dortmund might have shifted their focus on the league, which they lost to Bayern by a 25-point margin last year. The transfers of Sokratis, Aubameyang and Mkhitaryan haven given Borussia a new depth, but they will not be able to repeat last year's success.

Napoli (By Ben Gladwell)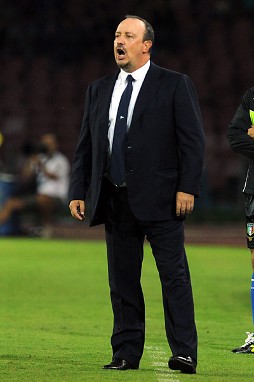 Giuseppe Bellini/Getty ImagesRafa Benitez brings a wealth of European success to Napoli, a club that could sorely use that experience.
The team: Followers of Napoli in recent years may barely recognise the side that takes to the field in arguably one of the toughest Champions League groups this season. The Edinson Cavani era is over, as is Walter Mazzarri's reign. This new-look Napoli bears the hallmark of seasoned Champions League master Rafael Benitez, a man who knows his way around Europe better than many. The Spaniard, twice voted UEFA's manager of the year, led Liverpool to the most dramatic of triumphs over AC Milan in 2005 before taking the still unfancied Reds to the final again two years later, when Milan got their revenge. In 2008, Liverpool reached the semifinals of Europe's top club competition, asserting Benitez's pedigree for this and other European competitions, as last season's Europa League triumph with Chelsea (a trophy he also won with Valencia) and a UEFA Super Cup victory confirm. In his only other spell in Italy, he clinched the Club World Cup with Inter Milan.

With Napoli, he finds a similar club in analogous surroundings to what he was used to on Merseyside. The sun may shine more frequently in Campania, yet the city's passion for football and the club's tradition lend to the notion of Napoli being the Liverpool of Serie A. Welcome home, Rafa.

Napoli's transformation this summer also includes their tactics, which will change from the rigid three-man defence used unerringly by Mazzarri to a four-at-the-back style that, given the natural propensity of the full-backs to attack, is likely to see them short on numbers when the boot is on the other foot. Gonzalo Higuain has been brought in to replace Cavani (and perhaps become the next Diego Maradona?) and his supporting cast has been boosted with Jose Callejon, Dries Mertens and Raul Albiol completing Benitez's mosaic.

Star man -- Marek Hamsik: "Priceless" was the term used by Benitez to describe the Slovakia attacking midfielder who, following the departure of Edinson Cavani, has an even greater role to play for Napoli this season. With four goals in his first three Serie A appearances, he certainly seems ready to deliver the goods, having already secured his place in the fans' hearts. He has given them two Rolexes and plenty of money after all, although the numerous muggings he has been subject to while in the Campania city haven't deterred a player who extended his contract this summer until 2018.

Verdict: In spite of their lack of experience on the European stage, at least in recent years, they have one of the most experienced European campaigners on the bench. Benitez comes into his own in this competition and while he may have preferred an easier draw, he will not be afraid of the challenge that awaits -- particularly in last season's beaten finalists Dortmund, a team they can look to emulate this season. Dortmund also had disappointed in previous Europa League and Champions League campaigns before developing a maturity that quickly led them to last May's final. However, Napoli do not have only Dortmund to deal with, but also Arsenal and Marseille. It is safe to say the two sides that emerge from this group have every chance of progressing at least as far as the semifinals, and it would not be such a shock if Benitez's side are one of them.