Legends of the European Cup and Champions League
Alfredo Di Stefano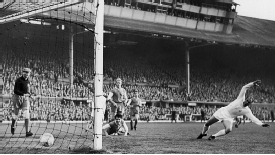 GettyImagesAlfredo Di Stefano scores one of Madrid's seven goals against Frankfurt in the 1960 final.
The usual rule of thumb is that a player has to have starred at a World Cup to be considered a historic all-time great. Di Stefano bucks that trend completely for his utter dominance of the first five seasons of the European Cup from 1955 to 1961. After arriving from Argentina via Colombia, "the Blonde Arrow" took Real Madrid to heights they and all others have failed to surpass ever since. A perpetual motion player who buzzed across across the pitch still boasted a ridiculously prolific goalscoring ratio, while featuring everywhere from defence to attack, leading his team-mates to glory, and becoming the first star of the European Cup and still perhaps its best.

NEW: Champions League fantasy
PLAY: Champions League predictor

Eusebio

If Di Stefano was the Lionel Messi of his era, then Eusebio was probably its Cristiano Ronaldo. When Real Madrid's dominance came to an end, it was Benfica who were the second ever winners in 1962, before then unearthing Eusebio, from Portuguese colony Mozambique. He combined athleticism, bewildering skill, and a rapacious eye for goal; his shots were hit with blistering power that often punctured the balls. Having won the European Cup in his first season at Benfica he was runner-up in three other finals. The high point came in Amsterdam in 1962 where his brace broke Real Madrid's dream of reclaiming what they saw as their own trophy.

George Best

"Pele great, Maradona better, George Best" is a popular Mancunian motto. The weekend just gone marked the 50th anniversary of his Manchester United debut. The Belfast boy wreaked havoc during his three seasons in the old European Cup, where only champions were allowed to compete. March 10, 1966 saw Best destroy Benfica in their own Stadium of Light with a performance of blindingly destructive wing play. The same opponents were his victim in 1968's final; taking down a goal-kick, he slalomed through their defence, rounded the keeper and slotted United into an extra-time lead. British football's finest ever talent showed off his bewitching best on club football's greatest stage.

Johan Cruyff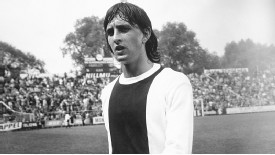 GettyImagesJohan Cruyff won the European Cup with Ajax Amsterdam three years in a row.
Grace, pace, the hip swivel of Rudolf Nuryev and leadership: Cruyff was the embodiment of 'Total Football', the kingpin of an Ajax team that won three European crowns in a row. Once he departed for Barcelona in 1973, Ajax swiftly retreated from continental dominance. Nominally a centre forward, but seen on the ball in all areas of the field, Cruyff conducted a team whose method lay in the switching of roles and filling of space so that opponents were eventually wrestled into confused submission. Perhaps the greatest European footballer of all time, and certainly its most influential.

Franz Beckenbauer

Der Kaiser was such a consummate footballer that he was almost cheating by playing as a libero for Bayern Munich, during the time they succeeded Ajax as Europe's superpower and then repeated their feat of three straight European Cups. He had begun his career as an attacking midfielder, but once he retreated to his sweeper role, he began to dominate matches through creativity, tactical awareness and leadership. From the base he set, colleagues like Gerd Muller and Uli Hoeness were able to wreak havoc, as Bayern dominated Europe in the the mid-1970s.

Kenny Dalglish

Like Cruyff, Beckenbauer and Di Stefano, Dalglish's tale in the European Cup is also that of a great team in which he was the uppermost talent. Like Eusebio, he joined a European champion team and made it even better. Liverpool became the first English team to win consecutive titles when Dalglish scored the winning goal against FC Bruges at Wembley in 1978. A strike from a narrow angle encapsulated his genius. Two more titles were collected in 1981 and 1984 with Dalglish at the fulcrum. By the latter triumph, the goal plunderer had turned expert supplier to Ian Rush.

Ronald Koeman

Only a select few players have won the European Cup or Champions League with more than one club. Koeman did so with PSV Eindhoven and Barcelona, the first time either club had won the outsize trophy. Koeman was from the Beckenbauer school, a sweeper whose creativity and ability from set pieces often made him his team's most potent attacking weapon. PSV won the 1988 final on penalties before Koeman moved to Catalonia. It was his free-kick in extra time that won Barcelona their first ever European Cup at Wembley in 1992. A fizzing shot with a low trajectory flamed into the Sampdoria net to make Barca's "Dream Team" live the reality of finally ending their club's long years of hurt.

Marco Van Basten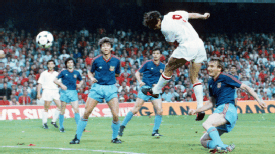 GettyImagesMarco Van Basten scores in the 1989 European Cup final for AC Milan.
If Cruyff was the continent's finest ever player, then Van Basten, a fellow graduate from Ajax, was perhaps its finest ever striker. And that exalted status was gained from a career that was over by the time he was 28. AC Milan were the last team to defend the European Cup, when lifting it in 1990 to follow triumph the previous year. In 1989's final against Steaua Bucharest in Madrid, Van Basten scored two goals, the first an unstoppable downward header, the second a classic striker's finish from an angle. His last game for Milan came in the 1993 final defeat to Marseille. By then, his ankle was wrecked, and he was on the field almost as a psychological weapon, yet few have ever matched his previous grasp of the striker's art.

Paolo Maldini

This list has attempted not to include players from the same team. That means the likes of Ferenc Puskas, Francisco Gento, Mario Coluna and Bobby Charlton have missed out. However, Maldini makes this group because, after starring as a youngster alongside Van Basten and co, he was to be found lifting the trophy in 2007 as the veteran captain of the Rossoneri, to win his fifth European Cup. He bestrode both the old competition and its expansion into the Champions League, first as an attacking full-back, then as a commanding centre-back. Such is his roll of honour that his scoring the fastest ever goal in the final -- in 2005 -- is a mere footnote to the career of a truly modern great.

Lionel Messi

In the two decades of the competition being extended beyond champions, several players have become perennials. The likes of Raul, Clarence Seedorf and Ryan Giggs have played season after season, and broken records along the way. None, however, have shone as consistently and as brightly as the little Argentinian. He was leading scorer four seasons in a row from 2008-09, has scored in two finals -- 2009 and 2011 -- and became the highest scorer in a single season in 2011-12 with 14. And Messi's game is about far more than mere goals. Barcelona were worthy champions in 2006, but once Messi became a regular, and Pep Guardiola built the team around him, Barcelona became one of the greatest teams in history.