Reshuffling of managers adds to UCL's unpredictability
It'll come as no surprise to learn that following Sir Alex Ferguson's decision to retire after 27 years in the dugout at Manchester United, Arsenal manager Arsene Wenger is not only the longest serving manager still active in the Premier League, but in the Champions League too.

The only coach working in Europe's elite club competition to come anywhere close to him for longevity is Mircea Lucescu, who will complete a decade at Shakhtar Donetsk at the conclusion of the current campaign. Continuity like that is hard to find among the rest of the continent's Champions League qualifiers. Call them the last of the managerial Mohicans.

By modern standards even Jurgen Klopp has been at Borussia Dortmund for what seems like ages. Just like Pavel Vrba at Viktoria Plzen, he's been in his current job for five years. Next there's Jorge Jesus at Benfica, a mainstay in the technical area at the Estadio da Luz for the last four, then Luciano Spalletti and Leonid Slutsky, who have been in situ at Zenit St Petersburg and CSKA Moscow for three and a half.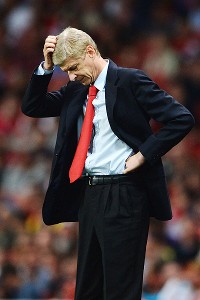 AllsportArsene Wenger is the dean of the Champions League managers, but 12 of the 32 teams in the current tournament have a new boss in charge.
Of the remaining 24 clubs in the group stages, just three have had the same guy taking training since 2010. Coincidentally enough, they're all in Group H: Massimiliano Allegri at AC Milan, Frank de Boer at Ajax and Neil Lennon at Celtic.

There's a sense of permanence at Juventus and Galatasaray too, where Antonio Conte and Fatih Terim have both led their teams to back-to-back league championships and are now preparing to go further in Europe than they did last season, better for the experience.

Apart from this cluster of clubs, the others that make up the tournament all have relatively new or brand-new managers. No fewer than 12 of the 32 teams participating in the Champions League this season have a different boss to last. It's been a remarkable overhaul, not least because for the most part it has involved the established elite and the nouveau riche.

Six of the bookies' favourites for the trophy -- that's Barcelona, Bayern Munich, Real Madrid, Chelsea, Manchester City and Manchester United -- have made changes to their coaching staff, as have Paris Saint-Germain, Porto, Napoli, Real Sociedad, FC Copenhagen and Austria Wien.

Just for the record, Europe hasn't gone mad. Sightings of ax-wielding presidents have been few and far between. Many of the appointments were obliged.

The retirements of Ferguson and Jupp Heynckes prompted United and Bayern to act. Tito Vilanova's health meant he had to step down from his post at Barca. The hands of PSG, Napoli and Real Sociedad were forced after Carlo Ancelotti, Walter Mazzarri and Philippe Montanier walked out on them to take other job offers.

In Ancelotti's case, a long sought-after vacancy at Real Madrid had come up after a deterioration in Jose Mourinho's relationship with the dressing room made his position untenable. City took the decision to call time on Roberto Mancini and bring in Manuel Pellegrini from Malaga for more or less the same reason.

The net effect of this reshuffling is to give the Champions League a greater degree of uncertainty, more unpredictability. Stability, so we're told, is a core element of success, and many of the traditional contenders don't have that this season. Of the teams who do, the feeling is that Klopp's Dortmund, finalists at Wembley last May, and Conte's Juventus are sure enough of themselves to take advantage of any opponents, even those with better individuals, who are yet to adjust to what their new coaches are demanding.

Take the holders Bayern for example. So impressive were they last season that the assumption was had Heynckes stayed and things been allowed to continue as they were, then they'd be overwhelming favourites to retain their title and become the first to do so since Arrigo Sacchi's Milan. Instead, no sooner had Bayern mastered the script of gegenpressing, taking Dortmund's innovation to new hitherto unknown heights, then they're being asked to learn another, that of tiki-taka. You wonder how regularly they might fluff their lines.

Given time, of course, it could be great. But patience is required. To elaborate further, Mourinho has often said in the past to expect his teams to peak in the second year of his tenure. By that time, the players under his charge will have fully absorbed his ideas and know exactly what's required of them on the pitch.

That incidentally hasn't stopped him winning things in the meantime. Unlike others, he has never used "the transition year" as an excuse and he won't in this one. The irony of sorts with regard to Chelsea's latest change of manager is that it has actually brought a sense of stability. Mourinho has a clutch of players in Petr Cech, John Terry, Frank Lampard and Samuel Eto'o who already know how he wants them to play and what mentality they need.

With the exception of Thiago Alcantara, a summer signing from Barca, Guardiola doesn't have that at Bayern. He's having to start from scratch. As is Ancelotti at Real. But at least, like Mourinho, they as coaches have experience of competing in the Champions League and winning the trophy on more than one occasion.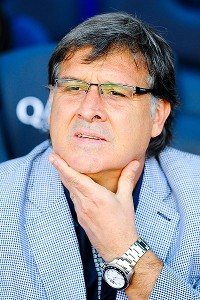 AllsportGerardo Martino has never worked outside of South America, and he faces a learning curve in Champions competition.
Barca's new coach Tata Martino doesn't. He's never worked outside of South America. David Moyes got Everton into the qualifiers in 2005 but didn't make the group stages. He lost at home and away to Pellegrini's Villarreal, who reached the semifinals that season, a feat the new City boss came close to repeating with Malaga last term only to be knocked out at the last gasp by Dortmund.

For Martino and Moyes in particular, the sense is that this season will be more of a learning curve than for the other new coaches at Europe's top clubs.

And yet just because there has been so much upheaval, does it necessarily follow that one of these teams won't be lifting the trophy in Lisbon next May? No, not at all.

In the modern era, Rafa Benitez came into a club based in a different country from where he'd established his reputation, one with which he had no history, and improbably won the Champions League in his first season at Liverpool.

Think of how many clubs have won the competition despite changing coach not in the summer but during the season itself too: Aston Villa in 1982 after Tony Barton replaced Ron Saunders in February of that year; Real Madrid in 2000 following John Toshack's exit and the arrival of Vicente del Bosque over the winter of that season; and more recently Chelsea in 2012 as Roberto Di Matteo stepped into the breach left by the sacked Andre Villas-Boas.

Various details and luck mean the Champions League is hard to predict at the best of times. This year, riven by instability though it has been, is no exception.