125 years of history inspires Celtic to Barca win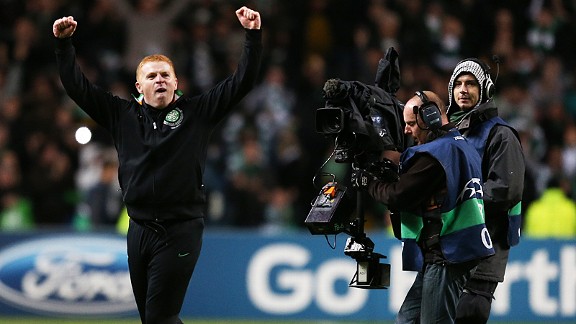 GettyImagesNeil Lennon celebrates Celtic's stunning win over Barcelona
The Celtic players and management team led by Neil Lennon have given the fans and the club the greatest 125th birthday present of all - by beating the best team in the world, Barcelona.

That's correct, Celtic beat Barcelona 2-1, it's no wind-up, it's not April 1st and it's certainly not the Armageddon that so many critics of the Scottish game predicted with the demise of Rangers Football Club 1872.

- Hoops stun Barca for famous win
- Tyler: One for the ages - Celtic stun Barca

Neil Lennon described it as a "monumental effort" and "one of the proudest nights" of his career. I would go further than that and rate this victory over Barcelona as second only to Celtic's greatest ever European victory - the 1967 European Cup Final.

Martin O'Neill's side of 2003, of which Lennon was a part, are remembered for that great European run to the UEFA Cup Final in Seville. While Gordon Strachan is lauded for guiding Celtic to the last 16 of the Champions League two years in a row, but the 2-1 victory over Barca blows all of those past achievements out of the water.

The result even made Rod Stewart shed tears of joy.

Celtic fans will remember this result for years, just like they remember the Sevilla European run. Fans will ask: "Where were you when we beat the greatest club side in the world?" And whether you were watching it from within Celtic Park, in an armchair at home, in your local pub or in a strange and unfamiliar location, one thing will be clear, the Celtic family is even closer tonight, no matter what part of the globe you reside in.

Every player contributed greatly to the momentous triumph, but once again it was goalkeeper Fraser Forster who showed that he has been the best signing Celtic have made since Henrik Larsson.

Goalscorer Victor Wanyama, who has been a revelation against the best teams Europe can throw at him, comes a close second. Andres Iniesta, Xavi and Lionel Messi failed to tame the Kenyan, while the midfielder helped to shackle the greatest trio in world football. What other 21-year-old could do that?

But there was only one clear man of the match - England keeper Fraser Forster. He was a man mountain once again, pulling off world class saves to deny Barcelona time and again. His price tag has increased significantly since his £2 million move from Newcastle United and England No.1 Joe Hart will be looking over his shoulder with Forster in that sort of form.

Newcastle boss Alan Pardew must be kicking himself for letting the big Geordie shot stopper go, deeming him not good enough for the St James' Park side. Forster has shown what he could do in the SPL, now he has shown what he can do in the Champions League - something that Newcastle won't be able to do for a fair few years.

And there must be a final shout out to 18-year-old Tony Watt, a youngster who only three years ago was plying his trade for Airdrie United prior to making the £80,000 move to Celtic. Only at the start of his football career, his winning goal will live with him for the rest of his life and so it should be. As it will for every Celtic fan, including myself.

Wednesday night's result will rock European football. No one gave Celtic a chance of beating Barcelona. Of course Celtic fans dreamed of beating Messi et al, but now those dreams have came true and Paradise is living up to its name.

Celtic beat Juventus, Manchester United, AC Milan and even Barcelona during the O'Neill years, but these all pale in comparison when looking at this victory.

There will be plenty of workplaces receiving phone calls in the morning, as fans that celebrated into the early hours phone in sick. And there will be Celtic fans walking into work with an extra swagger in their step. It was a result that made grown men cry and one of the greatest European nights in the history of Celtic Football Club.

Happy 125th birthday Celtic!