Victor Wanyama: The £25 million Celtic midfielder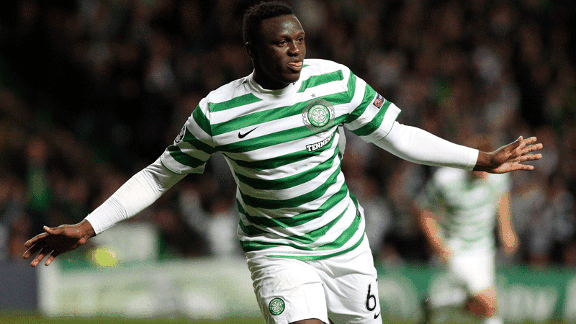 PA PhotosVictor Wanyama has been in impressive form for Celtic of late
Around 16 months ago, a little known 19-year-old Kenyan midfielder named Victor Wanyama joined Celtic from Belgian outfit Beerschot.

At the time of his transfer to Celtic, Wanyama said: "I am delighted to sign for Celtic Football Club....It has always been a dream of mine to play for a club like Celtic. After reading the club's incredible history I have chosen 67 as my squad number to show appreciation to the 1967 squad. My ambition at Celtic is to win many trophies like the Lisbon Lions."

That youngster has now matured into one of the best midfielders in Scotland. Not only that, he has proven himself against the likes of Barcelona, Spartak Moscow and Benfica, in the UEFA Champions League.

- Killie capitalise on Hoops hangover
- Lennon values Wanyama at £25 million

Wanyama is now a highly sought after commodity and to reflect that Celtic manager Neil Lennon has slapped a £25 million price tag on his star player to scare off unwanted suitors - not that it has stopped the Kenyan's agent Rob Moore from reportedly touting his client south of the border.

Three days ago, Wanyama's agent released a statement saying that he had turned down an improved contract offer from the Parkhead side, claiming that his wage demands could not be met by the club.

Moore, said: "Victor has informed Celtic the contract offer fell short of his expectations. There were a number of aspects that fell short - he turned it down. He is very happy with the job he is doing at the moment. He is a great professional and his commitment cannot be questioned.

"But it doesn't take a rocket scientist to work out that he lost great earning potential in the summer."

It is no great secret that football agents tend to get a percentage when they secure a transfer for their client, and with Wanyama in the sights of a number of top clubs in the English Premier League, Moore will surely be aiming for the most lucrative deal for his client.

But with Wanyama under contract at Parkhead until 2015, Celtic still have all the cards. Their price tag of £25 million is just the first salvo in a potential transfer saga which will surround Wanyama until the January window, or more likely the summer.

In his weekly press conference before Saturday's 2-0 home defeat to Kilmarnock, Lennon had been asked Wanyama's value - amid all the transfer speculation - the Northern Irishman said: "£25 million. Wanyama has the world at his feet. But his feet are here and they won't be going anywhere unless we say so."

It is highly unlikely that Wanyama would be sold for £25 million - a value that is 27 times more than what Celtic paid for him just 16 months ago - not a bad return if they do manage to secure that huge fee. However, a price of around £9-10 million is more realistic, although with the Premier League involved and a number of clubs vying for his signature - Celtic could continue to play hardball and squeeze as much as they can get out of the English clubs.

Swansea City paid Celtic around £6 million for midfielder Ki Sung Yeung, and that was just under two years after the Parkhead side bought him for £2.1 million from FC Seoul.

In my opinion, Wanyama is a better player than Ki. He is more versatile playing both in defence and midfield - he is also Celtic's leading goalscorer in the Scottish Premier league at this moment in time, with four goals. So his price tag will be greater than that of the South Korean's - potentially double the price.

Then there was fan's favourite Aiden McGeady, a player who could excite and frustrate fans in the same match. A product of the Celtic youth system, McGeady made the move to Spartak Moscow in August 2010 for £9.5 million. A great piece of business for Celtic at the time, along with the sale of captain Stephen McManus, and another favourite Artur Boruc, it helped Neil Lennon revamp his squad and turn it into the side that we saw lift the SPL title last season and frustrate Barcelona on Tuesday night.

Wanyama may be a totally different player to McGeady, but I would rate Wanyama as the better. Why? Wanyama is consistent, McGeady would disappear from games. He may have a good game or two now and again, but the next week he would disappear and that would hamper Celtic on the pitch. Therefore Wanyama is, in my opinion, worth more than McGeady also. Twice the amount? I don't think so.

Any player that can nullify the threat of arguably the greatest player in the world, Lionel Messi, along with Xavi and Iniesta, is a player that will be much sought after, lauded, respected and praised to the heavens.

Saturday's defeat to Kilmarnock showed that Wanyama, who was left out of the team, is an integral part of Celtic's success, but after his agent's comments, Neil Lennon had to prove a point. The point that Lennon was trying to prove was that Wanyama was not indispensable - sadly that back fired on the Celtic manager. Although four other changes to the side and the 'emotional imbalance' of losing to Barcelona after doing brilliantly, as Kenny Shiels labelled it, proved major factors also.

Wanyama will not be at Celtic come July 2015, in fact I will be surprised if at the start of next season the Kenyan is still at Parkhead. The fans won't be happy with his transfer but a sizeable fee could soften the blow - especially if it gives Lennon a transfer kitty to entice a few more players that chief scout John Park picks out as future talents.

£25 million may be a ridiculous price for an SPL player, but when you look at what price some clubs have paid for players down south, then when it comes down to the English Premier League then ridiculous prices are the name of the game.

A list of ridiculous priced transfers:
Joe Allen, midfielder, moved from Swansea City to Liverpool for £19 million
Fabio Borini, forward, moved from Roma to Liverpool for £13.3 million
Nick Powell, midfielder, moved from Crewe to Manchester United for £7.5 million
Esteban Granero, midfielder, moved from Real Madrid to QPR for £8 million
Jay Rodriquez, forward, moved from Burnley to Southampton for £8.7 million
Moussa Dembele, midfielder, moved from Fulham to Spurs for £19 million
Gylfi Sigurdsson, midfielder, moved from Hoffenheim to Spurs for £10 million

How much impact have the above players really had in the English top flight? How many of those can honesty achieve pass marks so far? One, maybe two if we're kind.

And then there is the two most expensive players of all time in British football history - Fernando Torres and Andy Carroll. They moved to Chelsea and Liverpool respectively and have flopped by epic proportions, even more so given their combined transfer total of £85 million.

But when it comes down to it, a player is only worth the amount that someone is willing to pay. Will a club be willing to pay £25 million for a Kenyan midfielder plying his trade in the Scottish Premier League?