Flat Celtic advance, but fail to pack a punch vs. Swedes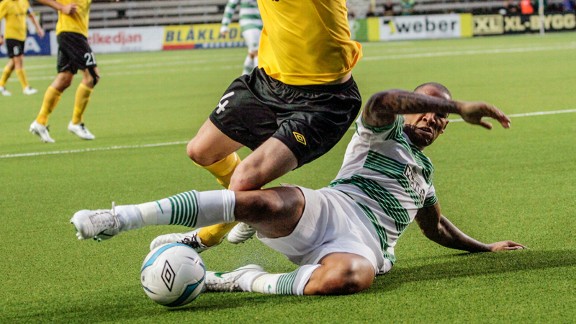 AP Photo/Bjorn Olsson/ScanpixThe sometime-reckless defensive play of Kelvin Wilson (bottom, shown trying to take the ball from Elfsborg's James Keefe), is one reason Celtics should sell him.
Celtic are through to the third qualifying round of the Champions League after a 0-0 draw with Elfsborg on Wednesday night, progressing thanks to a solitary goal from Kris Commons in the first leg.

Wednesday night's game was certainly one to forget for the Celtic fans, as it was one of the worst performances from Celtic in a long time, both domestically and in Europe. Some would say "Hey, the performance doesn't matter, we progressed" -- that is true. But against a more clinical side Celtic would have been torn apart playing as they did against Elfsborg.

To say the best player on the pitch was a Celtic player would not be a lie -- it was Mo Bangura, who is on loan from Celtic and playing for the Swedish side. The Sierra Leone striker harassed, bullied and tormented Celtic's back line throughout the game. Can the same be said for any player in the Celtic colours?

I have read comments on how selling Kelvin Wilson for 2.5 million pounds is poor business for the 'best defender at Celtic currently' -- sorry, it is great business in my opinion. Why? Well first of all Celtic should not be playing anyone who does not want to play for the club, no matter what reason it is. Secondly, he is overrated not only by the Celtic management team, but also elements within the support.

In the SPL last season, he didn't look the assured and commanding defender people claim him to be. In Europe, while he had one or two good games, he was helped out by not only his fellow defenders on many occasion -- as they had to plug the gap he left behind or put in a tackle that he missed seconds earlier. He was also helped out big-time by keeper Fraser Forster. This gave Wilson a fake aura of being a quality and commanding defender.

Even Wednesday, some were claiming Wilson was top-drawer. Sorry, but watch the game back and just watch Wilson. Out of position constantly, putting in tackles in areas that he does not need to make and risked conceding a foul with a tackle that even the great Packie Bonner deemed ludicrous -- despite winning the ball.

Getting 2.5 million pounds for a defender of Wilson's ilk is a steal -- Celtic are robbing Nottingham Forest. I just hope the clubs had already agreed on a fee and that Forest manager Billy Davies did not watch the match. It is somewhat unfair to select Wilson for criticism, given the whole team front to back was abysmal.

No one dominated in the midfield; there was little or no penetration up front from Celtic's attacking options -- bar a few set pieces -- and as I mentioned, Wilson & Co. at the back were bomb scares. Emilio Izaguirre, once Player of the Year in Scotland, is now a mere shell of the player he was. His passing, distribution and time on the ball were shockingly bad.

But he plays week in, week out, because Charlie Mulgrew is not a left back despite him being a left-sided player and having played in that position previously. Neither manager Neil Lennon or I believe he is right for that role and this gives Izaguirre exclusivity of a position on the field that is important both in going forward and in defence.

In my opinion, for what it counts or how little it counts, Lennon sent out the wrong team. Wilson should never have played, Mulgrew should have dropped into that position and Wilson should have been watching from the stands or on BBC 2. Mulgrew's repositioning would see Georgios Samaras play down the left -- where he terrorised Elfsborg last week -- yet Lennon plays him as a lone striker with his back to goal?

Sorry, but Samaras has never been good as a lone striker and asked to play with his back to goal. He is always better running at players, running at defences. The gap up top would then see Anthony Stokes (who scored the two goals against Ross County at the weekend) playing -- what he should have been doing in the first place.

But it looked as if Lennon was hoping to boss the midfield and sit on the 1-0 advantage rather than go out and get that away goal to win the tie as he claimed his side would do pre-match.

After Wednesday night's showing, Celtic must strengthen -- not for the Scottish Premiership, but for Europe. To lose Victor Wanyama, Gary Hooper and Wilson and not bring in replacements would be criminal.

Yes, Celtic have brought in Virgil van Dijk, Amido Balde and Derk Boerrigter, but two are injured and Balde hasn't kicked a ball in anger. Lennon has spoken highly of Balde and yet he has failed to come onto the pitch in five competitive matches so far -- why is that? Is he saving him for the League Cup campaign?

IF Celtic secure their place among the big boys for the second successive year, then the performance against Elfsborg will be forgotten, but Lennon knows he got lucky Wednesday. Against a side that has a better striker than someone who used to play for Kidderminster and another who flopped at his parent club, Celtic would have been on a hiding to nothing, with the excuses about the pitch more high-pitched and angry in tone.

Up next for Celtic is one of these five sides: FK Austria Wien, Legia Warszawa, NK Maribor (Slovenia), PFC Ludogorets Razgrad of Bulgaria or Kazakhstan champions FC Shakhter Karagandy. And if they are to progress, the board must not only release a sizable transfer kitty for Lennon to strengthen the side with (around £10 million) but the players' performance must increase tenfold at least.

Progression is all that matters, but that does not mean we have to whitewash over such an abysmal performance.