Win is a win, but Celtic need a striker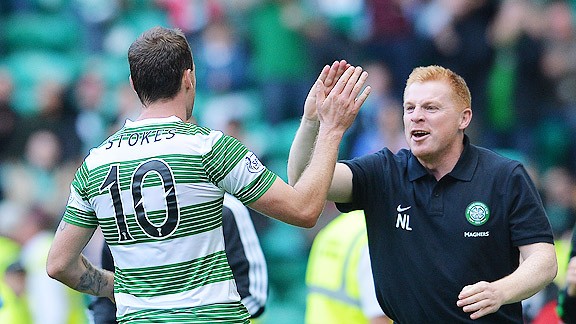 Mark Runnacles/Getty ImagesAnthony Stokes (brace) is congratulated by manager Neil Lennon after his late goal saved the day for Celtic.
Celtic 2-1 Ross County -- that is what the final score says but it doesn't tell the whole story. Yes, Celtic secured all three points after coming back from a goal behind in their Scottish Premier League season opener Saturday night. But while others think it was a good performance, I have to beg to differ.

Conceding an early goal -- it wouldn't be Celtic if they started the game without having a hairy canary in the first five or 10 minutes. This time however, they were punished for it by a superb strike from County's Darren Maatsen with only three minutes on the clock. To say Celtic Park was stunned was an understatement -- fans shook their head in disbelief, they looked on with a sense of 'Oh no, not another season of this,' and slouched back in their seats half-expecting the same auld Celtic to turn up.

They duly did in those opening exchanges – the Celtic that was on show on a number of occasions domestically last season and not the Celtic that marched into the last 16 of the Champions League.

'Sicknote' hurt in Celtic debut

New Celtic signee Derk Boerrigter -- nicknamed "Sicknote" -- lasted just over a half-hour before going off injured. You couldn't make it up after he said earlier in the week that he should not have that label. It was predictable given his interview, when he vowed to show Ajax coach Frank de Boer that he was wrong to sell him.

He did highlight that his ankle had been sore in the run-up to Saturday's game, twisting it as he stretched to put his toe onto a cross ball in front of the County goal.

No news on how serious the injury is, other than it was a twisted ankle. But in Boerrigter's 30-minute debut, he did show glimpses of what a good player he will hopefully become. Good touches and a willingness to get on the ball at every opportunity. Here's hoping he will return quickly.

In desperate need of a 6-yard box striker

With Amido Balde on the touchline once again, with a seemingly unfit Tony Watt coming on for Boerrigter on 39 minutes, many fans were puzzled as to why Celtic paid for Balde and he hasn't trampled on a blade of grass in anger competitively yet.

Manager Neil Lennon has stated his desire to bring in another striker -- which doesn't bode well for those already at the club. Celtic have reportedly had bids knocked back from Wolves for Irish international Kevin Doyle, but with 11 goals in 47 appearances last season for both club and country, is Doyle the man Celtic need?

Saturday's game proved at least one major cog in the current Celtic set up is missing -- a poacher, a 6-yard box striker. Gary Hooper, now at Norwich City, was missed, despite Anthony Stokes scoring both goals to seal the victory and all three points.

Time after time balls were fired into the 6-yard box from both flanks, as if Hooper was still in the team. If he was, he would have buried at least four of those were whipped in by Emilio Izaguirre, Kris Commons and James Forrest.

The two out-and-out strikers Celtic did have on the pitch and who should have been gambling on balls being fired into that area -- Stokes and Anthony Watt – were nowhere near them. They were either out of position, made the wrong call in the direction they went in or a yard or two off the attack. Commons was also lurking in the area and was certainly off the pace -- whether this was down to fitness or early season cobwebs, he could and should have gotten on the end of at least two superb crosses.

That is why Celtic must sign a poacher, a 6-yard box player if they are to have any hope of qualifying for the group stages of the Champions League this season and to improve upon last season's performances. The Icelandic kid at Heerenveen, Alfred Finnbogason, looks to be a quality striker from what I have seen of him. His return is not bad either -- after scoring 26 goals in 39 games last season, he bagged two goals on Saturday in Heerenveen's 4-2 win over AZ Alkmaar in an Eredivisie season opener.

While talk of Celtic being interested in Finnbogason is just that, talk, such a player is a must for Celtic if they are to progress in the Champions League. Of course, signing him would break the bank, especially with his contract not up until the summer of 2015 -- with Heerenveen having the option to extend it for another year -- his market value is reportedly around the £5 million mark. That's certainly not a fee a Scottish Premiership side will dip their hands into their pocket with a smile on their face.

But after splashing the cash on flops Mohamed Bangura, Morten Rasmussen, Miku, Lassad and Daryl Murphy -- maybe, just maybe, they should sign a player with real pedigree.

Celtic made around £30 million from last season's Champions League exploits (minus costs), so a £5 million player who could secure another season of Champions League group-stage action would be a small price to pay.

A poor performance

A win is a win and Celtic secured all three points, but seriously how can anyone be inspired by Saturday's performance? There was a kid behind me no more than 7 or 8, sitting with his sister of roughly the same age and their dad. Both kids were bored, fidgeting and less than impressed with what was happening on the field.

Of course, being a father myself, I know what kids can be like as my son cannot sit still for a minute at a time -- he is like a whirlwind in the house, let alone outside. But if Celtic are to breed a new generation of supporters, they must entertain them on the pitch rather than off it with face painters, magicians and jugglers.

Of course such festivities are there to entertain the kids pre-match, but the entertainment should carry on from the kick-off, not end. It shouldn't feel like a chore and boredom should certainly not set in. Whether that is down to the league season being a day old, County parking 10 men behind the ball or Celtic players still rusty -- one thing is for sure, if Scottish football is to turn around its fortunes, ALL clubs must entertain their supporters, not just Celtic.

While some of the play was good, overall the passing was poor, certain players lost possession far too easily, the decision making in terms of angled runs, etc. was atrocious, and the failure of Celtic's three front men to be in or around the 6-yard box during open play when a ball was whipped in was the biggest stain on the game.

I said on Twitter after the match that Celtic's performance was poor. Some rounded on me, saying that Celtic dominated the match and that they had the superior amount of possession, as well as a number of great chances. Sorry, but you can still be poor despite having all of the above.

Relief and inevitability

You could see the relief in the faces of the Celtic players, management team and the fans when Stokes scored Celtic's winner. Of course it was a deserved victory, but with the Elfsborg game on Wednesday, a repeat of performances all over the park such as Saturday's could see Elfsborg take full advantage of such mistakes in the return leg of the Champions League tie.

Celtic will still win the league at a canter, but in front of how many fans? If the performances are of similar levels domestically, then you could see a fair few thousand drop away especially around the winter months.

Of course, a number of players were rested or are currently out injured. I just hope for Celtic and Lennon's sake that Saturday's performance was nothing more than a blip, but Lennon must be backed further in the transfer market.

Time will tell if the board think so also.