On paper, Celtic would be overwhelming Firm favourites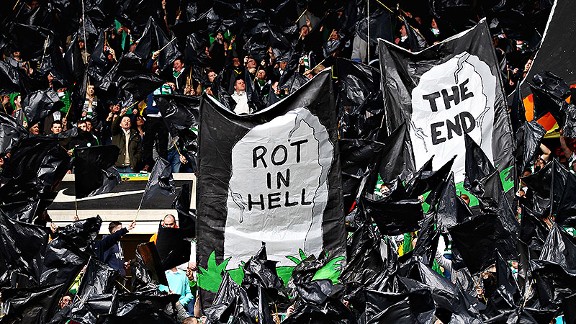 Clive Brunskill/Getty ImagesCeltic fans showed the intensity of the Glasgow rivalry against Rangers before the teams' last meeting in April 2012, won by Celtic, 3-0.
ESPN FC Rangers blogger John DC Gow asked 'Could Rangers beat Celtic?' in a recent post. There was clear backing for Celtic to be the clear favourites if the derby game returned this season, in the League Cup or Scottish Cup.

However, many of those Rangers fans that Gow talked to were of the opinion that Rangers "would fancy their chances at Ibrox, while others thought they would be destroyed wherever they played".

Old Firm derby games over yesteryear could never be called, whether at Celtic Park or at Ibrox. It added to the spice of the game and helped promote it worldwide to an audience who would normally shun Scottish Football.

Rangers manager Ally McCoist was quoted in Gow's piece as saying that "I miss the Old Firm game as it was always an unbelievable occasion. You love them. You hate them. You miss them. But if we played Celtic at the moment we'd start as second favourites. If we have to play Celtic then bring it on, but I'm not sure we're ready for that yet. It would never scare me, far from it. We're getting ever nearer to having them back with us but we'll be more ready to face Celtic in another couple of years."

Also last week we heard from former Hearts midfielder David Templeton, now plying his trade with Rangers in the Second Division. He was quoted as saying that Rangers would not be scared of drawing Celtic this season in a cup and that he would relish the game.

But, this is rhetoric from a player who has only watched the derby on television or from the stands. It is a totally different experience participating in it -- many a top player has frozen in such a game, with the hostile atmosphere while others have thrived.

Last season, Rangers were knocked out of all three cup competitions suffering humiliating defeats to Queen of the South (who went on to win the Ramsdens Cup), Inverness Caledonian Thistle in the League Cup and Dundee United in the Scottish Cup (boycotted by a majority of Rangers fans).

Despite Templeton's rhetoric of that not happening this season and with Rangers signing eight players, only four can actually play as trialists between now and Sept. 1 when Rangers' transfer embargo ends -- the others are ineligible and will have to wait until September.

While there is no denying that Rangers will win the Second Division (aka the new SPFL League One), in cup competitions they will come up against sides that have nothing to lose -- those in the lower echelons of the SPFLm that is. We saw numerous results last season of Rangers tripping up home and away against Third Division sides, much to the derision of their supporters who were at various times of the season calling for McCoist's head.

Celtic have been weakened by the sale of striker Gary Hooper and midfielder Victor Wanyama for a combined fee of just under £18 million. But despite that, they have brought in a number of players -- unknown quantities in the Scottish game -- and are looking to bring in one or two more.

Celtic will run away with the Scottish Premiership this season, as they did last season -- they will also drop points on the way as their fellow Premiership clubs smell blood from time to time. But, a Rangers-Celtic game is totally different than a mere Premiership game, with all due respect.

The most recent game between the sides, before Rangers' financial demise, saw Celtic run out comfortable 3-0 winners in April 2012, rounding off a season to forget for the Ibrox side as they went into financial meltdown and threw away a commanding lead in the league -- even before the points deduction was imposed on them for going into administration.

As mentioned, Celtic will be favourites to win such a tie. But what is this term 'second favourites' used by the likes of McCoist, Derek Johnstone and other Rangers-minded individuals? I have been covering the Scottish game in my capacity as a football writer/blogger for more than seven years now and only now have I heard that term and only by Rangers folk. In a two-horse race , you have a favourite and an outsider, Rangers would be the outsider.

The term 'second favourites' is used, in my opinion, only to prevent Rangers fans from being upset and angered by the real wording of what their team would be labelled – underdogs or outsiders.

In my opinion, Rangers should be worried about facing Celtic in the cup this term, despite their number of SPL-level signings and foreign imports. Out of those players at their disposal, you can count on one hand the number of Rangers players who have played in an Old Firm derby game and experienced the atmosphere -- unlike Celtic, whose side is full to the brim of players who have been there and done it. Their experience as well as higher level of playing would see them win the tie with relative ease and I would bet all the money in the bank I have on such a victory taking place.

Celtic are Scotland's best team now and will be for the foreseeable future. When Rangers do secure promotion to the Scottish Premiership, they will face teams of a higher calibre than they have faced in previous division. While Rangers will invest in better quality players than they have at their disposal currently, they will also face a Celtic side that will have year-in, year-out experience in Europe, along with the cash that comes with it -- a revenue stream that Rangers will be desperate to secure as they look at Celtic with jealous eyes.

If you look at the money Celtic brought in last term from the Champions League, including ticket sales and merchandise, they are estimated to have brought in around £30 million. They have also sold two of their best players -- but wantaway players -- in Wanyama and Hooper. Those two sales brought in £17.5 million, minus any sell-on clauses, etc. So while Rangers are working at a loss of around a half-million to a million pounds month, Celtic have just raked in more money than what Rangers are now worth on the London Stock Exchange.

Gow wrote that Celtic are 'not that good and have peaked, while the Rangers are on the way up to meet them'.

Now, I cannot argue with the 'not that good' comment on the current Celtic team, as supporters of the Parkhead club have been spoiled in recent years with the likes of Wanyama, Hooper, Henrik Larsson, Chris Sutton, Lubo Moravcik, John Hartson and Aiden McGeady, to name but a few. However, this Celtic side are still a young side and have not reached their full potential yet.

As for Rangers, last season they mixed experience with youth -- however their youth players that served them well look to have been pushed back into the periphery following the club signing eight first-team players. So when Rangers do eventually reach the promised land of the Scottish Premiership, are they going to challenge for the title in their first season? Given the current gap between the sides, I doubt it very much and in two years time that gap can get increasingly wider, in favour of Celtic -- even more so if the Celtic board lets Neil Lennon invest some of the European bounty back into the squad.

Celtic do need to invest money into the playing squad, there is no denial from me on that point. On closer viewing, Amido Balde (after giving my opinion on him in a previous post) looks to have confirmed my initial thoughts of him. While he can still prove me wrong, he has shown nothing to warrant the transfer fee that Celtic paid for him to date. He may do okay in the Premiership, but in the Champions League I can only see him taking up a seat on the bench or in the stand.

John Parks, Celtic's head of scouting at Celtic, will continue to pull gems out of the bag as he did with Wanyama and a few others currently in the Celtic squad. Rangers are without a head scout after terminating Neil Murray's contract before the end of last season and are in no hurry to appoint a new one. They also seem to be splashing the cash once again (can lightning really strike twice?) to buy journeymen and players who, if they were in the Premiership, would not touch with a barge pole -- although I believe that Nicky Clark could go on to become a top striker in the Scottish game, whether it is with Rangers or down in England.

Rangers cannot continue to splash the amount of cash that they are doing currently, especially with the share issue money edging closer to £5 million remaining, while losing money each month. They certainly won't be able to launch another share issue and as successful as the first, so how are they going to pay for the players to challenge Celtic when they do gain promotion into the Premiership? More journeymen, foreign imports or -- should they bite the bullet and risk the wrath of their fans -- by investing in youth development and blood their youngsters as they were forced to do last season?

Whatever decision they make, they won't be challenging for the Premiership title in the first few years in the league. with some Celtic fans believing that they can go on to win ten titles in a row, Rangers will need to produce something impressive to knock Celtic off their perch.

As for this season, if the powers-that-be do draw Celtic and Rangers out of the hat together in either the League or Scottish Cup, it will be one match to watch for good and bad reasons. Good for the rivalry to return for all to see, but bad given the hate-filled and venomous atmosphere that will surround the game before, during and after it.

I spoke to recently to Murray, who also played at Rangers. When I asked him of what he thinks the first derby game will be like he said one word -- dangerous. He is, of course. correct, with no derby game since April 2012 the anger, hatred and volatility that usually dissipated from previous games would have built up on an epic scale. We saw a small taster of the atmosphere and reaction during last April Under-17 Glasgow Cup Final -- but the next derby will be one hundred times worse.

If the Scottish government thought the so-called 'shame game' was bad, then I can't start to imagine what the first derby game would be labelled.
So let Rangers continue to claim they are second favourites, that they are not scared of Celtic and that they could take points off them at Ibrox -- on paper, at least. Celtic would wipe the floor with them.

Demolition derby and Hampden in the Sun would pale into insignificance with what the result should or would be if they met this year. But as we all know what is down on paper is usually not matched with what happens on the field . However, in this instance Celtic fans will comfortably and confidently rub their hands in glee if they draw Rangers out of the hat, while Rangers fans will be fearing the worst -- a humiliating defeat to their greatest rivals and one that could be the Glasgow equivalent to the Hearts' Scottish Cup Final result two seasons ago when they beat Edinburgh city rivals Hibernian, 5-1.