Hooper to QPR as he bids farewell to Champions League football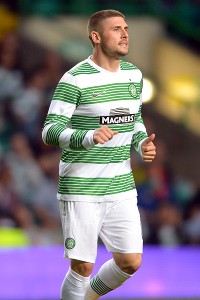 Mark Runnacles/Getty ImagesGary Hooper made a brief appearance in Celtic's win over Cliftonville Tuesday.
Gary Hooper's appearance in Celtic's 2-0 victory over Cliftonville Tuesday night, albeit as a substitute, was his last as a Celtic player -- and, in my opinion, will be his last in a Champions League game.

With Queens Park Rangers' bid of around 5.5 million pounds accepted by Celtic for the striker according to multiple news reports, the Englishman will be returning to the same league that Celtic snapped him up from, if or when he signs on the dotted line with the London side.

With just one year left of his contract at Celtic, the powers-that-be decided that they would rather lose Hooper now for a transfer fee than lose him for nothing next summer. And securing 5.5 million pounds (with potentially any add-ons) is a good piece of business. But as I have written, they should have bitten the hand off Norwich City when they were willing to pay 7 million pounds for the striker.

Hooper leaves behind a huge club supported worldwide and plays in Europe's elite club Cup competition to join a team that is not even the biggest in London -- it doesn't even make it into the top five clubs in the city. QPR were relegated from the English Premier League after flopping on an epic scale despite the wealth of their owners and throwing crazy money at players such as Christopher Samba -- the Loftus Road side finished bottom of the league.

Having lots of money (other people's money in some specific cases) to spend buys domestic glory in the English top tier, but it doesn't work out like that in Scottish football. Even in Europe, clubs can spend huge amounts of money and still flop -- take for example Manchester City.

So Hooper leaves behind Celtic, with an average attendance last season of 46,917, to join a side that has a stadium that can only fit 18,439 fans into it. What a massive comedown, but we all know why he is heading back down south -- it's not about trying to secure an England cap, it is all about the money on offer as the likes of QPR can double Hooper's wages without blinking.

It may be a sad indictment of the Scottish game that our clubs cannot pay to keep some of our best players, but with the English league overhyped and prices for players and wages at a ridiculous level, clubs can pay more to average football players than what Scottish clubs can.

There is no denying that Hooper was a great player for Celtic and scored many an important goal for the side. But as they say, no player is bigger than a club and when the player wants to leave, then that is the time to say ta-ta. Celtic should only have players in their squad who want to play for the club, and in the second half of last season, Hooper was already dreaming about the riches of the English game.

I will discuss the Cliftonville game in brief in a bit, but I have to condemn those Celtic fans who booed Hooper when he came on. Hooper spent three years at Celtic, playing 137 games and scoring 82 goals in all competitions, He doesn't deserve to be treated that way, especially when every fan in that stadium would accept a higher-paid job with another employer if they came calling. It was hypocritical and disrespectful.

The majority of Celtic fans would wish Hooper all the best in whatever he does, wherever he goes and his service at the club will always be appreciated. For most who leave Celtic Park, the grass is not always greener in pastures new, but that does not mean Hooper should not be thanked for his contribution to Celtic over the years.

With Hooper out of the picture, Celtic need to bring in a new striker and with them already linked to the likes of Latvian striker Artjoms Rudnevs, who plays for Hamburg, as well as French side Evian's Saber Khelifa, it seems that all should be okay before the new season kicks off.
-
Tuesday's game was nothing more than what Celtic needed to do, secure the victory and with that progression. A clean sheet into the bargain was also well warranted, with Cliftonville once again rarely threatening the Celtic goal. It was what Fraser Forster would have wanted and it would certainly give manager Neil Lennon a wee boost also.

Efe Ambrose and Georgios Samaras bagged the goals to secure a 5-0 aggregate win over the Northern Irish champions, who acquitted themselves admirably over both games. But Celtic's superior fitness and players at their disposal, saw them progress and set up a tie with Swedish champions Elfsborg.

The Swedish side will be a tougher proposition than Cliftonville. But, after beating Helsingborg last season on the road to the Champions League group stages; if Celtic are at the top of their game -- which they were not against the Northern Irish side -- they should dispose of Elfsborg with relative ease.
-
The money Celtic secured with their superb Champions League exploits last season was released this week. The Scottish Premier League champions receive around 22.2 million pounds for their share of prize money and TV revenue. A miniscule sum compared to the likes of the EPL, La Liga and Bundesliga sides, but welcome all the same.

The £22.2 million does not include gate receipts for Celtic's group games or last 16 clash with Juventus. If you consider that a full house at Celtic Park is about 60,000, one of those games would see a return of £1.8 million (basing each ticket price as £30). For four games, Celtic would have brought in around £7.2 million -- again, not including money spent on food and drink, programmes or merchandise. So an estimated guess would see Celtic's Champions League campaign making them over £30 million, not too shabby indeed.

Hopefully, Dermot Desmond and Peter Lawwell will give Lennon a small chunk of that prize money to help him strengthen the side further with not only some potential stars in the making -- similar to Victor Wanyama -- but also a few experienced heads. The Scottish Premiership (as it is being called now after rebranding) will be Celtic's -- no one is denying that -- but to keep the fans going to the domestic games they must be entertained and see quality on the pitch.

While in Europe, Celtic need players that can fill the voids left by Wanyama and Hooper, and seeing Celtic hopefully attain the same stage of the competition as they did last season.