How do Celtic solve a problem like Mo Bangura?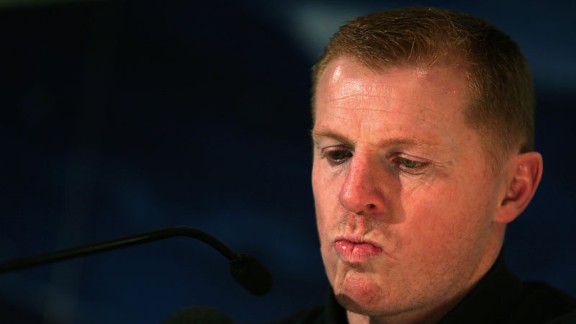 PA PhotosNiel Lennon has warned Mo Bangura that his Celtic career will be over if he lines up against them for IF Elfsborg.
It seems that Celtic manager Neil Lennon doesn't want striker Mo Bangura to line-up for Elfsborg in the Bhoys' two Champions League qualifying games against the Swedish side in the coming weeks.

How can Lennon dictate who should and shouldn't play for an opposing side? Well you may be forgiven for forgetting about Bangura, but the striker is still a Celtic employee currently on loan at the Allsvenskan club.

Bangura signed for Celtic back in 2011, from Swedish side AIK Stockholm - recommended to the club by one Henrik Larsson - and since his transfer he has made Larsson eat his words by failing to live up to the plaudits from the Celtic legend.

Two years into his four-year contract at Celtic, he has been farmed out on loan first to AIK and then to Elfsborg. The £2.2 million signing, from the viewpoint of Celtic fans, is another expensive flop. In a total of 16 games for Celtic, 12 of them as a substitute, Bangura has failed to score a single goal. Even his return to AIK and Elfsborg has seen him play 32 game in total for a return of 10 goals.

UEFA rules state that Celtic cannot enforce any ruling to prevent Bangura from playing against his parent club in games - even more so since Elfsborg are paying his wages - but it is common practice in the domestic game here, that loaned out players are prevented from playing against their parent club, although it all depends on what the contract states.

The decision rests on the shoulders of the player, whether to risk the wrath of the Celtic fans if he scores the winning goal that could knock the Glasgow side out of the competition, or sit the two games out risking the displeasure of those who currently pay his wages, to keep the very feint glimmer of a chance of him still being a Celtic player alive.

Despite Lennon's quotes in the papers this weekend, I wouldn't be too worried about the striker causing Celtic any problems. In fact, let him play against Celtic, the draw may have been the toughest that Celtic could have faced in the third qualifying round but if the Hoops cannot beat Elfsborg over two matches, then really they shouldn't be anywhere near the group stages of the competition.

So how do you solve a problem like Mo Bangura? Let him play.