The clearest indication yet that Hooper is staying at Celtic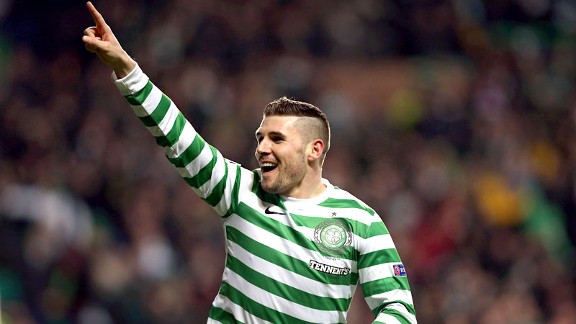 Ian MacNicol/Getty ImagesAll signs point toward Gary Hooper remaining with Celtic for the 2013-14 season.
After months of uncertainty and talk of Gary Hooper leaving Parkhead for a shot at the English Premier League, the English striker has intimated a desire to stay at the Scottish Premier League champions and to improve on his past form.

In an interview with Sky Sports, Hooper said: "I want to beat my tally from last season, that's the aim because I've done it every season. I also have to get 20 or more league goals because I didn't get it just there, I only got 19. I want to play in the Champions League again, get into the group stages and get that feeling again. I know I wasn't playing in the game against Barcelona but it was still amazing. We also want to retain the title as obviously the league is still our priority."

We all know that everything can change in a matter of moments in football, both on and off it, but if Hooper's desire is to stay at Celtic then it is great news for Neil Lennon and the club. A proven striker both domestically and in Europe, Hooper will save Celtic from spending several more million in pursuit of another striker to fill the gap he would have left.

Norwich had a bid of around £7 million rejected back in January, although if a similar bid came in for him now, I very much suspect that Celtic would accept that happily. Both QPR and Hull City have also announced their interest in the player, with City seeing an offer last month rejected.

So what does Hooper's potentially staying at the club do for the team on the field? Well, it gives Lennon more options up front -- one that he can rely on in all competitions, while bedding in the likes of Amido Balde and giving time to Tony Watt to develop further.

All Celtic need to do now is to tie the striker down to a new deal, as they certainly do not want to lose him for nothing next year. A new offer has to be handed to him before the end of the transfer window on 1st September and if he fails to agree to that, then the club must make a decision for the good of its own future rather than the player's.

Until he signs on the dotted line, then what Hooper says is mere rhetoric and he should back up his words by negotiating a new deal -- one that is good for the player and for the club alike.

AND

On the transfer news front, trialist Steven Mouyokolo seems to have impressed Celtic and Lennon enough to earn himself a deal with the club. He looks set to sign a one-year deal with Celtic.

Celtic are still interested in signing United States international Juan Agudelo, who was on trial at the club last year. His contract is up in December and Celtic could secure the 20-year-old during the January transfer window for free.

Finally, Southampton have reiterated their desire to sign Victor Wanyama, although no second bid has been lodged as of yet.