Is Virgil the man to plug hole in Celtic's defensive wall?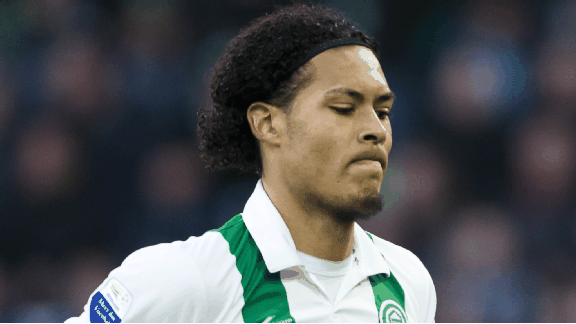 GettyImagesVirgil van Dijk started his career at Willem II
Virgil van Dijk is Celtic's second signing of the summer, with a reported 2.5-million-pound fee plus add-ons agreed between Celtic and Groningen for the defender's services. But is he the man to fix Celtic's problems on defence?

Celtic have seen a number of defensive signings flop of late from Daniel Majstorovic, Glenn Loovens and Josh Thompson. With another in the guise of Thomas Rogne leaving at the end of his contract, who along with Rami Gershon did not set the heather on fire, Celtic are certainly in need of new blood defensively and with the full-back positions covered, it was time that Neil Lennon looked at the centre of defence.

Currently Celtic have Charlie Mulgrew, Efe Ambrose and Kelvin Wilson as the main defenders. But Mulgrew, while performing admirably last season and more so the season before, is not a central defender. Ambrose is on international duty with Nigeria at the Confederations Cup and certainly not covering himself in glory there nor in the second half of the last season after his return from the African Cup of Nations. That leaves Kelvin Wilson, whose form in my opinion is patchy at best but ultimately he was the best out of the bunch overall.

With John Parks, Celtic's head scout, scouring the world for new talent to bring to the shores of Paradise, van Dijk has been earmarked as the answer to Celtic's defensive problems. At 21, he is still relatively inexperienced despite playing around 55 games for Eredivisie side FC Groningen.

Despite his inexperience, van Dijk is highly regarded by those with knowledge of the Dutch game.

Groningen predictably sung van Dijk's praises, claiming that he is 'one of the best defenders in Dutch football' as they look to get top money for their charge. Only time will tell how he copes with life in the SPL and in the Champions League. But at least Celtic are going in the right direction, signing players in areas that need strengthened.

And with speculation that Southampton lodged a £10 million bid for Victor Wanyama this week, they may be delving back into the transfer market for more talent.

For tactical analysis of van Dijk, check out tic tac tic's superb blog.