Is Amido Balde really the saviour for Celtic?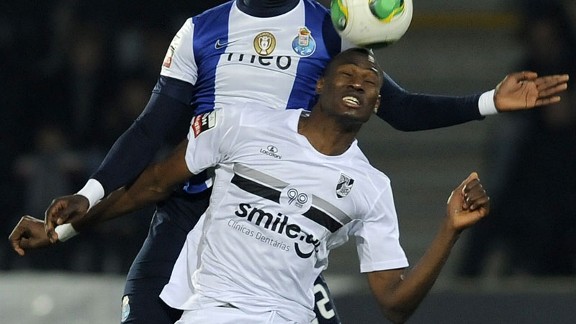 AssociatedBalde scored nine goals in his first season at Guimaraes last term
If you say the name Balde to Celtic fans, they will jog their memories back to a defender who took no prisoners in one instance and opened up the gates, welcoming everyone in, the next. His style of defending married lumbering long distance runs with tackles that sent opposition players into orbit and a no sense of positioning. In Short, Balde was a cult figure namely because of his crunching tackles.

But the Balde I am talking about is not the one who coined the chant 'Bobo's gonnae get ye!' I'm talking about a Portuguese striker called Amido Balde - who Celtic have just agreed a fee of £1.5 million plus add-ons with his parent club Vitoria Guimaraes.

- Celtic set to win race for Balde

If you thought 'who' after mention of Amido Balde's name, then you were in the same boat as yours truly after I heard the link a week or so ago. I didn't have one single clue who Balde was and when I began to look into him - his stats and what club he was plying his trade for - his signing for Celtic was looking more and more like another Morten Rasmussen or Mo Bangura experience than one of Jan Vennegoor of Hesselink or Chris Sutton.

Even today I posted on twitter saying I was baffled as to why Celtic would pay £2 million for a 22-year-old striker who scored only nine goals in 27 games this season for a side that finished ninth in the Portuguese Liga and has no experience in Europe.

Dundee United sold striker Johnny Russell to Derby County for £750,000 plus add-ons. Russell is a proven SPL goal scorer, with European experience and he has played for his country, albeit at youth level, alongside Leigh Griffiths. Russell has played 38 times in all competitions, including the Europa League this season, scoring 20 times - before injury saw him out from the end of February to the beginning of May.

That opinion, based on comparing the two players' stats as well as knowledge of Russell at all levels, hit a chord with many Celtic fans. Some lambasted me for daring to query their latest signing, others said 'damn the stats and the fees', while others just flung insults and labelled me a Rangers fan. Funnily enough the majority of these critics and self-confessed football experts hadn't seen a single video of Balde in action.

There was also the argument that Russell was never going to be signed as Celtic already have Anthony Stokes and Gary Hooper in that type of role. Yet at this moment in time, Stokes is still in negotiations to extend his contract, which expired at the end of this season and Hooper is continually linked with a move to the English Premier League. Balde is being described as a target man in the style of Hesselink and Sutton.

'It's what Celtic need'. That is what I was being told. Celtic need a target man and Balde fits that description. At this point, I had to refresh my memory of this so-called target man and Celtic's 'new signing'.

So heading to YouTube - the fans trusty scouting tool - I clicked on video after video of Balde in action. While it may not be the same footage as that which John Parks and Neil Lennon viewed, and I bow to their years of experience in the game, but Balde's game certainly didn't fill me with optimism. In fact, my likening of him to another Morten Rasmussen or Mo Bangura was proven by every video I viewed.

Now, the tictactic blog has reviewed his game against Benfica in the Taca de Portugal and ultimately stated: "While Balde's ultimate contribution was limited, his assets were clear to see. A prime athlete's build enough to unsettle Champions League level defences, and an indefatigable attitude. The harshest critics will connect the cup final's unpredictable end-product with an uninspiring domestic scoring record - nine goals in 27 league games. But at £2 million Lennon and Lawwell are confident of having found a gem worth polishing."

In the games that I viewed, there was no denying that Balde was enthusiastic and not afraid to get onto the ball. He also had an eye for running into the channels to give his team-mates an option to pass, but even after all the nice flicks and lay-offs, not to mention some good goals with both feet and his head, at the end of the day we have seen similar players coming into the Scottish game with significantly more experience and flopping, expensive flops at that.

Balde has been given plenty of time in the Portuguese Liga, but in the SPL he will be closed down, harried, bullied and kicked at by SPL defenders. Looking through the videos, Balde goes to ground far too easily - either through his own skills of simulation or his lack of strength. He may have an athlete's build as tictactic stated, but he is more likened to a Mo Farah build than a Usain Bolt style of athlete.

Celtic are in dire need of a target man. That is was what Georgios Samaras was bought as, and he turned out to be something totally different. The summer transfer window has not even opened yet and Celtic have already lost one potential signing in Russell - a player who would have replaced Stokes and Hooper if they do head out of Parkhead for pastures new.

Is Balde really the saviour that so many Celtic twitterers believe he is? If he is, then I will strut my stuff in a mankini in the centre circle of Celtic Park and that would be an awful sight to behold - akin to Jabba the Hut wearing a g-string.

Only time will tell if Balde is capable of doing a job for Celtic, or if he turns out to be another in a long line of flops that have mudded the green and white hoops. For every Victor Wanyama there is a Marc Antoine Fortune, Daryl Murphy, Morten Rasmussen and Mo Bangura.

Oh aye, plus he needs to sign personal terms before we get ahead of ourselves and I go shopping for a green and white hooped mankini. It may all be in vain with newly promoted EPL side Crystal Palace sniffing around Balde.