The final swan song for Neil Lennon?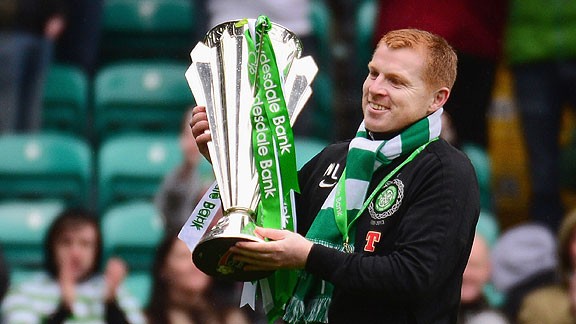 Jeff J Mitchell/Getty ImagesNeil Lennon could be on his way to Goodison Park to replace David Moyes.
Could Sunday's title party be Neil Lennon's last? Could the Scottish Cup Final on the 26th May be the last piece of silverware that he will look to secure as Celtic manager?

Celtic comfortably strolled to a 4-0 victory over St. Johnstone on Saturday thanks to goals from Joe Ledley, Charlie Mulgrew, James Forrest and an own goal from Frazer Wright.

But all the talk leading up to the game, was not on the title party after yesterday's game, but of Lennon being linked with a move to the vacant seat at Goodison Park after former Celt David Moyes became the successor to Sir Alex Ferguson, who announced his retirement this week.

Lennon has become the bookies favourite, and while no contact has been made by the English Premier League side -- it got tongues wagging and journalists battering out article after article on Lennon moving down south.

- Bhoys smash four past St. Johnstone
- Video: Lennon gives winners medal to young girl

A former teammate of Lennon's, John Hartson, wrote in Saturday's Scottish Sun that: "Of course the question now on Merseyside is who will replace Moyes at Everton. Neil Lennon is clearly in the running and quite rightly so. But I can't see it happening.

"Not because I don't think he's good enough. Lenny is. Once you've managed Celtic, you can manage virtually anywhere. The job he's done this season, especially in Europe, has been remarkable. I just think he's at Parkhead for the long haul.

"I haven't spoken with him for a while, so this isn't inside information. I just can't see him leaving Celtic this summer.

He'll be looking to sign a new contract and dominate Scottish football for years to come, which I predict he will."

Now I agree with Hartson in principle. Lennon could 'dominate Scottish football for years to come', but as a manager you expect to be tested, to be challenged don't you?

The SPL, with all due respect, was a walkover for Celtic and Lennon this season. The only challenge they received was in the Champions League -- while defeat to St.Mirren in the League Cup was a great victory for the Buddies and a woeful performance from Celtic.

Will Lennon stay at Parkhead solely for Champions League football and winning unchallenged titles? Honestly, I cannot see him staying long term. In fact, if Everton do come in for him then I can see Lennon bidding Glasgow and its fabled goldfish bowl adieu. It will certainly be far safer in Liverpool for the Northern Irishman than life in Glasgow.

After Saturday's victory and the title celebrations, Lennon said: "These are days you want to cherish and it's important for the players appreciate what they have done as it goes by very quickly," said the Hoops boss.

"It was just nice to walk around with the trophy. These sorts of moments live with you for a long time. It's a special feeling. To win your country's championship over 38 games is an achievement and one that shouldn't be taken for granted.

"It's better because it's the next one, as it proves we are not a flash in the pan team. We have a job to do and a responsibility to keep winning trophies. It's part of the club's DNA and do it in a certain way."

Lennon has intimated that he would like the chance to manage in the English Premier League one day and with the news that Stoke City are considering replacing Tony Pulis than sign him up on another deal, it looks like two EPL clubs are potential suitors.

This season's title victory is Lennon's third major honour in as many years and while he is fancied to secure the SPL title year on year -- with some fans claiming he could usurp both Jock Stein and Walter Smith by winning ten titles in a row -- does that hold as much passion for Lennon as the challenge of the EPL does?

I just can't see it happening in all honesty. He might not get a bigger job offer from England than Everton. And while Celtic fans will state that they won't win anything, they won't play in Europe -- you only have to look at what Wigan did on Saturday and with a squad that is battling relegation.

Lennon will certainly be afforded more money than Peter Lawwell and Dermot Desmond would ever give him in a three to four year period and if he is offered the role and takes it, then he could almost certainly raid Celtic for three key personnel: Fraser Forster, Victor Wanyama and Gary Hooper. That would bring in some much wanted revenue to strengthen the side for his potential successor -- whoever he may be.

On the potential move to England, Lennon said: "It's a select sort of band to be in. There are only 20 managers in the Premier League. There is no doubt I would like to manage in one of the big leagues, be it the Premier League, La Liga, Serie A or the Bundesliga. But that's for another day. I'm not getting ahead of myself here. Just because I've been linked with Everton, I'm not Jose Mourinho. I don't want people jumping the gun at me. Look, we are all ambitious. We all have our personal ambitions. We all have our own personal targets to achieve. I am some of the way there.

"There has been nothing from Everton, no approaches. Roberto Martinez was favourite yesterday, it's me today and could be someone else tomorrow. I can't legislate for people putting money on me going elsewhere. There's nothing in it at the minute. If there is, then I have not been approached or there's not been any conversation with the club or my representatives. Of course is it flattering, though. Everton's a big club, a great club. But I've got a job to do here at Celtic. I've got a cup final to play and a trophy presentation tomorrow. I've got plans to make for the qualifiers in the summer. But, yes, it's flattering to be linked with a job like that."

A key factor in what Lennon decides from this point on will be his end of season meeting with Celtic's majority shareholder, Desmond. While the budget afforded to him will pale in comparison to that on offer at both Stoke City and Everton, if Desmond does not match Lennon's aspirations for the team and matches the budget that Lennon has thought of, then the Irish businessman could be looking for a new manager sooner rather than later.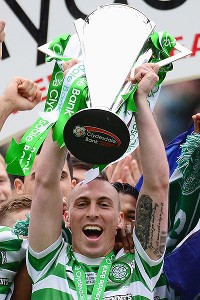 Jeff J Mitchell/Getty ImagesScott Brown and company have another chance to win a trophy this season for Lennon next week in the Scottish Cup Final.
From the fans' point of view, comments are a mixed bag. Some want him to stay as they adore him, others believe he is a good manager but if he goes then they can bring in someone as good if not better, while some others believe that after this season -- despite the performances in Europe -- Lennon should be shown the door.

Whatever future Lennon decides, Celtic will continue to win major honours for years to come and will face tough challenges in Europe. No one man is bigger than the club and Lennon is certainly no Stein, that is for sure.

Celtic will certainly be able to cope with his departure whenever that materialises.

So if Saturday's title party was Lennon's last as Celtic manager, I hope the Celtic fans thank him for his contribution to the history of the club and wish him all the best in whatever he does in the future be it at Everton, Stoke or elsewhere.
All that is left for this season is the Scottish Cup Final and hopefully a domestic double for the Northern Irishman and Celtic.