Draw with County Stokes the flames of fans fury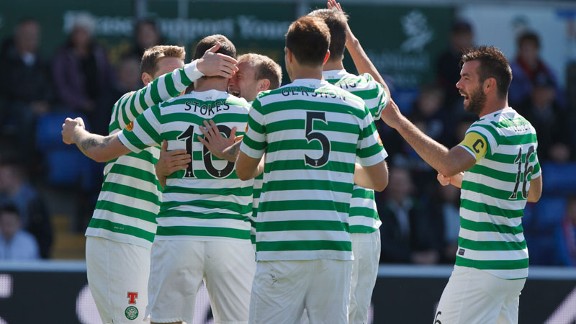 GettyImagesCeltic players celebrate their goal during the 1-1 draw at Ross
Celtic dropped points for the second week in a row as they were held to a 1-1 draw by Ross County. Last week's defeat against second-placed Motherwell, in the grand scheme of things, had no bearing on the SPL title as Lennon's side had already wrapped that up the previous game against Inverness Caley. And neither did this game – in fact these games are mere fillers until the Cup final.

The fans were disappointed and angry over the capitulation against Motherwell and just like last week, the Celtic fans were in angry mode over their side's failure to beat Ross County, despite taking the lead early on through Anthony Stokes.

An Iain Vigurs strike pulled County level, before an abysmal decision from the linesman ruled a perfectly good goal, from youngster Tony Watt, offside when replays showed he was more than a yard on. The goal denied Celtic a victory.

For the second week in a row, Lennon rested some of his top players with a view to the Scottish Cup Final against Hibs in three weeks' time and it's no great surprise that the team's performances are slipping more so than usual, as the fringe players are given a run out.

Unfortunately for some fans, who pay a lot of money to watch Celtic home and away, they weren't happy with the performance and some took exception to comments made by Anthony Stokes on his twitter page after the match.

He tweeted: "Unlucky not to win today, thought we played well enough on a terrible pitch! Fans were in top voice first half!!"

That sparked outrage from some disgruntled Celtic fans, who stated they pay good money to see their team turn in a performance. With Celtic winning the league with arguably their lowest points total ever since the SPL started, some wanted more than the silverware - they wanted entertainment and value for their money.

Stokes added: "Some ppl need to get a grip we played well first half, 2nd half against the breeze and on a pitch like that's its very difficult!!"

Before saying: "Just saying it as I saw it, thought the 1st half was good from us! Anyway looking forward to lifting the cup at the weekend and cup final!!"

On the back of recent performances from Celtic, lifting the Scottish Cup against Hibernian will be a tough ask unless some players buck up their ideas.