Some Celtic players in Holiday mode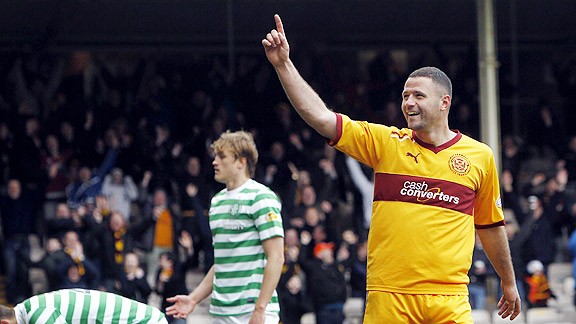 Danny Lawson/Getty ImagesMotherwell's highly motivated Michael Higdon, right, clearly had his head in Sunday's game. The same could not be said of some Celtic players.
If you thought some of Celtic's performances couldn't get worse domestically this season, then you would be wrong. Sunday's 3-1 defeat against Motherwell was one of the worst performances from players in a Celtic shirt for several years.

It may sound that my past articles on Celtic have been negative in their direction, and you always try and look for positives, even in defeat. But seriously, it would be easier to eat a Ski yogurt with a soup ladle than find positives in this latest offering from so-called professional football players.

All the fuss last week was about why Celtic had no players in the PFA Scotland Player of the Year nominations. On this showing, they wouldn't be in the running for the Charles Green Wooden Spoon appreciation society, let alone one of Scottish football's prestigious awards.

In fact, it was kind of Neil Lennon to take Motherwell's pre-match team talk with his comments over Michael Higdon and how he would never get a game for Celtic. Those comments gave Motherwell added impetus, not only to secure a coveted European place but also the icing on the cake by sticking it to Celtic -- and how they did that.

Motherwell deserved their victory, and take nothing away from them, they deserved the three points and their Europa League spot. But God help Celtic fans next season if Lennon inflicts this same squad on them with little or no fresh blood in its ranks.

With a Cup final fast approaching at the end of next month (May 26 vs. Hibernian), you would have thought the players would have stepped up to the mark and sealed their berth in the squad -- you would think that, but you would be wrong.

It seems as though the players thought it was the start of their holidays already. The league is already won, so a performance is not needed as there is nothing to play for. That's what it seems to most fans who watched the drab showing Sunday would think, and it is simply not good enough.

After the match, Lennon said: "Some players were aware there was Cup final places up for grabs but I'm not too sure they took their opportunity today. A few of them looked like they'd switched off in the second half, which is unacceptable from my point of view.

"It's just not like us. I don't know where it came from because I thought we totally dominated the first half. For some reason we just didn't come out of the traps second-half. I thought going forward we were really good but defensively we were really poor. But it's not about today or even next week, it's about the Cup final and the close season and getting the right rest now. I wanted the team to be competitive."

You could certainly make excuses and some were certainly made in the aftermath of the defeat, that Celtic were without four of their key players and that another two dropped to the bench, but for a team like Celtic -- not only do the first-team regulars have to step up, so do the fringe players.

When you have the likes of Paddy McCourt and Thomas Rogne in the side, the former one of the worst players to pull on a Celtic shirt since Du Wei and Rogne, a defender who is heading out of the club in the summer, why not play the youngsters who are on the fringes than those who have no future at the club.

There also seems to be an element of supporters coming to the fore now, who want Lennon gone from Celtic Park. The same who wanted Gordon Strachan gone, perhaps? Either way the majority of these fans have never had it so good. Martin O'Neill, Strachan and Lennon all giving them title wins and silverware to celebrate. Remember John Barnes, Liam Brady and Lou Macari?

Celtic are in need of fresh blood, with Gary Hooper having lost all interest in playing for Celtic in the second half of the season -- looking toward a summer exit -- and Victor Wanyama, despite all the rhetoric, is a dead cert on moving south. Celtic need players who can do the job in the SPL and anything that is done in the Champions League is a bonus.

It's all well and good Lennon giving players time off ahead of the Cup final, but when his full side look to be on holiday, then the buck must stop with the manager.

It is not the first time that his tactics, his man-management skills and his player selections have been called into question. But after a second successive SPL title win, Lennon should not be punted out of the job, far from it. He should look on these early years as a learning curve and look forward, better his side, better himself and learn his craft. But all the while he must win and win well as Celtic manager.

Time will tell if Celtic will bring in any quality players next season, but whatever the outcome of the summer transfer window, ALL the players must step up and give their all. Otherwise, they do not deserve to wear the green and white hoops.

If they want to play like Sunday's performance against Motherwell week in week out, then let them leave Celtic and head south where majority of them would soon find themselves on the bench of an EPL side with too much money than sense.

The holiday is over bhoys, one final piece of silverware up for grabs, and if it's not heading back to Celtic Park come the final whistle then you will be regarded as failures and deserve to be shown the door.

And one final note -- well done to the Celtic Under-20 side for winning the league. Hopefully they will secure the league and cup double on Wednesday night as they face Dunfermline in the Youth Cup Final at Hampden Park.