Second-half goals provide fizz for Celtic's title celebrations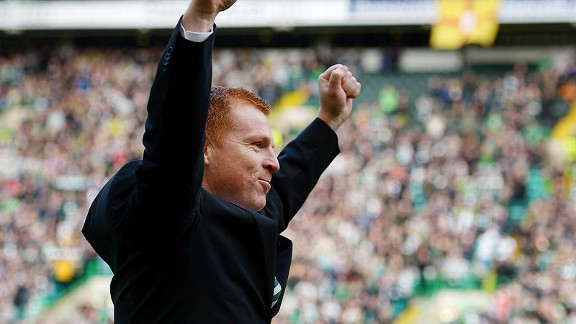 Jeff J Mitchell/Getty ImagesNeil Lennon, who had to watch from the stands because of a three-match ban, celebrates his second SPL title as Celtic manager.
Celtic secured their 44th league championship Sunday with a 4-1 win over Terry Butcher's Inverness Caledonian Thistle side.

Despite Butcher's pre-match rhetoric of trying to spoil Celtic's title party -- was he trying apply for a job with a certain lower-league side? -- his team produced very little to trouble Fraser Forster in the Celtic goal.

The first-half performance from Celtic was so flat that it would have made the champagne, chilling in the fridges of the Celtic board room, lose its fizz. The second half was a mixed bag, with Celtic again producing very little in the way of a final ball.

-Hoops clinch title in style
-Celtic revel in victory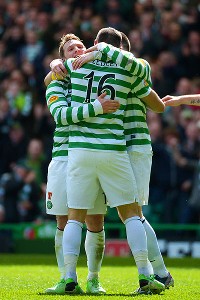 Jeff J Mitchell/Getty ImagesCeltic players celebrate their squad's Scottish Premier League championship.
But that final ball eventually came, and it was Gary Hooper who fired Celtic ahead on the hour mark, before Joe Ledley added a second five minutes later. Hooper again popped up to cheekily backheel the ball past Antonio Regeuro in the Caley goal to make it three and the goal of the game came from Georgios Samaras, who slammed his shot high into the top of the Caley goal from a near-impossible angle.

Celtic did frustratingly fail to keep a clean sheet, as Aaron Doran bagged a consolation seconds before full time, but after the team's performances of late in defence, it is good news that they did not gift Caley any more chances to trouble Forster. But doesn't mean that the problems have been resolved -- a side with a better attack force could have exploited the mistakes that were made in the game.

The game can be easily described by that age auld predictable quote -- a game of two halves.

Lennon's ban

Away from the football on show -- or lack thereof at times -- Lennon had to sit in the stands for match one of his three-game ban, following that ludicrous decision to find him guilty over swearing or offensive language, when two members of the public complained, and we can guess what allegiances they hold.

The fact that Lennon will now use the Scottish FA's absurd decision to cause a 'storm' is very apt indeed as he intends to report any such language to the authorities. Caley Thistle manager Terry Butcher escaped punishment for damaging a dugout recently, smashing one of its panels in a fit of anger. Yet on the same day Lennon was banned, Butcher's charge was dropped 'because he explained himself'.

Many are pointing to Lennon's comments over referee Bobby Madden -- after his display in the St Mirren-Celtic game at the end of March -- as the reason for now being sanctioned for what players, managers and fans do up and down the country each week.

The Scottish FA have just shot themselves in the foot over this issue and have made the game more of a laughingstock by doing so.

What next for the Scottish game? Not allowed to do bunny ears in your boot laces?

Our game has huge problems on and off the park in terms of finances and the lack of a quality product. Yet this is deemed an issue?

And to make Lennon wait 15 minutes after the final whistle to go onto the park to address the fans after winning the title was just as bad.

Much like the decision by the SPL, not allowing Celtic to lift the trophy today and having to wait until May 11 against St Johnstone to do so.

Title triumph, but a lack of enthusiasm

At the final whistle, as fans cheered Celtic's win and their 44th league championship, there was a sheer lack of enthusiasm from most fans, in my opinion. It didn't feel like a title win, just a game that Celtic won. It is a sad reflection I guess, and may disrespect the players and managers somewhat, but my own feelings on the title victory was 'Meh!'

We all knew it was going to happen, that there was no title challenge, even when Celtic willfully threw away points throughout the season.

This scenario will occur for a few years to come at least and could hit season ticket sales also. There will still be tens of thousands of Celtic fans going to the games every second week, but I suspect there will be an increase of fans buying tickets on a game-by-game basis rather than a season ticket.

Whatever happens, the quality of the product on show must improve. It needs to excite, it needs to inspire and above all it needs to entertain. Not many games this season domestically met those criteria.

Of course, the European games will provide the excitement, the inspiration and the entertainment -- BUT domestic football is the bread and butter for Celtic.

Celtic fans will celebrate the 44th league title none the less, but it won't be as inspiring or as lauded as Gordon Strachan sealing the title for Tommy Burns, certainly nowhere near Wim Jansen leading Celtic to their first title in 10 years to stop Rangers securing ten in a row. While deemed by Lennon as more important than last season's title win -- it will forever be tagged by certain quarters as a 'tainted' title or one handed to them on a plate.

But who cares really? It is another title in the bag.

As long as Celtic continue to win games, win silverware, the honours won fair and square will be recorded for all to see and for the Celtic support to celebrate over. A title is a title no matter how you win it -- as long as it is done the right way, the proper way.

Congratulations to Celtic, Neil Lennon, the players and my fellow fans in what can be best described as a season of mixed emotions.

Now to secure that domestic double -- Hibs stand in Celtic's way and it will be a tough encounter all the same. IF -- or should I say when -- Celtic win it, the enthusiasm should return. Shouldn't it?