Be thankful; here is what Celtic could have won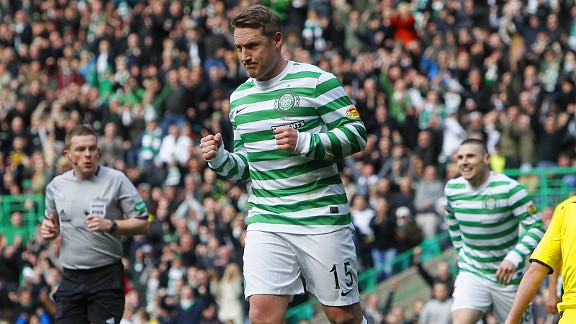 Danny Lawson/PA WireKris Commons and Celtic are on the verge of celebrating another SPL championship.
It is interesting to read the attacks and allegations made by supporters on the Celtic board in recent times. Whether it is about alleged collusion with the authorities to weed out the Green Brigade, or their failure to spend money to strengthen the squad, it seems that this board can do no right no matter what they do or say. But the Celtic support could have done a whole lot worse -- Rangers fans can testify to that fact.

- Strachan predicts Old Firm breakaway

Since Fergus McCann took over the mantle at Celtic Park in 1994, the club have worked to a strict business plan to safeguard not only the club's future but also to keep its debt as low as possible. It was a policy that enraged Celtic fans and mocked by Rangers and their fans -- dubbing it the biscuit tin mentality.

While their rivals spent a tenner for every fiver the Parkhead side spent, Celtic fans had to sit back and watch Rangers secure nine-in-a-row.

The quest for ten-in-a-row was halted by Celtic under Wim Jansen in 1998 and to this day, it is listed as one of the greatest moments in Celtic's history.

In the 14 years since that title win, Celtic have won the title seven more times -- with the eighth set to be secured in the coming weeks.

It has been highly publicised the way that Rangers financed their way to winning titles and since that title win back in 1997-98 for Celtic, Rangers have won the Scottish Premier League seven times also.

It is laughable that Rangers fans are currently claiming that last season's title along with this season's title are somehow tainted, because Rangers could not sustain or manage a title challenge due to going into administration or starting life in Division Three. But they weren't too worried about their nine-in-row titles being tainted as Celtic could not sustain or manage a title challenge due to financial issues and a lack of quality players on occasion.

So that gives Celtic and their fans ample reason to celebrate their second title in a row, with as much gusto as Rangers did. Only those bitter enough or hate-filled enough would resort to trivialising any league championship -- especially given their own penchant for boasting over titles won with little or no challenge.

Peter Lawwell and his predecessor Ian McLeod have been targets of the Celtic support over the years, but there can be no denial that Lawwell has secured Celtic's future by increasing the club's revenue and reducing the debt. His talent or skill as a chief executive was so much so that Arsenal were interested in securing his services in 2008, an advance he rejected; a rejection that Celtic fans should be thankful for given the antics, the actions and the financial mismanagement across the city.

While Celtic fans have had to deal with Lawwell, McLeod, Dr John Reid, McCann and Dermot Desmond, Rangers have been subjected to Sir David Murray, Craig Whyte and Charles Green. Not a great comparison, now is it?

What would Celtic fans rather choose? Financial security, the players at their disposal now and Champions League qualification all built upon a strict and sound business plan? Or a club that is struggling financially -- spending money they simply did not have and could not pay back -- with players who have struggled in Division Three and who have been out of Europe for over three years?

So while, Whyte and Green drag Rangers through the mud again with their antics and rhetoric, Celtic, Desmond and Lawwell will simply sit back and put their feet up safe in the knowledge that they are taking care of their own business.
Celtic fans should be grateful to McCann, Desmond, McLeod and Lawwell for the security that the club is in, after years of mismanagement at the hands of the Whites and Kellys.

In regards to the allegations of colluding with the authorities, this has not only been rubbished by the club itself, but it has been rubbished by the Police as well in a recent interview I did with the Head of FoCUS Superintendent Stephen McAllister which will be published in this month's Scottish Football magazine FITBA.

So while the Green Brigade bump their gums about alleged collusion between the club and the authorities -- with no proof I made add, it is safe to say without this board and previous boards going back to McCann, that we would not have a Celtic Football Club -- as it is today. It would either be playing in the lower echelons of the Scottish game like rivals Rangers or in junior/amateur football.

It really is a good time to be a Celtic supporter -- despite the 500 million fans worldwide that Rangers profess to have.