Sloppy Bhoys punished by Highlanders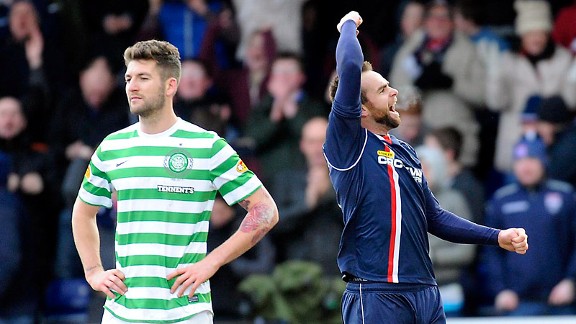 Craig Halkett/PA WireA late winner from Ross County capped off a tough week for Celtic.
After the week which saw Celtic exit the Champions League after losing to Juventus, they faced a Ross County side sitting pretty in the Scottish Premier League and in fine form to boot.

Despite a dominant first twenty minutes, a period in which Celtic scored twice through Charlie Mulgrew and Gary Hooper, Ross County fought their way back into the game and at the halftime interval were back on equal terms with the SPL league leaders. Into the second half and no goals were forthcoming until deep into injury time when Steffen Wohifarth headed home the late winner to secure Ross County a 3-2 victory on their home turf.

- Late Ross County goal sinks Celtic

While Celtic may be sitting pretty at the top of the league and can squander such leads now that the gap is significant, the manner of the capitulation is a worrying site for everyone connected with Celtic -- from the management side to the fans who travelled north.

Before the match, manager Neil Lennon said: "We go to Ross County who are having a fabulous season. Derek has done wonders there. We're going from Juventus in the last 16 to Dingwall. In some people's minds that will be a step down but in my view, it's a very important game. We have a championship to win and our own targets to achieve. We're going to come up against a very competitive, well-motivated and well-organised team who play some really good football. Every time we walk out on that pitch, we come up against a challenge. We have to face it head on and look forward to it. I like what Ross County do. There will be a good crowd. It will be tight, with a good atmosphere and we have to be ready."

In fact, the Ross County match carried on from where the Juventus game left off: Celtic's inability to cut out the silly mistakes and the failure to challenge for the second ball, which were punished accordingly by the opposition.

All three goals today could have been prevented if Celtic were more dominant at the back. Kelvin Wilson's poor defending and clearances were to blame for goals number one and two, while a lack of leadership at the back between Wilson and Fraser Forster led to Wohifarth nicking in and heading the Highland outfit into third place in the Scottish Premier League, taking advantage of their Highland neighbours Inverness Caley Thistle's 1-1 draw with Dundee at Dens Park.

The papers may have been full of Celtic players looking south, whether it was correct or whether it was a way to rock the boat and make a story out of nothing; the fact is those Celtic players on the pitch today would be lucky to get a lowly Championship side coming in for them after that sort of performance.

A match lasts for 90 minutes, not 20 minutes and there cannot be any excuses made whether it is the state of the pitch or the fact that a number of first team regulars were out through injury. At the end of the day, Celtic should have enough in their squad to beat Ross County with all respect.

Eight of the 11 are first team regulars, so there is no point trying to lay the blame on fringe players -- especially when the mistakes were made by first team regulars. So before they dream of glory and the riches of the English Premier League, maybe they should try getting some sense of reality and make their game top notch and perfect in the SPL first.