Celtic will miss the terrier tenacity of Brown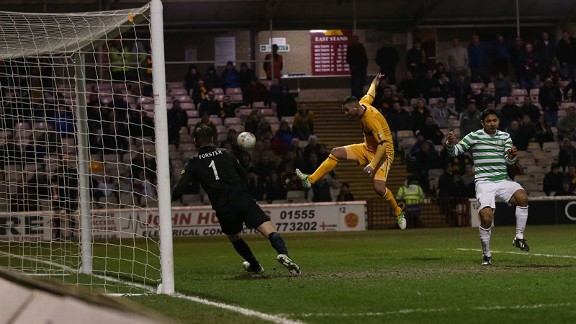 GettyImagesMichael Higdon scores for Motherwell in their SPL win against Celtic
Celtic skipper Scott Brown is out for the foreseeable future after another injury blights his Celtic career - this time it's a recurring hip problem. The injury means he will miss Celtic's Champions League last 16 clash against Juventus next week, he missed Wednesday night's clash with Motherwell in the SPL - more of that to come - and will miss Scotland's double header against Wales and Serbia in March.

- McFadden-inspired Well stun Hoops

Whether Brown needs surgery or not on his hip, it is another period where Celtic will have to do without one of their key midfielders and one that is not afraid of getting stuck into a tackle.

Wednesday's game against Motherwell showed that Celtic can be bullied off the ball by a side that is, with all respect, a mid-level SPL side punching above their weight. Being beaten 2-1 by Stuart McCall's side is no great shock, especially with Celtic's performances in the league hit and miss this season. But the key ingredients that are missing from this current Celtic team are the qualities that Scott Brown brings to the side. Qualities Celtic manager Neil Lennon brought to the side when he was playing - fight, tenacity, terrier-like spirit and a battling mentality.

They never shirked from a tackle and riled opposition players and fans, but that is part and parcel of the midfield enforcer's role. Despite Victor Wanyama having some of those traits, he has put in several performances of late that point to him not wanting to get injured for fear of messing up his future plans, wherever they may lie.

So where is Celtic's battling and fighting spirit?

Under former manager Gordon Strachan, Celtic were not blessed with battling midfielders after Lennon left the club, but they battled in their own way, until the final whistle. That battling mentality saw Celtic secure some famous victories in the Champions League and not to mention a few derby wins over bitter rivals Rangers.

Before Strachan's era, you had Martin O'Neill's team that was full of battlers, of players not frightened to get stuck in - from defence to attack - they all did it. John Hartson, Chris Sutton, Lennon, Paul Lambert and Johan Mjallby to name but a few.

So why is the Celtic side now not like that? SPL performances have proved that they are not up to the fight, while in the Champions League they have proven they can hold their own at times, whether it is Barcelona, Spartak Moscow, Benfica or even Juventus. Celtic dominated the latter of those games and had Juventus on the back foot - although that played perfectly into the Old Lady's tactics as they countered and punished poor and shoddy defending at the back. If the current Celtic had battlers and for want of a better word 'bully Bhoys' in the side, the game could have turned out differently.

And Wednesday's game would have been far different also.

Rather than being bullied off the ball, by the likes of Keith Lasley, Chris Humphrey, Nicky Law and co. Celtic should have put them in their place and carried on where they had left Dundee on Sunday. But no, there was no fight from the majority, no desire and no real determination to fight for every ball, for every second.

Why?

There is no challenge in the SPL and therefore the Celtic players know that if they slip up once or twice - or in the case of this team five games lost - then they will still canter to the title without hitting top form.
No Rangers in the league. Some Celtic fans may not like to hear it, but without Rangers pushing Celtic every week, complacency is setting in amongst the players domestically. Whether in cup competitions or in the league, Celtic have been a mixed bag. From the good, to the average, to the poor and even the abysmal. Yet they are still 19 points clear of the second placed team. The battle for the title may be non-existent but the battle for those European places is hotting up, with a total of six points between ninth placed Aberdeen on 37 points to second placed Motherwell on 43 points.
European football is the priority. Celtic's Champions League campaign has more than made up for the loss of the Old Firm derby with well over £20 million being brought into the Parkhead coffers. Because of that focus on the Champions League, performances before and after European games, have been to an extent poor. Again this could explain Wednesday's lacklustre and poor performance. Certainly it doesn't excuse it.


Lennon was far from happy and I don't blame him. After the match, he commented: "If they waste a game, any game at this club, then it gives me a lot to think about. I'm pretty angry with some of the performances tonight. There was a comedy of errors and I can't accept that. I want people to fight for the right to play football."

As I commented earlier, there was no fight or desire in the Celtic side bar one or two at most. So how can Celtic and Lennon solve the lack of fight and desire?

Man management is the key. That comes down to Neil Lennon and Johan Mjallby, not to mention the skipper - Scott Brown - even if he is out of the picture on the field.

But the one thing that Lennon and the rest of the management team need to instil in the current squad, is fight, desire and that battling mentality that is missing currently. If the current crop cannot do that then secure players that can.

At the end of the Motherwell game, Celtic may have lost the battle but come the end of the season - Celtic will ultimately win the war. Culminating in Celtic lifting the Scottish Premier League trophy at Celtic Park. After all that is the most important issue in all of this, Celtic keeping their hands on the SPL title and gaining that spot to play Champions League football.

But in the meantime, Celtic will miss the terrier tenacity of Scott Brown as he is only one of a few that fight and battle. While the others at times just make up the numbers seemingly.