There are mixed emotions among Celtic supporters after the 3-0 defeat to Juventus. The defending at times was poor, the attacking threat was superb, but the final third was poor. Juventus were unimpressive at the back and were ripe for the taking, but in attack they were clinical.
The UEFA stats show that Celtic more than matched their Serie A opponents in every aspect of the game and had significantly more chances on goal, but as always the statistic that matters the most is goals scored and Juventus won that battle.

- Rzouki: Juve's quality decisive against Celtic's effort

The atmosphere was electric as ever at Celtic Park on a European night and before the game the Green Brigade unfurled a banner that read 'London Calling' in homage to The Clash's famous album cover, with the guitarist about to beat the Juventus badge with the guitar. Sadly for those fans in the ground, it would have been more appropriate if the banner had featured referee Alberto Undiano Mallenco as the guitarist, beating the Celtic badge. His performance was nothing short of abysmal.

Officiating

As a football fan of over 30 years, I have witnessed some horrific refereeing but Mallenco's was second to none. We also witnessed the continued ineptitude of the additional assistants standing on each goal line, who are supposed to be on the lookout for incidents in the penalty area, but proved utterly ineffective. Juventus' defenders consistently grappled, hauled and pulled at Celtic players in the box, in full view of the referee and his additional assistants, yet players from both sides were yellow carded.

Maybe UEFA should re-educate their officials from tonight's game on FIFA Law 12 – related to fouls and misconduct. The law stipulates: "A penalty kick is awarded if the offence [holding an opponent] is committed by a player inside his own penalty area, irrespective of the position of the ball, provided it is in play'.

And if you're not satisfied with that, here's a word from legendary ref Pierluigi Collina last year: "The presence of an extra official is a very important deterrent for holding and pulling. We've had this problem for many seasons, we had to remind the referees to be very careful at pulling and pushing."
Gary Hooper, Scott Brown and Juve's Simone Padoin and Stephan Lichtsteiner, were all carded for grappling inside the box. Brown and Hooper were the victims of the Juventus duo's over-zealous physical contact, but the referee was more than happy to even up the score in terms of bookings and then blatantly missed or ignored the grappling which continued after the bookings.

Was it failing eyesight? Was he overawed by Pirlo's handsome looks? Was he blinded by the dazzling attacking play from Celtic? Or were they just honest mistakes? Whichever is true, the referee certainly denied Celtic two penalties at crucial stages of the first-leg tie. The first came when Hooper was manhandled by Lichsteiner minutes before the interval, at a time that would have given Celtic a massive boost and Juve something to think about in the second half. The second stonewall came when Brown was manhandled a minute before Claudio Marchisio made it 2-0. If both penalties had been awarded and dispatched then at that stage it could have been 2-1 to Celtic and I'd be writing a very different piece.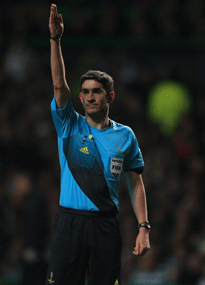 PA PhotosReferee Alberto Undiano Mallenco felt the wrath of Neil Lennon after some questionable decisions
Team Selection

Hindsight is a wonderful thing - football fans and pundits alike have that great knack of telling a manager of how the team should have lined up after the game has been played. So why break the habit of a lifetime.

You would think selecting an African Nations Cup winner in defence would be a great decision, but after two days of celebrating and travelling, the inclusion of Efe Ambrose was a gamble that did not pay off for Neil Lennon. It can be argued that he was at fault for all three Juventus goals, though it would be pretty harsh to just single out the Nigerian for blame. With Mikael Lustig more than capable of deputising in central defence, he probably should have played in place of Ambrose, with Welshman Adam Matthews coming in at right back.

Another shock was the inclusion of James Forrest instead of Joe Ledley. The Welshman had been in fine form in the league and more than warranted his place in midfield, but Lennon must have felt the pace and trickery of Forrest was worth a gamble also. To an extent it paid off but while Forrest is a one-trick pony in my eyes, Ledley gives you something else. He is an all-round midfielder - both defensive and creative - and has an eye for goal also. Ledley may have been the better choice, though Forrest didn't embarrass himself and certainly didn't look out of place against one of Europe's elite sides.

Despite the referee having a shocker, he was not the party responsible for Celtic conceding three goals. The blame lies squarely with the defence. The coaching staff should install a new training regime whereby every time a player ball-watches in or around the Celtic box, they get a swift kick up the backside. Ball-watching was arguably to blame for allowing Juventus to casually ease through the defence and hit the back of the net. Goalkeeper Fraser Forster finds himself exempt from the defensive criticism, however, as he made four saves during the game and could not do anything about the three times he picked the ball out of his net.

Finishing

All it takes is one weak link in the chain and you will be punished by quality teams at this stage in the Champions League and Juventus did just that with a display of clinical finishing. Celtic had 17 goal attempts, with ten of those being on target compared to seven from Juve. A further seven were off target for Lennon's side, while two were off the grid for the visitors.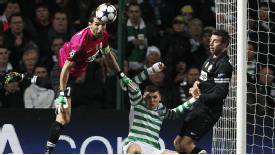 GettyImagesGianluigi Buffon was barely tested by Celtic
From those chances, Juventus breached Forster's goal three times, while Gianluigi Buffon was in the right place at the right time to comfortably save Celtic's chances on goal. It did probably help that said chances were all straight at the Italian keeper. 3-0 flattered a Juventus side that weren't that special – I can't see them progressing further than the next round if they come up against a more lethal strike force.

Second Leg

The tie is over. Celtic cannot overcome a three-goal deficit in Turin. Given their lack of killer instinct in the final third, I'd sat a draw is as much can be expected expect from the second leg in Italy. As Lennon stated, Celtic would need a miracle to secure a place in the last eight of the Champions League, although perhaps we could scare the referee into awarding us penalty after penalty by placing a Findus Lasagna under his pillow – there's sure to be some remnants of a horse's head in it to provide a Mafioso-style warning.

In conclusion

With Celtic now almost certainly out of Europe for the third time in a row at the last-16 stage, we can turn our attention towards the pursuit a domestic league and cup double. Away from the dreary domestic game, the Bhoys have been simply superb, their critics have for the most part been silenced and there has even been a union of Scottish football fans and clubs supporting Celtic. The players and management have done the club and the supporters proud, they have helped boost Scotland's co-efficient and have made those pundits and fans who are critical of the SPL eat their words.

Celtic may have lost the battle, but they have won the war with the revenue they have secured over the course of their campaign helping to reduce their net bank debt and likely to fund the purchasing of new players in the summer. There is certainly no Armageddon in sight for Celtic.