Wanyama leads Celtic's spoilt brats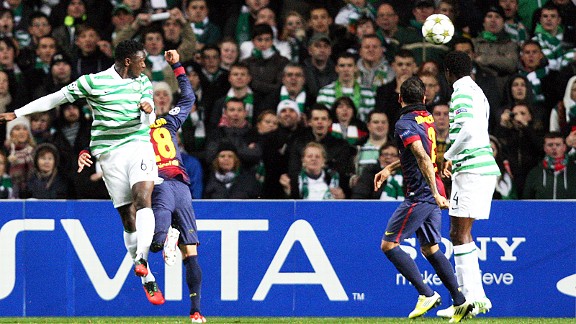 GettyImagesWhere has the Victor Wanyama who put Celtic in the lead against Barca gone?
It was another case of Celtic tripping up in a cup semi-final against a lesser team as Celtic's chances of a domestic treble evaporated. Sunday's defeat signalled the third game in a row that Neil Lennon's side have lost at Hampden. Talk is now of a Hampden hoodoo for Celtic, but at the end of the day the result was a victory for St. Mirren rather than a hoodoo for Celtic.

St. Mirren wanted it more, while Celtic failed to show the metal, the desire and the fight that is needed to secure victory to reach a cup final.

The Buddies' game plan was self-evident from the kick off – pressure, close down and counter attack Celtic – it worked. There is no denying that St. Mirren deserved their victory and take nothing away from them, but for Celtic they need to take a good hard long look at themselves.

Before the match, several pundits were talking about Celtic potentially being distracted by the upcoming Champions League match against Juventus. I rubbished that theory and to an extent I still do. No player stood out and no one could hold their head up high after Sunday's performance – so how did Celtic flop so badly?

Simple, their key players failed to turn up and those who had a glimpse of a good game couldn't be bothered stepping up into a higher gear. Celtic's most influential man throughout the season, Victor Wanyama, was culpable as most, if not more so.

The midfielder has been heralded as one of Celtic's best buys in recent years, but on Sunday Wanyama looked like a kid thrown into a game for the first time. He was off the pace, he was behind play and was easily shrugged off the ball by midfielders smaller and less powerful than him.

Sunday's performance would scare off those suitors and convince them that this Kenyan kid was overhyped by some and was worth more like £1 million than £10 million.

Could he be on his way out already though? According to the Kenyan FA president, Sam Nyamweya, he already is.

Nyamweya, giving a speech in Nairobi, stated: "Wanyama will soon be joining one of the big two clubs in the world. It is an exciting moment for us, which means that Kenya is a powerhouse in football."

With Manchester United the only club reportedly in for the midfielder is Nyamweya claiming that a deal has already been struck? £10 million for a player that was bought for a mere £900,000 in 2011, would be good business for any club but after Wanyama's performances in Europe that price tag should be significantly higher, especially given the price tags of other inferior players.

But have too many believed the hype that has surrounded Wanyama? If he can play as abysmally as he did in a semi-final against St. Mirren, then something must have gone wrong. This is the same player who took on Xavi, Iniesta and Messi – and came out on top.

Did the speculation unsettle the Kenyan? Was he making sure he didn't pick up an injury, one that would prevent him from his big money move? Or was it just to make sure he would not miss the Juventus game so that he could use that as a way of selling himself to Europe's best for more money?

If a player unsettles a whole team then he is a thorn in the side and must be removed. If that means cashing in on his new found fame now, then why not?

No one is giving Celtic a chance of beating Juventus, while they have more or less sewn up the SPL, so at this point why not cash in on Wanyama? Of course elements of the support will be up in arms over it but no one man is bigger than Celtic and on Sunday's showing, the jersey has shrunk to fit Wanyama rather than the Kenyan growing into it.