Fraser Forster: You shall not pass!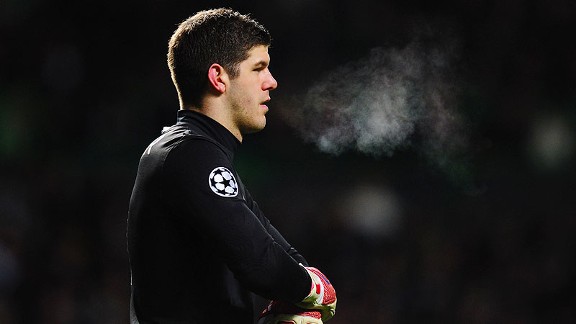 Stu Forster/Getty ImagesFraser Forster has emerged as one of the best goalkeepers in the United Kingdom.
Celtic have had some top goalkeepers throughout their history from the brave John Thomson -- who lost his life while tending goal for Celtic -- to Lisbon Lions great Ronnie Simpson, to Packie Bonner and cult hero Artur Boruc. There have also been a number of bomb scares -- who shall remain nameless for fear of horrific flashbacks -- but the current keeper to don the Celtic number one jersey meets the criteria that Jock Stein laid down decades ago.

Fraser Forster has broken into the England national squad -- albeit just a call-up -- but with Joe Hart's form at Manchester City questionable due to some high profile blunders, Celtic could have a number one England goalie on their hands sooner rather than later. And the Geordie deserves that accolade and many more that have come his way, given his performances domestically and in Europe.

However, it was not all rosy for the big Geordie keeper when he arrived at Celtic Park. He replaced Polish keeper Boruc, who was a cult figure at Celtic Park, a quality keeper in his own right but fell by the wayside after a number of high profile blunders as well before moving on to Serie A side Fiorentina.

With Boruc's departure to Italy, Lennon snapped up Forster on loan from Newcastle.

In his first season, Forster was lacking a commanding presence, and despite breaking the Scottish Premier League's clean sheet record, he split the Celtic support -- those who didn't think he was good enough and those who claimed that the keeper was a good signing.

Despite his form between the sticks at Parkhead, his parent club, and in particular Newcastle United manager Alan Pardew, didn't think much of it as he rubbished the standard of the SPL.

Celtic wanted Forster to return to Paradise for a second term, but at first Newcastle refused citing that they needed him at the club in case of injuries and that they felt the SPL wasn't the right proving ground for one of their players. But the North East side finally relented, choosing former Falkirk keeper Tim Krul, along with veteran keeper Steve Harper over Forster.

Two million pounds were exchanged and Forster departed the North East for Glasgow once more -- this time permanently.

With half the season over, Forster has repaid that fee and then some. His performances this season, especially in Europe, have been nothing short of world class and in numerous games one of his saves usually was the difference between winning, drawing or losing.

For just two million pounds, Celtic bagged themselves a bargain, with his price tag closer to the 10 million pound mark now. He is definitely better than former Hearts keeper Craig Gordon, who joined Sunderland in 2007 for nine million pounds. I would go even further and state that the Geordie is better than Manchester United keeper David De Gea and would give Manchester City keeper Hart a run for his money both at club and national level.

Forster's price tag, however, will not be anywhere near that of De Gea's and that is not because of his ability, but merely the effect of playing for an SPL side -- albeit one playing in the last 16 of the Champions League -- compared to a keeper who is (in my opinion) a poor man's Forster playing in the overprice and overhyped English Premier League.

The Celtic keeper has received plaudits from many quarters, including none other than Juventus shot-stopper Gianluigi Buffon.

An impressed Buffon said: "Of course I know about Fraser. I watch all the top young goalkeepers in the world and I'm sure he can become one of them. The top three young goalkeepers in the world for me are Joe Hart, Manuel Neuer and Salvatore Sirigu. It will be one of those three who will go on to be the best in the world.

"But if Forster keeps on playing like he is, there is no reason he can't be close to or even in that group. In a goalkeeper, I don't just look for the great saves but for the authority and confidence he shows. As a goalkeeper, you can make only one or two mistakes a season if you want to be the best.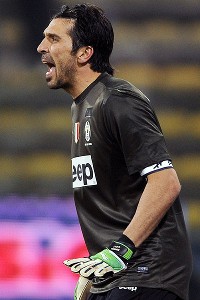 Claudio Villa/Getty ImagesJuventus goalkeeper Gigi Buffon is full of praise for his Champions League round of 16 counterpart.
"It's in the big games where you see character because that is where you are most likely to make mistakes. I have seen both games he played against Barcelona now and not only did he make great saves, he looked confident. He didn't look like a goalkeeper who was going to make a mistake."

With Juventus set to face Celtic in Glasgow on February 12 and then the second leg in Turin on March 6, Buffon believes that Foster will show Europe what a talent he is once more: "Fraser is about to play in two big games in the last 16 of the Champions League and it is clear to me he has not only the talent, but the character for games like this. He has another two big games to show Europe what he can do, and from what I have seen in him I am sure he will show Europe again."

High praise indeed from the Italian international.

But not only has he won over his peers, Forster has also silenced his critics. He is the best goalkeeper in Scotland and one of the best in the United Kingdom currently. It could also be argued that he is the best keeper that Celtic have had since Ronnie Simpson.

Celtic will find it tough to keep their hands on Forster beyond the summer, as clubs in England and beyond are keeping their eyes on the shot-stopper. Who could blame these potential suitors though, a quality keeper and at an affordable price. It's certainly not a risk compared to those in the same league or from the continent who would be significantly more expensive.

The club does not need to cash in on the player, but everyone has their price and in the modern game, cash is king. Higher wages and higher transfer fees rule the roost. Celtic would almost certainly accept a deal for the keeper if it was a ludicrous amount of money -- and in my opinion, nothing short of what Sunderland paid for Craig Gordon and then some.

It may not be what the Celtic fans want to hear, but they should celebrate and watch in awe as Forster continues to don the Celtic jersey and help the side continue to do battle on all four fronts this season. Before too long he will be making his way to pastures new, in his bid to secure the next big goal of his career -- being the regular England number one keeper.