Celtic have no equal in Scottish football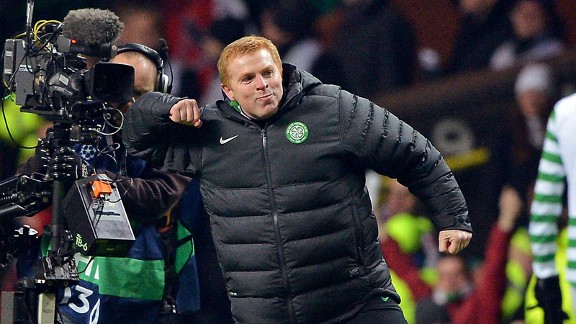 Jeff J Mitchell/Getty ImagesCeltic manager Neil Lennon: "We have got stronger"
I have to state up front that I miss the clashes with Rangers in the Glasgow derbies. Scottish football is less dramatic in terms of the title race with no Rangers in the league, but with their demise the Scottish Premier League has been given a new lease of life. Less bitterness, less hassle and obviously other clubs coming to the realisation that they have been given a chance to profit at Rangers' expense. But with Rangers' demise, Celtic now have no equal in Scottish football.

It may be a sweeping statement that could be proven wrong in future years, of course Celtic are beatable - in fact they have been beaten this season already - but despite that they are still top of the Scottish Premier League and five points clear with a game in hand over Inverness Caledonian Thistle.

They are still competing in all four competitions they have entered in and will do so after Christmas, for the first time in years. What other Scottish club can claim this? Even those who were in the Ramsdens Cup?

With no Rangers, Celtic have been given the luxury of letting themselves take their eye off the SPL ball when battling in Europe and that has paid off significantly both on and off the park. While Rangers had to rely on a share issue to raise £22 million to help towards the running and maintaining of the club, Celtic raised that amount merely by securing a place in the Champions League last 16.

Rangers fans can claim that they are still the world's most successful club, while others claim that Rangers 1872 is no more and Rangers 2012 have not won a single trophy, Celtic's success on the pitch will create a gulf on the field, that Sir David Murray during his 'spend a tenner for every fiver' era, would have dreamed of.

Could Celtic secure their second nine-in-row title championships? It certainly wouldn't be tainted without a Rangers there, how many titles were won by Rangers when Celtic went through their own financial mess in the early nineties?

Nine titles in a row are still nine titles in a row after all. Or could it be ten-in-a-row?

According to Celtic manager Neil Lennon, the gulf between Celtic and Rangers has never been greater and I agree with him.

Lennon said: "I don't think Rangers are as strong on the pitch and I don't think they are as strong an institution as they once were. And we are. We have got stronger. We have got better on the pitch and the revenue we have brought in this year will leave us financially stable for a long, long time. I don't know the ins and outs of Rangers, I just look at their team and it has been significantly weakened because of all the big players who have gone."

And that's the crux of the matter, Rangers have lost their best players - Naismith, Davis and McGregor - of course they have kept some who tupe'd over from the old club in McCulloch, Alexander and Wallace. But out of the team that beat Elgin City 6-2 on Saturday, how many would actually get a game for Rangers if they were in the SPL and had no transfer embargo imposed on them?

Both Celtic and Rangers could face one another this season, if both sides qualify for the latter stages of the Scottish Cup, and that is when the gulf in class would be seen. A championship-winning side in the last 16 of the Champions League facing a Third Division side that was knocked out of the Ramsdens Cup and League Cup early doors, who have struggled in the lower leagues and are conceding goals with relative ease.

In 1957, Celtic recorded their greatest ever victory over their rivals Rangers at Hampden Park with a 7-1 League Cup Final win.
If both sides qualify for the final, could Celtic 55 years on, impose the greatest ever defeat on Rangers? A result which would cause the Rangers masses to call time on McCoist's reign despite his legendary status as a player and could cause Charles Green - the darling of the Rangers support just now - face a backlash that even Sir David Murray did not face.

Celtic have no equal in Scotland currently and in my opinion they should secure all three domestic trophies this season, an emphatic signal of their dominance, a dominance that Rangers fans would look upon with jealousy.