Gary Hooper - the striker Andy Carroll could have been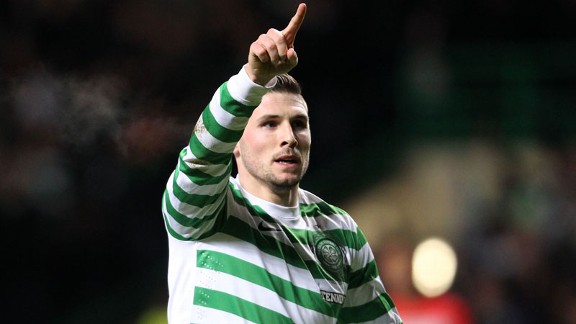 PA PhotosGary Hooper has been linked with a move to the Premier League
Celtic comfortably beat St Mirren this weekend, but the scoreline doesn't tell the full story. Celtic dominated the match - Wanyama opened the scoring before Gary Hooper secured all three points late on in the second half - as St Mirren provided very little outside their own 18-yard box.

- Hoops ease to victory

The club are looking to tie up both Wanyama and Hooper to long-term deals as their stock has risen with their performances in the Champions League and it is still touch and go if both will sign on the dotted line.

It is believed that Hooper will sign a new deal soon, despite numerous clubs down in England keeping tabs on him and speculation mounting with regards to interest in the January transfer window.

I am of the opinion that come January, Celtic will only sell their fringe players, unless the offers that come in for the star players are ridiculous. But Wanyama and Hooper will not be going anywhere just yet - especially with a last 16 Champions League clash to secure ahead.

Commenting on the current negotiations with Hooper and his agent, Lennon said: "I would think we can get an agreement pretty soon. I speak to Gary once a week on it and he's quite comfortable with it. I hope to see Peter Lawwell in the next day or so and he'll come up with a solution. I don't think we're far away."

When you look at the number of goals Hooper has scored for Celtic, it is a continuation of what he did at Scunthorpe United in the English Championship back in season 2009/2010. Back then he finished the season bagging 20 goals in just 39 appearances, before he made the move to Celtic that summer in a £2.4 million deal.

Compare that to Andy Carroll, who in season 2009/2010, was playing for Newcastle United in the English Championship. The striker bagged 19 goals in 42 appearances. Going by stats alone, you would think that Carroll's price was cheaper than Hooper's - but given the lunacy that surrounds transfers in the English Premier League, Carroll joined Liverpool for £35 million before doing a Tore Andre Flo (flopping big style) and going out on loan to West Ham this season.

So Celtic bagged themselves a bargain, while Liverpool were taken for a ride. Am I wrong? Look at it this way: Hooper cost Celtic £37,500 per goal, while Carroll cost Liverpool £3,181,818 per goal. Simple mathematics.

Hooper has played in the Champions League, against the likes of Benfica, Barcelona and Spartak Moscow and emerged as a winner - boosting his standing in the game tenfold. While Carroll had two games in the Europa League against Braga last season - drawing one and losing the other.

Now it is inevitable that the likes of Wanyama and Hooper will leave Celtic, but with the Bhoys not needing to sell players to keep their heads above water, they can really pick and choose when to sell or when not to sell two of their prized assets.

But any club who does snap up Gary Hooper, be it this summer or thereafter, will be bagging themselves a bargain. He will certainly not go for the same price as the over-priced Carroll, but the eventual fee will give Celtic the funds to further strengthen the side.

Celtic can have the best of both worlds. How Carroll wishes he had the scoring prowess of Gary Hooper. Andy who?