Celtic back on Planet SPL after stellar Euro campaign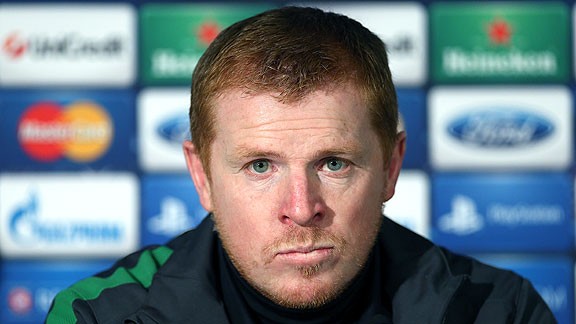 Ian MacNicol/AFP/Getty ImagesWith passage to the Champions League knockout round set, Celtic manager Neil Lennon can focus solely on his team's domestic campaign.
This weekend saw Celtic return once again to Planet SPL, after they secured a spot in the last 16 of the Champions League by defeating Spartak Moscow 2-1 on Wednesday night.

They faced a Kilmarnock side that was looking to take advantage of the European hangover that Celtic have been suffering from over the course of the Champions League group stage games, but Saturday's dominant 3-1 effort proved that Celtic are now turning their attention back to domestic football.

- Report: Kilmarnock 1-3 Celtic

Now Planet SPL should worry.

At the time of writing this article, Celtic are three points clear of second-place Inverness Caledonian Thistle and also have a game in hand. With Celtic now fully focused on domestic duty and with their next two games against the two bottom sides -- St. Mirren and Dundee -- Neil Lennon's side should secure all six points quite comfortably.

In my previous article, I stated how Celtic gave their fans one of the greatest presents of all with their qualification to the next round of Europe's top club competition. But while the fans are in the mood to celebrate just now -- given that Christmas is the time for peace and goodwill -- after the New Year they will be demanding the team to wrap up the title as soon as possible and will not let the players take their foot off the pedal until the hardware is back in the trophy room at Celtic Park.

Celtic fans to a degree are a fickle bunch -- I am no different -- in that they demand success, glory and entertaining football. Not many managers can combine all of those together -- many have failed and a few have succeeded.

It may be said that Lennon has had it somewhat easy as a Celtic manager -- on the field of play that is -- without a Rangers team to challenge, to tackle, and that is why Lennon must be successful domestically in all competitions along with progressing as far as possible in Europe.

But this season, with the demise of Rangers and their rebirth in the Third Division, Celtic have had it easy in the league despite dropping points after Champions League games. The draw for the next round of the Champions League will take place on Dec. 20, but even after that sideways glance to Europe and the thoughts drifting to February, Celtic will be focused on the job at hand and will storm ahead in the league, leaving the rest of the Scottish Premier League in their wake.

The SPL trophy with Celtic's colours on it lies only a matter of months away and so could a possible domestic treble.

But will all that matter when it comes to Celtic's European campaign? Of course it will. Celtic fans are greedy. We want it all and Lennon knows this.