Celtic give their fans a very Merry Kris-tmas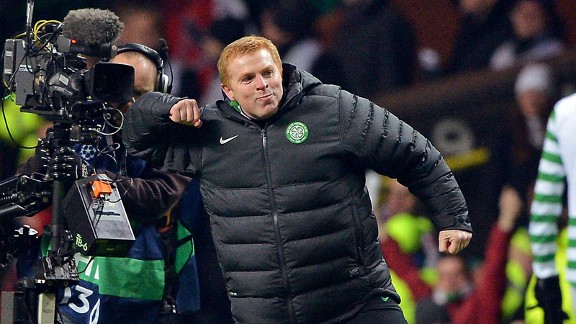 Jeff J Mitchell/Getty ImagesCeltic manager Neil Lennon: "We have got stronger"
Celtic 2-1 Spartak Moscow, not a famous result nor a great performance, not like the Celtic 2-1 Barcelona game, but it's not how you win the game, all that matters is that you win. Celtic did just that and secured their place in the last 16 of the Champions League for the third time, as Barcelona and Benfica played out a 0-0 draw in the Nou Camp.

- Lennon thrilled by achievement
- Report:Celtic 2-1 Spartak Moscow
- Marcotti:How to fix the Champions League

Goals from Gary Hooper and a penalty from Kris Commons secured Celtic as second spot in the group, but more importantly for Celtic at a time when finances are tight, they have secured further revenue -- much needed at that. Celtic's qualification to the group stages, coupled with their progression to the last 16, has wiped out their debt and then some. Compare that to Rangers who are trying to raise £27 million in a share issue -- a mean feat and one that they will struggle to secure -- Celtic secured much of that by playing, in effect, ten games. Four qualifiers and the six games in the group stages have secured investment that the club will be laughing with all the way to the bank.

There has been much criticism from some quarters, including the inevitable pundits, who say that Celtic are struggling domestically, and they are right. But when you play against the big boys, playing against weaker opposition domestically just doesn't cut it. It is a sad indication of the domestic game, but with no Rangers to play or to compete with, Celtic are taking their eye off the ball in games. Despite this, they are still top of the league and with the lack of competition at home, they have been able to focus their attentions on Europe and it has paid off big time.

For Celtic, qualifying for the last 16 was nigh on impossible as they were drawn against Barcelona, Benfica and Spartak Moscow, but they shot the doubters down with three wins, one draw and two defeats -- with one of those coming from the last kick of the ball against Barcelona. If that game had ended in a draw, then Celtic would have been level on points with the Catalan giants. As it is though, Celtic progress in second spot just three points shy of the La Liga side.

Compare Celtic and how much they spent to build up a side with limited European experience to the likes of Chelsea and Manchester City who failed miserably, it goes to show that money doesn't buy you success. The English Premier League champions don't even drop into the Europa League as they finished bottom, while the defending Champions League winners Chelsea have to settle with Europa League action -- something that will surely have Rafa Benitez be welcomed in with open arms even more. Celtic spent around £15 million to build up their team and with their qualification they have succeeded in bringing in more money that can buy the team once over, if not closer to twice over.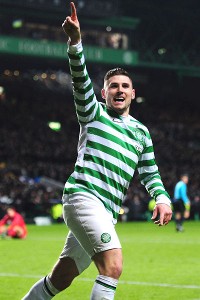 Stu Forster/Getty ImagesCeltic's Gary Hooper after scoring the first goal versus Spartak Moscow. Hooper and other Celtic players have seen their values go up over the course of the group stage.
The likes of Fraser Forster, Victor Wanyama and Gary Hooper have done no harm in their chances of earning a big money move. But while it is inevitable that these players will move on from Celtic Park sooner rather than later, the fees to buy them will be significantly higher -- in fact, all three players could make Celtic an eight figure sum each. However, they will not walk away from Celtic Park while further European glory is on the horizon after the New Year. The summer will be a different kettle of fish though.

With Europe over until February, Celtic can concentrate on their domestic form and this is when they should, and in my opinion will, storm ahead of the following pack. But in two weeks Celtic will learn their fate in the last 16 when the draw is made. They could face Manchester United, Malaga, Juventus, Bayern Munich, Borussia Dortmund, Schalke or PSG. Celtic fans on December 20th will stop what they are doing and be glued to their televisions, the internet, Twitter or the radio as they await the news of who they will play.

Personally, I will hate to face Manchester United again. Not because of their attacking threat, but because we have played them time and again. I want a fresh face of sorts. No side named above will be an easy test and in reality, away from home it will be backs to the wall mentality once again, while at home we will fear no one. If I could choose, it would be Borussia Dortmund, not because they are easier, just that the football they play at times is superb -- along the same lines as the Celtic way -- and the atmosphere at both Celtic Park and the Westfalenstadion would be immense.

No one gave Celtic a hope of qualifying for the group stages let alone progressing to the last 16 of the competition, but as they say football is a funny old game and Celtic are not a team to take lightly in Europe.

For those Celtic fans that have been on the sauce since Wednesday night's result, they have probably put a cheeky wee punt on Lennon's Lions winning the Champions League on the 25th May 2013 -- 46 years after Jock Stein led the Lisbon Lions to win the European Cup -- and at odds of 80/1 being offered by one leading high street bookmaker then it would be a brilliant return. Barcelona are favourites, but since we were the last team to beat them doesn't that make Celtic the unofficial favourites?

Okay, yes I am getting a tad carried away and no I'm not on the sauce either. We can all but dream though.

One thing is clear though after the result, Celtic fans worldwide are rewriting their letters to Santa Claus hoping that the big man from the North Pole has many more European glory nights in store for the Bhoys and Ghirls of Paradise.