Should Celtic focus on Europe or domestic glory?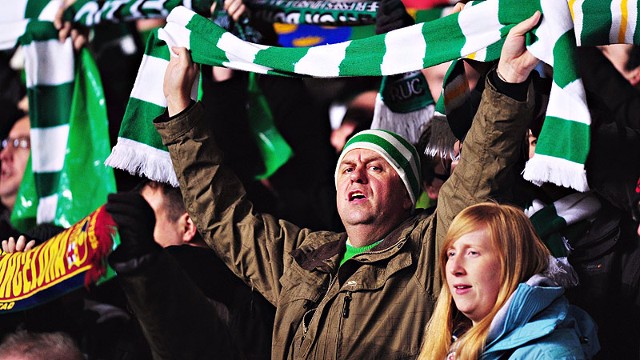 Stu Forster/Getty ImagesCeltic supporters see their club chasing two different goals
After the weekend defeat to Inverness Caledonian Thistle and the furor over some Celtic fans launching abuse at the players and Neil Lennon for losing once again, I asked three Celtic supporters their views on where Celtic should be focusing their attention - European or domestic glory?

First up to put his case forward was Sean Huddlestone: "Would I take this inconsistency in the League for nights like the Barcelona match? The short answer is no. It's the standard 'chicken and egg' argument - without good league performances and success, then you don't get the opportunity to take part in nights such as Barcelona a few weeks ago.

"It is undeniable that Celtic are struggling for form, especially at home. This Celtic team seem unable to raise their game for the 'hum-drum' of the SPL - at least at home anyway – as dysfunctionality seems to infect the players against domestic opposition.

"However, a crisis at Celtic and a crisis elsewhere are two very different things – mainly due to the airtime and print-space that Celtic tend to take up in comparison to other Scottish clubs. What Celtic fans need to realise is that the domestic landscape has now changed. There is no Rangers but new challenges are evident. Celtic are top of the League in which competition has now increased due to the fact that other SPL teams now have an opportunity to win points from comparable opponents when they previously (probably) would have lost to Rangers.

"We are the big fish in a small pond and teams now arrive at Celtic Park with a lot more confidence and, in some cases, on the back of better form than they have done in the recent past. Celtic may have (at least on paper) superior resources and personnel but it is also arrogant to believe teams do not prepare for matches against us the same way we looked forward to and prepared for Barcelona.

"Celtic in Europe has obviously been the bigger success story, mainly because our expectations have been more tempered and qualified. Before this season started I would have taken progression to the Champions League group stages as a sign of progress and success. However, football makes you greedy. One success is never enough and there must always be a follow up.

"When we reached the group stages, I would have taken the guarantee of Europa League football before a ball was kicked. Now, missing out on the last 16 would seem like bitter medicine to take after the relative success that we have had in this competition.

"Ultimately, this debate has originated from recent phenomena. With Celtic, as Paul Lambert once stated, you are one bad result away from a crisis. After the club was saved by Fergus McCann in the mid-90s, supporters became impatient for success believing that the club should be displaying efficiency on the pitch to match their new found financial acumen off it.

"This tendency has continued right up to the present day. One colleague of mine actually remarked to me that there is now a generation of Celtic supporters who have never known 'hard-times' such as the 1950s or 1990s and that there is now a generation of supporters who are (for want of a better term) 'spoilt'. Consequently, any bad result, just one even, is enough to send message boards into meltdown and allow phone-ins to be plagued by the most impatient (and incoherent) type of Celtic 'fan'. While there are obviously issues to contend with Celtic's recent domestic performances (Saturday's performance in a 1-0 loss was dreadful), the hysteria that has greeted them is also definitely not merited."

In conclusion, Huddlestone states Celtic should focus their efforts domestically – without domestic success there would be no European participation. "Celtic's priority should be the League. As I stated already, you don't get access to Europe unless you succeed domestically. Therefore, it is imperative that Celtic don't lose focus on this bigger picture and give adequate focus and concentration to every one of their fixtures.

"By the same token, it is important for the support to realise that Celtic is now the major potential scalp for many of the teams in the SPL. Increased competition in the SPL has also fueled self-belief and confidence in the opposition. As Jean-Paul Sartre once remarked 'In football everything is complicated by the presence of the opposite team'."

Next up is Henry Clarson, who argues: "Domestic success is the starting point for European glamour nights but Celtic supporters traditionally want both. A domestic treble wouldn't compensate for elimination from UEFA tournaments at the qualifying stage, yet even a good European run rarely stems criticism for long if the team isn't top of the league. (The Scottish and League Cup competitions are only really significant as legs of a double or treble or, when league position is unsatisfactory, as an indication improvement is just around the corner.)

"However, Celtic don't have the quality of players who can play the kind of beautiful, free-flowing, creative football in the SPL which will also succeed in Europe. Lacking the resources to acquire and retain the kinds of players who can take on the likes of Barcelona or Manchester United at their own game, Celtic have nevertheless found specific tactical approaches which have allowed them to succeed at home against both of those giants.

"On the major European stage, the home support is prepared to celebrate a backs-to-the-wall performance which secures a win against Europe's elite and yet one square pass in a bread-and-butter game against Kilmarnock or Inverness Caledonian Thistle can induce howls of disapproval at Celtic Park.

"This presents a quandary for a manager because the disciplined, defensive awareness which is required to prevail against the most creative players in Europe is not often found in the same player who can add to Celtic's own attacking threat in the domestic game. Likewise, many prolific SPL strikers are simply not up to the demands of relentlessly tracking back to provide extra cover against strong European opposition.

"In Scotland, that regularly means the difference between winning 3-0 or 3-2; in Europe it's more likely to lead to a defeat. But that's why the players in question are available for teams like Celtic to sign instead of earning much more money in leagues such as the EPL.

"Yet the fans seem to expect that the players who can raise their game against Europe's best, urged on by a passionate capacity crowd, are therefore equipped to sweep aside the challenge of domestic opponents who adopt an entirely different tactical approach in a relatively tranquil, three-quarters full stadium. Even Celtic managers who do manage to combine earning respect in Europe with domestic dominance are criticised by some supporters for failing to provide sufficient entertainment in the process.

"In four seasons, Gordon Strachan took Celtic to the last 16 in the Champions League twice and won three SPL titles but attendances dropped every year, especially for the less glamorous fixtures. But there was no problem filling the stadium for home matches against Barcelona, AC Milan and Manchester United. Significantly, matches against opposition of that calibre in Europe's most prestigious club tournament bring in a large percentage of Celtic's income. That revenue provides the club with a sound platform for ongoing domestic success which, in turn, leads to more of the memorable European occasions."

Clarson worries though the fans want to see a change of style in Europe that would be 'cavalier' and 'naive' in approach. He added: "I think the priorities are currently reasonably well balanced but I worry that there will be growing pressure from purists who yearn to see the current success combined with a cavalier but naive brand of play which was found wanting at European level for decades."

Finally, we have Chris Young, who believes Celtic's main priority should be the Champions League and no matter what happens in the league, Celtic will be SPL champions come the end of the season. Young says: "As a Celtic fan I feel our main priority this season should be the Champions league. With newco Rangers being refused a fast-track back into the top-flight by SPL clubs over the summer, it became clear that the championship would be over as a contest before a ball was kicked. "Celtic WILL be crowned champions no matter what and this is why a run in Europe of some sort was so important this season.

"Neil Lennon and Celtic made it through two big pressure ties against HJK Helsinki and Helsingborgs to make the Champions League group stage, the stage that all Celtic fans feel our club belongs but haven't competed in since Gordon Strachan was at the helm four years ago.

"When the draw was made even third place in the group looked an optimistic possibility, but our young team have proved to have been the surprise package with some unbelievable results most notably in Moscow and then against Barcelona in Glasgow and are now odds-on with bookmakers to advance to the last 16 of the tournament with one game still to be played.

"During this impressive European campaign, it's no secret that our league form has been very poor. 'European hangovers' are something teams in every league suffer from with maybe the exception of the very top and vastly experienced European sides such as Manchester United and Barcelona, who seem to have mastered the art of it over a number of years.

"Neil Lennon should count himself a very lucky man to have an opportunity to do something that no other Old Firm manager has been able to do and put all his focus on Europe. This is why he has been so successful on the European front in my opinion. Being able to rest players in between Champions League games and not carrying the pressures of recent seasons where Rangers would be breathing down their necks or even running away with the advantage.

"Celtic no longer come under as much scrutiny, as they previously did with Rangers in the league, when they drop points in the league as there is a relaxation among many that the inevitable will happen and Celtic will still win the league.

"In financial terms for the club, there is no doubt the Champions League is the Holy Grail. Celtic have already made an estimated £8m windfall just for reaching the group stage as well as over £3m on gate receipts and around £2.5m for the points and goals they've scored thus far.

"The value of Celtic's top players, such as Victor Wanyama and Fraser Forster has also soared, after proving their talent at the highest level meaning, should Celtic decide to cash in they will now receive top dollar for these players who have proved themselves against the top teams as opposed to the mediocrity they face in the SPL on a weekly basis.

"Should Celtic see off Spartak Moscow on matchday 6 and Benfica fail to win in Barcelona, Celtic will bank an extra £4m for reaching the last 16 as well as an estimated £1.5m from a bumper crowd which would see us again paired with one of Europe's big guns.

"Above all, Celtic as a club, base its history and traditions on European competition after so many years of success and good memories. There is nowhere quite like Celtic Park under the floodlights on a European night.

"This is what our club is about and we should strive to go as far in the competition, as we possibly can and let the SPL take care of itself."

So what do you think? You have heard from just three Celtic fans. Do you think Celtic should just let the SPL take care of itself and focus solely on Europe? Or should Celtic focus fully on the SPL and just take what comes in Europe?