Have Celtic lost that loving feeling?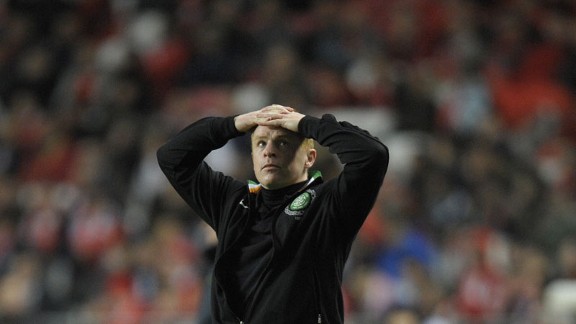 GettyImagesNeil Lennon's Celtic don't seem as motivated domestically as they do on the European front
Celtic 0 Inverness Caledonian Thistle 1, if that scoreline wasn't bad enough, the game was played at Celtic Park. The stadium may be nicknamed Paradise but after today's game it was more like Dante's inferno as the Celtic faithful turned into a jeering mob baying for the players' blood.

With the players trudging off the pitch to a chorus of boos at the final whistle, it heralded another poor performance from Celtic after a European game – the hangover well and truly hit once again.

But are the performances domestically, a sign that the players are disillusioned with life in the SPL and just want to play in Europe week in week out?

Beating the likes of Spartak Moscow and Barcelona, not to mention holding Benfica to a home draw and taking Barcelona to the wire in the Nou Camp has given the Celtic players a glimpse of what it means to play among the big boys. Yet when they return to the SPL it's as if they just stroll onto the pitch depressed at the sight in front of them.

Celtic's performances this season domestically have been nothing short of poor in all honesty. At times they lack any cutting edge up front, at the back they take their eye off the ball and in the heart of the pitch the midfielders who really should be bossing and dominating the game are limp.

Of course injuries have played their part, likewise the run of European games. But that is part and parcel with football – these things happen and the team has to adapt.

For Celtic it just looks as though they know that they have no serious competition domestically and that they can drop points and that it doesn't really matter as their form in the Champions League has been superb.

Sadly for the Celtic players, the SPL is their bread and butter – but it seems some are not interested anymore.

The fans pay good money to watch their side play the Celtic way, however this season the current Celtic side would make – with all respect – Jock Stein turn in his grave, as he is made to eat his words on the Celtic jersey does not shrink to fit inferior players.

The fans deserve to have a go at the players not giving their all, they are paid huge sums of money, much more than most fans in attendance can only dream of and yet it seems these same players who kiss the badge or pump their chests out when they score and when they win games think of the game as merely a job or a chore.

The game of football, playing for Celtic, is more than a job and for the fans it is certainly not a chore, it is a culture. Fans live, breathe and sleep Celtic - and these fans somewhat unrealistically believe that so should the players.

Football is no longer about the love of the game, it is all about the money and the players are commodities to the club boards, while the players are looking to earn as much money as they can before they retire or are hit by an unexpected career-ending injury. Certainly something that no fan could deny they would not do either.

But as the fans launched a tirade of abuse at the underperforming players, manager Neil Lennon hit back defending his charges coming into criticism from fans thereafter.

A furious Lennon said: "Look, if they are not happy with what I am doing and they want me to go, I will. If the fans make it clear that they are not happy and they want me out then that's okay, I will do the honourable thing.

"I can't repeat it (what fans said) because it is a public arena, but there were a lot of expletives and heavy criticism, which I didn't think was justified and (there was) a lack of patience with the team as well. They pay their money, they are allowed to say what they like. I've got my opinions on it and sometimes I give them as well.

"If there was a lack of application and commitment I would be the first to criticise the team, I didn't see that today but I did see a lack of composure and quality in the final third and that's what cost us.
"If I think (criticism) is justified then I don't have a problem with it, but I don't think it was justified. I am not happy with the league form, it is my team at the end of the day so I take the responsibility for it. It's not for the lack of trying to find the answers."

Speaking of that league form, in 14 games so far this season, Celtic have won seven, drawing four and losing three, those defeats coming against St.Johnstone, Kilmarnock and Inverness Caledonian Thistle.
It may get up the nose of some Celtic fans, but the SPL without Rangers is proving to be a boring place. This Celtic team, as I said previously, have no real competition. They have no one seriously pushing them and have already seen the first clear contender, Hibernian falter. If the Easter Road side were serious contenders and could smell blood then they would have been determined to defeat the likes of Aberdeen, Dundee and Ross County.

Now it looks like a resurgent Aberdeen are the next pretenders to the throne, thanks to the form and goals of former Celtic player Niall McGinn. Again today, he scored for the Dons giving them all three points against Hibernian. Despite him having a quiet game against Celtic last week, McGinn is proving that against the rest of the SPL he is bossing it. Further boosting my previous article on why Celtic should have stuck with McGinn and ditch McCourt who came on for Watt on Saturday and did nothing once again.

With the all-important game against Spartak Moscow under two weeks away, maybe it is time that Neil Lennon scared the living daylights out of his underperforming charges and drop them for the games against Hearts and Arbroath. Forcing them to prove that they deserve a place in what will potentially be a potential moment in Celtic's European odyssey.

Simply reading the riot act is no longer working. And while clubs will be sniffing around several players due to their fine European form, Celtic should really be looking at ditching their fringe flops and freshening things up with players that want to push themselves at every turn.

Lennon himself needs to look at his team selections after a European match and take stock that some of his players are knackered. Tony Watt and Gary Hooper led the line today, but Hooper is just returning from injury when he should really have been rested. Why sign two strikers in Miku and Lassad only to stick them on the bench. Rotate the strikers, give the likes of McGeouch some more game time rather than relying on Scott Brown who is more of a hindrance than a help in his current state. He may show heart and desire to continue playing, but what good is that if he is proving to be a liability.

The sale of Ki proved to be a good piece of business for Celtic bringing in some much needed money, but with the revenue brought in from the Champions League also maybe it is time that they looked at bringing a few players in that can push the regulars into working for their positions rather than be safe in the knowledge that their slot is safe.

Celtic is a Jekyll and Hyde team. In Europe they push themselves and work their socks off performing at the best of their abilities, but domestically they look to be a team on a permanent hangover from all the European bubbly and lack any fight.

Despite Celtic being top of the league, if they continue to drop points that could ultimately change sooner rather than later and if they do throw it away then they could go from beating the world's best in the guise of Barcelona to being a team that has shamed and ridiculed the jersey that they play in, a jersey that is not supposed to shrink for inferior players.

Neil Lennon's side must get back to loving life in the SPL and ignore Europe for now. Get that loving feeling back or their quest for another SPL title is goosed.