Celtic left to rue sale of McGinn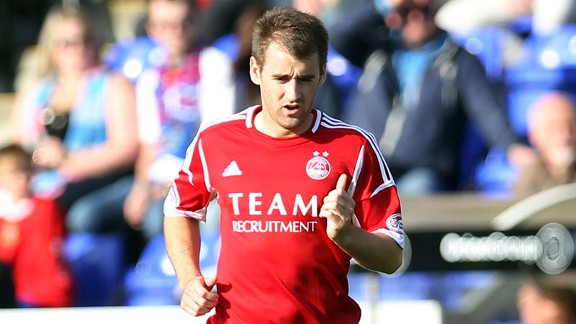 GettyImagesAberdeen have benefited from Celtic's sale of Niall McGinn
This summer Celtic offloaded a lot of their deadwood, fringe and out of contract players in a bid to cut costs and streamline the squad. One of those players departing Celtic Park was Niall McGinn.

McGinn had been farmed out on loan to Brentford last season, but was expected to fight for his place this year. However, Celtic and Lennon felt otherwise and during the summer transfer window, he made the surprise move to Aberdeen.

Since that move, and despite an injury picked up on his debut, McGinn has not looked back since scoring eight goals in 13 games already and he has become an integral part of Craig Brown's Dons side. It may be a controversial point, but I believe that Celtic and Neil Lennon made a big blunder by letting McGinn go, especially to another SPL side.

In fact, I am of the belief that Lennon sold the wrong Northern Irishman - Paddy McCourt should have been the player that left Celtic. He has contributed very little to Celtic's cause over much of his time at Parkhead. Yes, he has the skill and the ability, but he is a luxury Celtic should not be entertaining now.

He may be a favourite among some elements of the Celtic support and have a song sung about him, but while his cut status amongst that group of fans is arguably second to none, that is not good enough to represent Celtic Football Club.

The same could be said of McGinn, but it could also be argued that he wasn't given the time to show what he could actually do. In fact, McCourt was given more than enough chances to prove his worth and in my opinion he is an inferior player in a Celtic jersey.

In 78 games, he has started just 18 with the rest coming from the bench and has scored a total of 10 goals in over four years, with his last goal coming in the 4-0 victory over Motherwell on Sunday May 15, 2011. For an attacking midfielder, that return of goals for game time is poor by anyone's standards, even more so when pitted against SPL defenders.

He has played ten games this season and has failed to do anything of note when called upon to inspire Celtic from the bench, and has taken up space on that same bench which could have been given to someone that has warranted their inclusion and can bring something to the game.

Now compare McCourt with McGinn. This season, McGinn he has played 13 games and scored eight goals, with his assists also contributing greatly to Aberdeen's third place position in the SPL at this stage.

During McGinn's four years at Celtic, he scored six goals in 36 games in all competitions. But from August 2011 to May 2012, he was on loan at Brentford where he scored five times in 41 games for the English side. Come this weekend, only one player will take to the field and inspire his side. It won't be Paddy McCourt. I fully expect Niall McGinn to be a thorn in the side of Celtic and he has the potential to decide the game.

With injuries to Scott Brown and James Forrest on the right of midfield for Celtic, McGinn would have given Celtic that added spark they are missing down that wing.

Just like Charlie Mulgrew, if he continues to shine, hopefully Celtic will snap him up once again - preferably after they ditch Paddy McCourt in the flops bucket.