No shame for Cardiff in defeat to potential title winners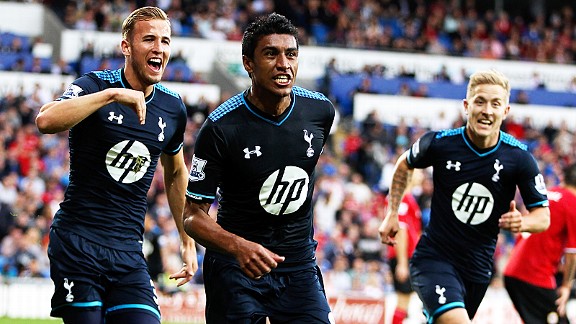 GettyImagesPaulinho left it late to win the game for Spurs.
Cardiff's win over Manchester City last month sent out a message that there will be no easy games at the Cardiff City Stadium for the Premier League's top sides. A week after Man City's defeat in South Wales Everton only managed a 0-0 draw and on Sunday it looked as if Tottenham would leave with just a point as well.

Paulinho's 93rd minute winner was a real body blow to Cardiff, who had defended with their lives for most of the match and there were several key moments that could have swung the game Cardiff's way.

Firstly, make no mistake, Tottenham are a quality football team. They are second in the Premier League on goal difference, behind Arsenal, and seeing how fragile Manchester United look, how random Manchester City can be and how dull Chelsea can be then I think Spurs and Arsenal could be the teams to stake a claim this season to the title.

- Crace: AVB again pushes the right buttons

Stats show that Spurs had 29 chances on goal to Cardiff's six. At half-time if Spurs had been winning 3-0 then there could have been few complaints. But the contentious decisions in the first half, two of them, went against the Bluebirds.

Just minutes into the game Fraizer Campbell latched onto a poor back pass, the City striker ran through on goal with just the keeper to beat. Hugo Lloris faced up to Campbell and made a great block. Campbell should have done better, but when looking at the replay Lloris had handled the ball outside the area. It was in the blink of an eye and I fully understand why the officials did not have the courage to give it. I didn't think it was outside from my viewpoint in the stands, but on another day the linesman or the referee may have made the call and with Spurs down to 10 men it may have panned out differently.

For most of the first half Cardiff defended, Spurs attacked and shot from distance only to find David Marshall in superb form.

With minutes remaining in the first half came the second decision to go against City. Peter Whittingham swung a corner to the far post, Ben Turner rose to head home but referee Mark Clattenburg, who's eagle eyes missed the Lloris handball, spotted the faintest of touches between Aron Gunnarsson and the keeper and blew his whistle to rule out Turner's effort.

Seeing the reply it could be said that Gunnarsson's arm was slightly squeezing Lloris' hand, but for the referee to see the smallest of contact as a clear foul was another huge call, and a huge call that went against Cardiff.

While the second half produced more Spurs pressure and further efforts on goal -- including an shot from Sigurdsson off the crossbar and more heroics from Marshall -- the home side were starting to create some chances of their own.

Craig Bellamy wasted a cross when Whittingham was in a good position, Whittingham delivered an enticing ball across the six yard line but no one anticipated it quick enough and the best chance fell to Gunnarsson, who shot over the bar after great work from Peter Odemwingie.

If the four minutes of added time had been seen out for a draw then Cardiff would have been celebrating taking points off a top side for the third home game in a row. However, in the 93rd minute Spurs got behind the City defence and Paulinho's cute back-heel won the game for Tottenham.

The celebrations from the Tottenham fans and players showed just how relieved they were to get that victory. While they should have won at a canter, the last gasp win was celebrated as if they had just beaten Arsenal in a cup final. Testament to the effort made by Cardiff.

Cardiff learned some harsh lessons here. Don't expect to get too many major, borderline decisions to go your way against the top clubs and when you get a sight of goal you have got to take it.

Four points taken off Man City, Everton and Spurs in City's opening three home games is a very good return. The next two fixtures against Fulham (A) and Newcastle (H) are the crucial games that Cardiff must look to win if they are going to stay in the Premier League.