The good, the bad and the bubbly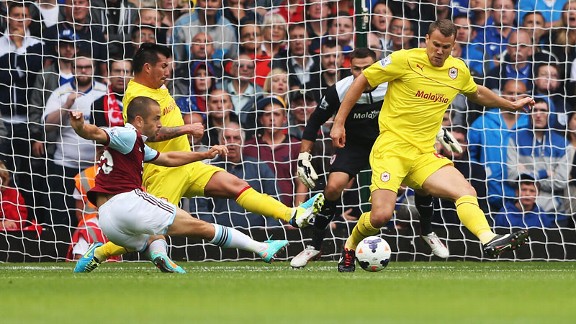 GettyImagesJoe Cole scored from a low cross from Matt Jarvis.
Cardiff City began life in the Premier League with defeat at West Ham United. Below, we pick through the bones.

The Good

Premier League side Cardiff City -- how good does that sound? For the first time in my lifetime Cardiff are playing in the top level of English football. It's been a long summer after the club were effectively promoted from the Championship back in the middle of April.

The build up, the signings, the hype all culminated in an opening day trip to West Ham United.

- Delaney: Harsh lessons for Cardiff
- Thorne: Hammers coast through opener

Cardiff were able to play record signing Gary Medel, a tough Chilean defensive midfielder and Steven Caulker, the Bluebirds' previous record signing, who joined the club a week or so earlier. Between them it's nearly £20 million of talent.

Medel was efficient if not spectacular and Caulker showed enough to prove he is Premier League class. Kim Bo-Kyung in midfield was City's most enterprising player.

The team were backed by 3,000 noisy and raucous supporters who were in fine voice after the majority had to travel via organised coaches from South Wales. And most of the travelling fans ignored the clubs new red identity and supported the club wearing the blue colours of the previous 100 years.

The Bad

Unfortunately the much awaited Premier League debut ended with a limp 2-0 defeat against a stronger, more organised, but hardly spectacular, West Ham.

What was particularly disappointing was that Cardiff looked from the start as if their emphasis was on not losing the game rather than trying to win it.

The stats show Cardiff had the majority of possession, but that means nothing when you don't do anything with it. West Ham had four efforts on target, they scored from two of them, David Marshall made a superb fingertip save from another whereas Cardiff are listed as having one effort on target and I can't even recall which effort it was.

West Ham took the lead after 13 minutes when right-back Matthew Connolly (where was new signing John Brayford?) was skinned and Matt Jarvis cut the ball back for Joe Cole to turn and score.

At that moment City had six players in the area, with the two closest to Cole not quick enough to close him down. It was a gift. Prior to that the size of the task Cardiff are going to face was becoming apparent.

City were far too timid and from the start had allowed West Ham to take control. There's no way the Bluebirds will survive this division with that approach. Cardiff need to have a mentality that the Bluebirds are capable of scoring goals and look to impose themselves on matches.

The majority of the Bluebirds' possession came in the hour between the goals. Cross-field passes, back-passes and balls down the channels that are returned back to where they came from time after time. The stats are then meaningless.

When West Ham put their mind to having another go they found the City defence to be equally as generous as they were to Cole and allowed Kevin Nolan a free shot from 17 yards to score. Cardiff had four defenders within eight feet of Nolan and still he was unmarked.

City fashioned out two further chances, with the best of them turned over by Nicky Maynard but ultimately it was a comfortable home win that Cardiff will look back on and think they could have done much better.

The Bubbly

West Ham pump out thousands and thousands of bubbles before each half and after their team score. Coupled with their 'I'm forever blowing bubbles song' it produces a nice piece of football tradition.

And at Upton Park there were two sets of fans producing a medley of chants, teasing each other and yet appreciated by both sets of supporters.

Cardiff fans in the Sir Trevor Brooking Lower proudly proclaimed a love of sheep and chanted accordingly. West Ham fans in the old Chicken Run at the front of the East Stand responded with 'We eat your relatives'.

In reference to West Ham's reputation depicted by films like Green Street the Cardiff fans sang 'You're only hard in the movies' and so it went on with old chants and some new ones. Each set of supporters applauded the other as each new chant was delivered.

So the fans, players and management have had a taste of the Premier League. Next week the pressure and attention is going to be turned up to another level as Manchester City are the visitors to Cardiff City Stadium.