Cardiff denied by last-gasp goal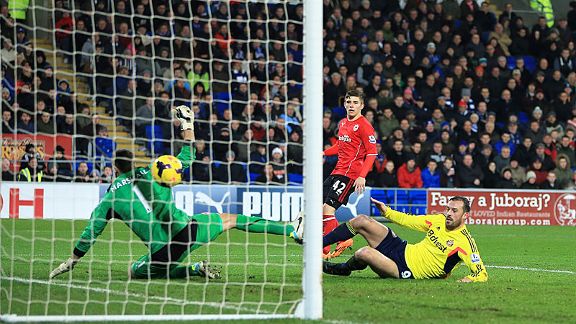 GettyImagesSteven Fletcher's 83rd-minute poacher's goal seemed like being no more than a consolation for Sunderland at Cardiff.
Sunderland's late goal to earn a 2-2 draw denied David Kerslake a winning start as caretaker manager of Cardiff City.

Cardiff began life without sacked manager Malky Mackay with a clear intent to attack the Premier League's bottom side and within six minutes Cardiff had taken the lead. Jordon Mutch stormed toward the edge of the box and fired a deflected shot past Vito Mannone in the Sunderland goal.

It set the scene for an entertaining game of football that Cardiff were bossing for most of the first half. Sunderland had chances and goalkeeper David Marshall again saved Cardiff with several decent blocks. With just a one-goal deficit Sunderland were never out of the game and the slender lead never looked like it might be enough.

At halftime Sunderland were forced into a change when Fabio Borini was taken ill and went to hospital. He was replaced by Steven Fletcher. Borini has since been released and traveled back to Wearside on Sunday.

Cardiff got a second goal in the 58th minute when more good work by Mutch was rewarded with a goal from Fraizer Campbell, the former Black Cat finishing from 6 yards after Mutch delivered a superb ball across the front of goal for Campbell to score.

Cardiff had a two-goal lead and should have had enough to see the game out. But Sunderland continued to plug away and when Cardiff made two defensive substitutions the game swung Sunderland's way. With Craig Noone and Kim Bo-Kyung on the pitch Cardiff still posed a threat going forward and were making Sunderland defend, thereby restricting the number of attacks the visitors could make.

The decision from David Kerslake to bring on Don Cowie and Aron Gunnarsson for Noone and Bo-Kyung respectively in the 72nd and 79th minutes ended Cardiff's attacking intent and gave Sunderland the incentive to attack a retreating Cardiff back line.

Sunderland made two attacking substitutions and it proved to be the difference between losing and getting a point. Craig Gardener and Jack Colback came on to bolster the Sunderland attack, replacing Lee Cattermole and Sebastian Larsson.

On 83 minutes Fletcher out-thought Ben Turner and scored past a helpless Marshall. Sunderland sensed there was another goal in the game for them and that was reinforced when the board indicated five added minutes.

Cardiff defended desperately and managed to see out 4:50 of added time when Sunderland made one last effort toward the Cardiff goal. The attack was thwarted by Kevin Theophile-Catherine but his clearance, which if he had hit it 50 yards down the pitch would have signaled the end of the game, rolled straight to a Sunderland player and when the cross came into the box it fell to Colback, who had time to shoot and see his effort deflected past Marshall.

For Cardiff fans it felt like a defeat. The traveling Sunderland supporters went wild. Two Sunderland substitutes scored the vital goals.

The point for Cardiff shows a return of 18 points from 19 games. Repeat that in the second half of the season and a total of 36 points would leave the club treading a fine line between relegation and survival. Cardiff are four points off the bottom of the table but only three points from 11th place. The bottom half of the Premier League is very tight this season.

Cardiff now face four League games in January with three of them away from home at Arsenal, Manchester City and Manchester United. The Bluebirds will begin 2014 with Kerslake in caretaker charge as chairman Mehmet Dalman looks to appoint a new manager.

Dalman spoke to the press after the Sunderland game and revealed he has just one candidate in mind. It's thought to be Ole Gunnar Solskjaer, but Dalman would not confirm.

"I have a preferred candidate. I only have one candidate in mind," he said. "I have not made an offer to anybody as such, but that does not mean I have not had discussions."

When asked if he had spoken to Solskjaer, he said: "I spoke to him many a time in the old days [when he was at Manchester United]. I might have spoken to him recently, and I might not have."

He added: "You know what these things are like, they take time. We will do our work as diligently and as quickly as we can but I am reasonably optimistic that we will get things moving."

Whoever the new manager is he will still have to work with Vincent Tan. While Tan has invested millions of pounds into Cardiff and looks likely to invest more money with a new manager in January, the new appointment will have to put up with the sometimes ridiculous demands from the owner. Revelations of the past week have seen claims made that Tan has asked why the club aren't getting a better return of goals, including from the goalkeeper Marshall.

Tan was captured on film appearing to boo at the final whistle of the Sunderland game. There are those conspiring he was booing his own team. I find that unlikely and like most of the crowd the reaction would have been to referee Chris Foy for finding so much added time.

If Cardiff are going to survive this season then the relationship between the new manager and the owner must be an open and trusting one. This will be helped if Tan also employs a professional team at Cardiff, who have an idea about running a football club.

Chairman Dalman appears to have a relationship with Tan that is workable and for the club to move forward the new manager must be able to work without bizarre requests being placed upon him from the owner.

Cardiff now face Arsenal on New Year's Day at The Emirates. It could be a very challenging start to 2014.

Happy New Year.