Tan wields the inevitable axe at Cardiff as Mackay departs
Malky Mackay has been sacked by Cardiff City. The Scot has been on a mission impossible since owner Vincent Tan reportedly made it known that he wanted Mackay to resign or he would dismiss him.

Mackay had been heavily backed by the Cardiff City supporters, but that support waned after the 3–0 home defeat by Southampton on Boxing Day. The Cardiff fans who chanted "Don't sack Mackay" at Anfield last Saturday and inside the stadium at kickoff on Thursday had lost their voices by the time the full-time whistle went against Southampton.

Mackay has led Cardiff to a League Cup final, to the Championship title and to Premier League wins over Manchester City and Swansea, but the fallout with the owner meant the decision to sack him was inevitable. Mackay's stock as a manager has risen and he will not be out of work for long as the rest of the footballing world believes he has been treated appallingly.

Mackay becomes the sixth Premier League manager to lose his job this season. The side has won just once in the last eight games and is now only one point above the relegation places. A manager in a stable club would find himself under pressure in those circumstances. Mackay has been let down by the structure above him at Cardiff City football club. Mackay is meticulous in his role as manager, while Tan is a very successful businessman with plenty of money. The potential dream team was let down by a lack of communication between the parties, with Tan being poorly advised by inexperienced directors.

Mackay may now find himself courted by West Bromwich Albion or he may wait to see if vacancies come up at his former clubs West Ham and Norwich. Both sides are struggling and could be looking for a managerial change soon.

There can be no denying that the off-field fiasco has had an effect on the pitch and Malky's job has been made impossible against the backdrop of suspicion and mistrust.

No one expected Cardiff to be challenging for Europe -- just surviving the first season was needed. I wonder if the owner, seeing teams like Palace improving with a new manager, thinks that Cardiff's only way of survival is under a new coach.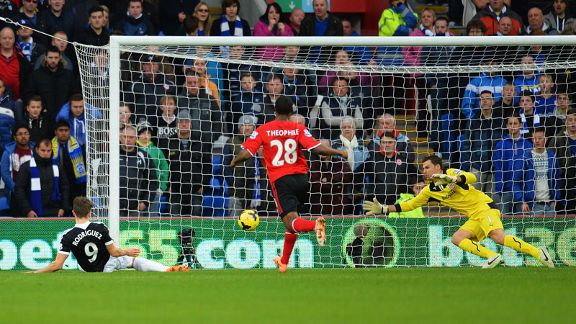 GettyImagesJay Rodriguez scored twice as Southampton ran out 3-0 winners at Cardiff.
I'm saddened to see Mackay sacked and would like to thank him for his contribution to Cardiff City, and I don't think it will be long before he is back in another job. I hope Mackay also realises that he had almost unanimous backing of the fans who would have preferred to see a new owner rather than a new manager.

Southampton's 3–0 win over Cardiff City in South Wales on Boxing Day came as no surprise with the Bluebirds on a mission to self-destruct. Three goals conceded in 13 minutes showed just how out of sorts the Cardiff side were.

Mackay, in his last news conference, was adamant after the game that the focus of his staff and players was on the team they were facing, but the off-field situation at Cardiff City at the moment is affecting all aspects of the club.

The fans have been in full support of Mackay with the club edging toward 20 points as the halfway point of the season arrives. Cardiff are currently on 17 points and faced games in the Welsh capital against Southampton and Sunderland. A win in either match would represent a decent if not spectacular start in the Premier League. Cardiff could still beat Sunderland on Saturday and reach that goal.

But the manner of the loss against Southampton sucked the support from many fans; the atmosphere inside the stadium changed from one of defiance to one of defeat. The match started with the home support voicing their backing of Mackay and urging Tan not to sack him. When the same chant was attempted with the score at 3-0, the crowd failed to respond, many realising that Mackay's demise was starting to become inevitable.

Before the match an estimated 500 to 1,000 supporters gathered in front of the stadium to protest against Tan. The protest included those against Tan and his rebrand. It included those who wanted Tan to back Mackay rather than try to sack him, and it included those who just want Tan to leave the club. Tan was already inside the stadium when this was going on and I suspect he would not have batted an eyelid toward the protest.

Tan watched the first half from his seat in the directors' box, but he was not seen in the second half.

Cardiff now start the search for a new manager. It's seen as an impossible job under Tan, but there will be no shortage of applicants to get themselves a role in the Premier League, even if it means working for an owner who has been ridiculed worldwide for his manner, actions and decisions.