Mackay holds the aces as Tan shows misguided hand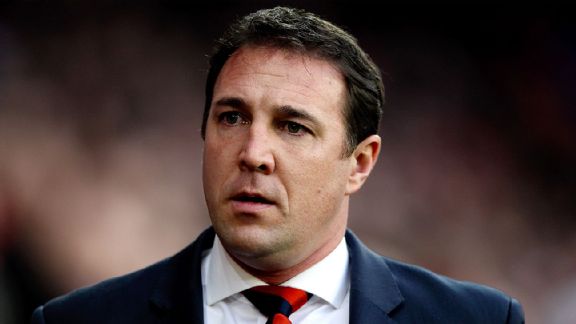 Ben Hoskins/Getty ImagesMalky Mackay has guided Cardiff City to a solid 15th place position in the Premier League table.
Malky Mackay is having the best and worst time of his managerial career. The popular Scot has proved he can manage a football club in the Premier League and his professional, competent approach has won him the support of nearly everyone in football, except his own employer.

Mackay is adored by the Cardiff City fans who sing his name at every game and who are giving him their full backing. In fact, anyone who knows about football thinks Mackay is doing a great job in the Premier League and can't believe he is being put in a position that might seem untenable, but in fact is playing right into Malky's hands.

- Report: Mackay intending to stay put

After Cardiff's 1-0 win over West Bromwich Albion, a game that saw Albion boss Steve Clarke sacked, Mackay responded to a reporter's questions about his intentions in the January transfer window. In the professional manner we've grown to expect from Mackay he responded:

"It would be great if we can bring in three quality additions to the squad. I would look to strengthen all three departments in terms of a defender, a midfielder and an attacking player.

"I will talk to my chairman who will then discuss it with his board of directors and our owner and I will take my lead from them."

Mackay made no promises, took nothing for granted, and answered diplomatically. He knows he has to get backing from the board and the owner for new signings so he played it cool and placated the media, the fans and should have impressed his bosses with his approach.

But the very opposite happened. Vincent Tan, the Cardiff owner, issued a statement via CEO Simon Lim that contained an extraordinary outburst. Tan claimed he was upset that Mackay had raised supporter's expectations and declared, "not a single penny will be made available in January."

- Report: Tan not spending a penny

Tan also claimed that a 15 million pound overspend in the summer was the reason that head of recruitment Iain Moody was sacked. The owner appears to be under the impression that spending some money guarantees success. Mackay had a decent transfer budget and he has brought in some quality players like Steven Caulker, Gary Medel and Kevin Theophile-Catherine. There have been a couple of deals that haven't paid off yet like John Brayford and Andreas Cornelius, but an owner should be able to appreciate the bigger picture.

Cardiff City are competing in the Premier League and if a few more millions will help ensure another season at this level, then then the rewards are massive. Tan, despite always having his way, should be advised on just how football works. At the moment, above Mackay, there is no one who has the skills to communicate efficiently with the owner to make him realise that Premier League football is not the same as running a fast food franchise in Malaysia.

Mackay might seem to be under pressure, in fear of his job or treading a very thin line. But he is actually in the strongest position he can possibly be. Mackay's stock has never been higher. He has no intentions of walking away because of the ridiculous situation he finds himself in.

Mackay has led his side to wins over Manchester City, Fulham, Swansea and West Brom. He has managed his side to draws against Everton and Manchester United -- impressive results from any manager. If he was sacked by Tan, he would walk away with his pride intact and his wallet bulging from the settlement of his contract.

With away games coming up against Liverpool, Arsenal, Manchester City and Manchester United, he is not expected to pick up many points in the next few weeks, so if he was sacked, it would be seen as harsh. He will not resign as there is too much money to be lost. A point from any of the next four away league games would add extra credits to Mackay's account.

The other lucrative option open to Mackay is to move to another job. With managers being sacked or leaving their posts on a weekly basis, he might not have long to wait. Mackay is in what some may see as an impossible position but I think he's playing it perfectly for himself.

Sack me, I get paid off. Headhunt me, I get a new contract elsewhere. What I will not do is resign. I will continue to do my job and prepare a team to compete in the Premier League.

Mackay is admired and supported by the fanbase, the media and football in general. As the headline suggests, Mackay holds all the aces.