Scudetto ambitions put to the test
This millennium has seen five different Serie A champions, four of whom provide the backdrop for a mouthwatering weekend of Calcio.

The action commences Saturday night when unbeaten Inter Milan -- five-time title-holders since the 1990s expired -- host league leaders and 2001 champions Roma, who travel to San Siro boasting an unblemished record of six wins from six, thanks in no small part to the new man at the helm.

Rudi Garcia's arrival at Roma might have raised a few eyebrows, but try telling any Roma fan now that they would have been better off with presumed first choice Massimiliano Allegri. Try giving Daniele De Rossi that message, too.

"There was a great feeling from the very beginning," said the midfielder, reborn under the French coach this season and driven by the motivation to make up for a year even he admitted was below the necessary standards. "I felt that this year, for the first time, could have been the right moment to move on," admitted the Italy international. "To be a Roma player and not make the fans happy, not make Roma happy and not satisfy everybody like it had practically always been the case was a pretty crushing burden on me."

Then along came Garcia. "The first time I spoke to him on the phone, I was on holiday and I could feel that he saw me as one of his players, regardless of what the rest of the world was saying at the time," De Rossi said. "He treated me like one of his own. I like the feeling of belongingness he had." Like a father figure not only to De Rossi, Garcia is nurturing a group of players poorer for the losses of Daniel Pablo Osvaldo, Erik Lamela and Marquinhos, but nonetheless richer, and not only in terms of the balance sheet. "In terms of results, this Roma reminds me of [Fabio] Capello's," said former president Rosella Sensi to Centro Suono Sport Radio, alluding to the last time the Giallorossi won the Scudetto. "And for the way they entertain, they remind me of [Luciano] Spalletti's".

That blend has glory written all over it, as it might also have done had Walter Mazzarri succumbed to Roma's advances toward the end of last season. Instead, the former Napoli coach opted for a financially inferior, but technically more gratifying, challenge of lifting Inter from the doldrums of a ninth-place finish and back to the levels they have failed to scale since Jose Mourinho left them with three trophies gleaming in the cabinet. "Mazzarri's our best new signing; he's our rock," said club president Massimo Moratti to the Gazzetta dello Sport, even before Inter hit the victory trail. "We appointed him precisely because he's a rock. I don't want to take anything away from the past, but this is what we needed now."

Solid as stone, that is the current Inter side -- a far cry from the one which ended last season, yet not too dissimilar to the one which, under Andrea Stramaccioni, came away from Turin with three points, thanks to a brace from Diego Milito last November. Branded as title contenders after ending Juventus' 49-game unbeaten streak, rash judgments will therefore be reserved to the dreamers among the Nerazzurri faithful. Roma will not be getting ahead of themselves yet, either, as Saturday night's clash provides the sternest test of the season so far for two sides who can either underline or strike a line through their respective vertiginous ambitions.

Another headline match then rises Sunday night, when Champions League contenders Juventus and AC Milan lock horns at the Juventus Stadium, off the back of two European disappointments. In fact, it was a rather limp Italian flag being waved in Europe this week -- Napoli going down 2-0 at Arsenal to complete a trio of negative results -- and there does not appear to be much wind swirling around to muster even a flutter on the flagpole this Sunday. For sure, games between two sides who have shared half of the last 12 Scudetti are always intense affairs, but those midweek results indicate that they are both reaching a welcome juncture, after Sunday night's obligatory yet seemingly unwelcome encounter.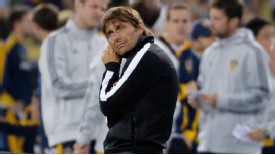 GettyImagesAntonio Conte is facing something of a fitness crisis at Juventus.
"I just don't have any options," bemoaned Juve coach Antonio Conte, who has lost Mirko Vucinic and Stephan Lichtsteiner, while Claudio Marchisio, Paul Pogba and Andrea Pirlo have all shown signs of tiredness recently (Marchisio admittedly only just back from injury). But if Conte thought he had it bad, only a glance at the Milan Lab guest list puts his concerns into perspective.

Stephan El Shaarawy fractured his foot as he was hopping off the treatment table (not literally), Ricardo Kaka's second debut in a Rossonero shirt lasted 71 minutes before he took himself off the payroll for a month with a thigh injury, Giampaolo Pazzini has been absent since the summer, while Mattia De Sciglio's knee has prevented him from appearing thus far. Riccardo Montolivo is in the same boat as Marchisio, only just back in action, but short of optimal condition, while Matias Silvestre will have to wait a while yet before being able to say he has appeared for both Milanese clubs.

To rub salt into the wounds, Valter Birsa has been sidelined for a fortnight and Mario Balotelli sits out the last of a three-game suspension this weekend. "The injuries are weighing us down a bit," admitted Robinho, himself perhaps a beneficiary of the injury crisis, getting away with one of his trademark blunders against Bologna, well aware that he will be keeping his place in the team regardless. "We've got some great players and, if we want to reach the top, we need all of them." Kaka in particular. "We're missing his quality," Robinho said. "He's a decisive player." As is Balotelli, who "can make the difference."

Instead, former Bianconero Alessandro Matri will have to stand out on Sunday if Il Diavolo is to latch onto the leading pack. They, and Serie A, can then take a break for two weeks before its next tasty episode: Roma against Napoli. The Azzurri, a side trying to intermingle with the big four, could be the big winners this weekend when they host Livorno, sights firmly fixed on ensuring a sixth name gets etched on the Serie A trophy since the years started with the number 2.